The state of Andhra Pradesh is well known for its savoury, hearty, hot cuisine, but it also has a long list of mouth-watering desserts. Sweets have a long history in Andhra Pradesh, where there are numerous traditional recipes that have been handed down through the years.
Sweets are a staple of Andhra culture and are served at a variety of events, including weddings, festivals, and religious ceremonies. There are many different types of famous sweets from the region, each with a distinctive flavour, texture, and taste. 
The desserts of the Andhra region are famous for their distinctive fusion of sweet and spicy flavours, which is a reflection of the cuisine of the state. Several components, including rice flour, jaggery, sesame seeds, coconut, and almonds, are used to make the treats. The flavour and texture of Andhra Pradesh's famous sweets are a result of the utilisation of traditional ingredients and cooking methods.
So, here we are, revealing some of the most famous Andhra sweets along with their components, methods of production, and cultural importance. Whether you prefer tasting new foods or just have a sweet tooth, Andhra Pradesh's famous sweets will leave you wanting more.
1. Ariselu
Rice flour and jaggery are used to make the traditional and famous sweet Andhra dessert called, ariselu. The jaggery syrup, ghee, and cardamom powder are combined with the rice flour to create a dough that is rolled out into thin circles and deep-fried until crispy. Ariselu is a must-have dessert during the mid-January festival of Sankranti, as well as during weddings and other special events.
2. Bobbatlu
A mixture of chana dal, jaggery, and cardamom powder is wrapped in a dough consisting of flour, water, and ghee to make bobbatlu, also known as puran poli in Maharashtra. Rolling out the dough and putting the filling inside is followed by cooking the bread on a griddle until it is golden brown. A common treat during celebrations like Ugadi and Diwali, this is one of the most famous sweets in Andhra Pradesh
3. Pootharekulu
Another Andhra Pradesh-famous sweet is called pootharekulu, and it's is made from rice flour, sugar or jaggery. On a special cloth, rice flour is thinly distributed before being covered with layers of sugar, jaggery, and ghee. After being wrapped up, the layers are roasted until crispy. Pootharekulu, a famous Andhra Pradesh sweet from the coastal town of Atreyapuram, is frequently given as a present to loved ones on holidays and other special occasions.
4. Sunnundalu
A crunchy treat called sunnundalu, sometimes referred to as urad dal laddu, is made from roasted urad dal, jaggery, and ghee. Jaggery and ghee are heated and combined with the powdered, roasted dal. After making tiny balls out of the mixture, it is allowed to cool. In addition to being a famous sweet in Andhra Pradesh during festivals, sunnundalu is a healthy snack for kids.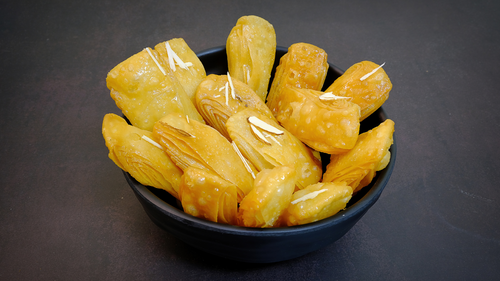 5. Kaja
Maida, or all-purpose flour, and sugar syrup are used to make the flaky, layered dessert known as kaja. Rolling out the dough and adding layers of it and sugar syrup is followed by deep-frying the dough until it is crispy. During weddings and other special occasions, kaja is a famous sweet in Andhra Pradesh that's definitely served.
6. Chandra Kala
The crescent-shaped Andhra Pradesh's famous sweet known as chandra kala is made of maida, khoya (dried milk), and sugar syrup. The dough is rolled into a crescent shape, filled with khoya and sugar syrup, and the edges are sealed. After being cooked till golden brown, the dessert is then covered with sugar syrup. Chandra kala is a famous sweet in Andhra Pradesh during festivals such as Diwali.
7. Bandar Laddu
This dessert may have a funny name at first glance but is truly delicious and the equivalent of the besan ka laddoo for north Indians. It is also known as thokkudu laddu more traditionally. The ingredients for bandar laddu include besan (gram flour), sugar and ghee. It is a circular, soft and gooey dessert. To create a soft dough, besan is roasted in ghee and combined with sugar syrup. After shaping the dough into balls, it is allowed to cool. Machilipatnam, a seaside town, is famous for its Bandar Laddu, which is a famous sweet in Andhra Pradesh for special occasions such as birthdays.
The famous sweets in Andhra Pradesh are delectable and essential to the state's culture and cuisine. Each sweet delivers a distinctive flavour and texture that is sure to satiate any sweet desire, from the crispy ariselu to the soft and gooey bandar laddu. The sweets of Andhra Pradesh are similarly steeped in history and are frequently connected to holidays and other significant occasions.
For instance, during Sankranti, which is observed to mark the end of winter and the start of the harvest season, ariselu is a regular dessert. The favourite dessert of Ugadi, the Telugu New Year, which occurs in March or April, is bobbatlu.
If this article has made your mouth water, here are some laddoo recipes that you can make at home to satisfy your sweet cravings!
---
Photo: Shutterstock