This summer, we believe has been the hottest that we've experienced in Pune so far. With soaring temperatures, getting through torrid days is getting tougher. The best way to beat the scorching sun is to stay indoors at some of Pune's popular watering holes and get a chilled beer or a heady cocktail. Here's our list of some of the coolest dives in the city to grab a drink and delicious nibbles. Just make sure you don't drive home.
For the brews
1. Independence Brewing Co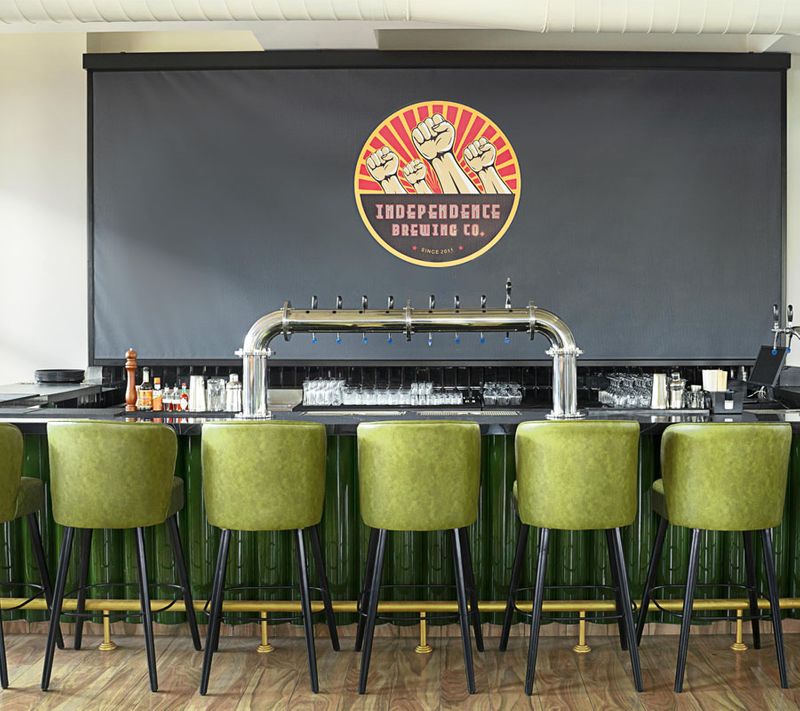 One of the city's most popular breweries, the IBC (Independence Brewing Company) has been around for nearly a decade. Apart from its popular outlet in Balewadi, the brewery has recently opened a Biergarten in Kalyani Nagar. Housed in an European-style mansion, it is spread over 18,000 sq ft. With the green cover of two gardens dotted with umbrellas, and an air-conditioned interior, the space provides much respite. Some of the favourites here are the Oryza Lager - made with locally grown Indrayani rice, the Weiss Crack - a classic German Weissbier with notes of banana and clove, and Band Wit - a creamy medium-light body and semi-sweet finish. The ciders here are great as is the flavourful bar food. Try the Very Strawberry - a cider fermented with locally sourced strawberries. From the food menu, the chef recommends the Truffle Mac n Cheese, Black Bean Hummus and the Prawns Ajillo.
2. Great State Dive
Though the place is one of the most recent entrants in Pune's pub scene, the city's craft beer fans have probably sampled their brews earlier. Going by the name of Great State Aleworks, their beers have been available at Malaka Spice and Sassy Spoon in Pune apart from a number of other restaurants and lounges in Mumbai. The brewery prides itself in the use of local indigenous ingredients both in their beverages and food. We recommend the Brut Bajra Pale Ale, Brightside - a Belgian Wit, Second Haze and the New England IPA. There are also some cool cocktails available on tap. Our pick is the Kokum Daiquiri - a coconut fat-washed gin with curry leaves and coconut water. Don't miss the East Indian Chorizo served with warm buttered pav and cooked with potatoes, onion, and bell peppers and the Panko Fried Chicken.
3. Toit
Bangalore's favourite brewery is soon becoming a Pune favourite too. Be it weekdays or late afternoons, we've never found this outlet located in Kalyani Nagar, empty. This is despite the fact that there is ample seating space to choose from between the bar stools around the outdoor bar, indoors, in the pretty stone building, up on the first floor balcony or even around an ancient banyan tree. We love the Tintin Toit, which is their Belgian wheat beer. If you like dark beers we recommend the Dark Knight, which is a dry stout. The place is pet-friendly. "And by pets, we mean dogs, maybe the occasional cat. No birds and reptiles and such," says the Toit website.
For the vibe
1. Pent Houze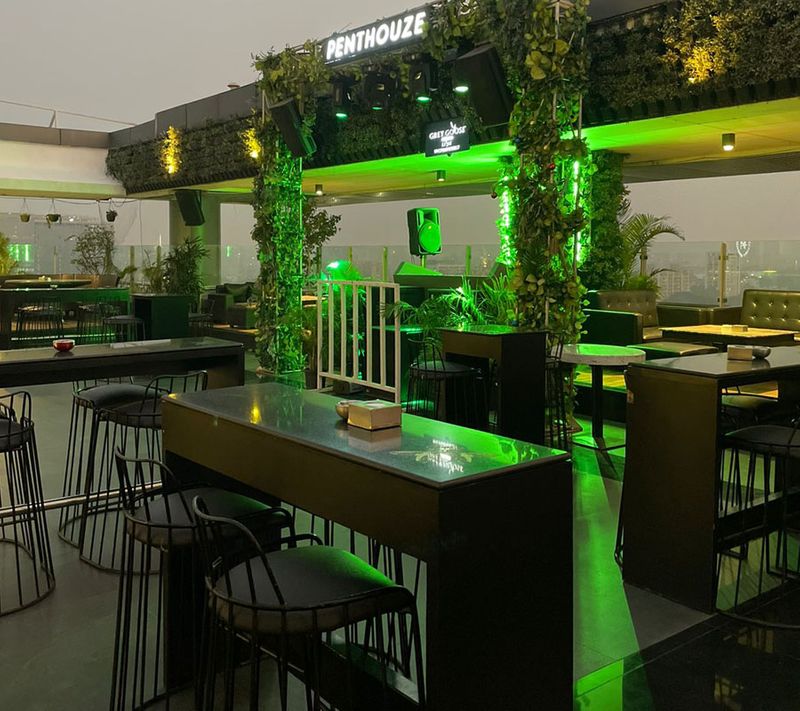 An integral part of the city's nightlife, this rooftop club/discotheque located in Koregaon Park that's celebrating its 10th year, is the perfect place to let your hair down. Perched on the 13th and 14th floor of Pune's highest commercial building, Penthouze also has indoor seating for fine dining during the week. They recently introduced Asia's only 'Grey Goose Lounge', perfect for a late-night soiree. The backdrop of the calm, flowing river sets a different mood. From their elaborate cocktail menu, try the Cool Cucumber, Truly Passion, and Head Banger. The spicy Peri Peri Paneer compliments the cocktails perfectly.
2. Elephant & Co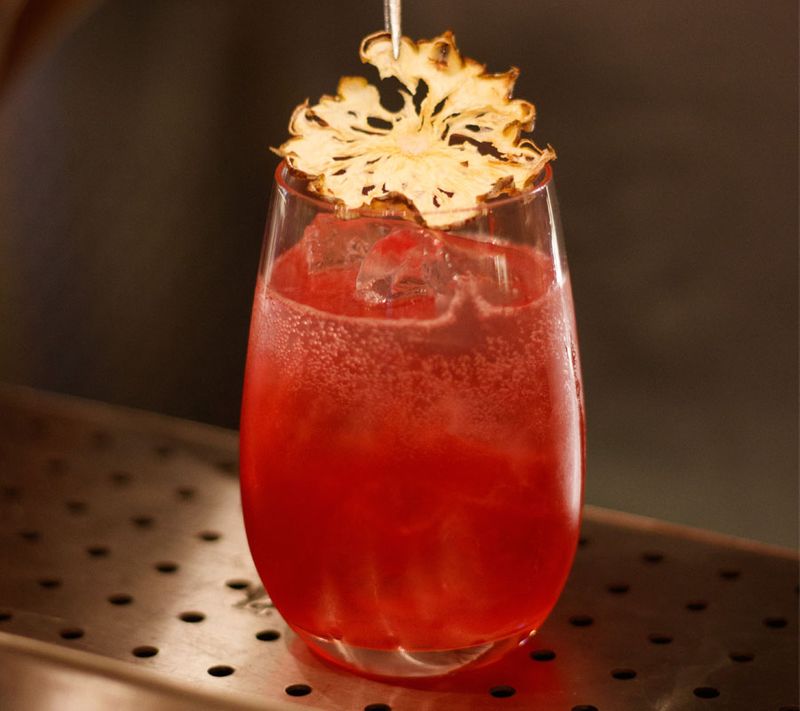 Located in Kalyani Nagar and Baner, this is one of the most popular gastropubs in town. While two or three-member bands often serenade you at lunch, the vibe changes as the sun goes down. The pet-friendly pub has an eclectic menu. From Nagaland Bhut Chilli Chicken Wings to Pandi with pita, Kosha Mangsho with lemongrass ghee rice to Ramen and Butter Garlic Prawns, you can sample it all. Down it with an Elephant Sour, a colourful twist to the whiskey sour or an Elderflower Peach Spritzer. Our favourite part? There's popcorn served at every table!
3. Swig
While the first outlet of Swig opened in Koregaon Park in 2010, it has swiftly grown and added two new addresses. The place was best known for its underground grunge vibe, and legendary 'Friday Night Bounce' parties. The Senapati Bapat Road outlet, which is probably the largest of the three, often hosts interactive events like night markets and performances by local Indie artists. They also host an interesting Sunday brunch with live counters for pastas, eggs, and waffles. This outlet is also home to Swig's in-house dessert brand, Cocoa Patisserie and Bakery. At the most-recently opened outlet at Balewadi High Street, the bar has partnered with Kinki Kitchen, another brand from Swig's parent company Iceberg hospitality, and serves some delectable pan-Asian fare including a variety of dimsums and sushi. Some of the signature cocktails at Swig include Gin Z, Inkwell, and Jagermeister Mojito.
4. Hippie@Heart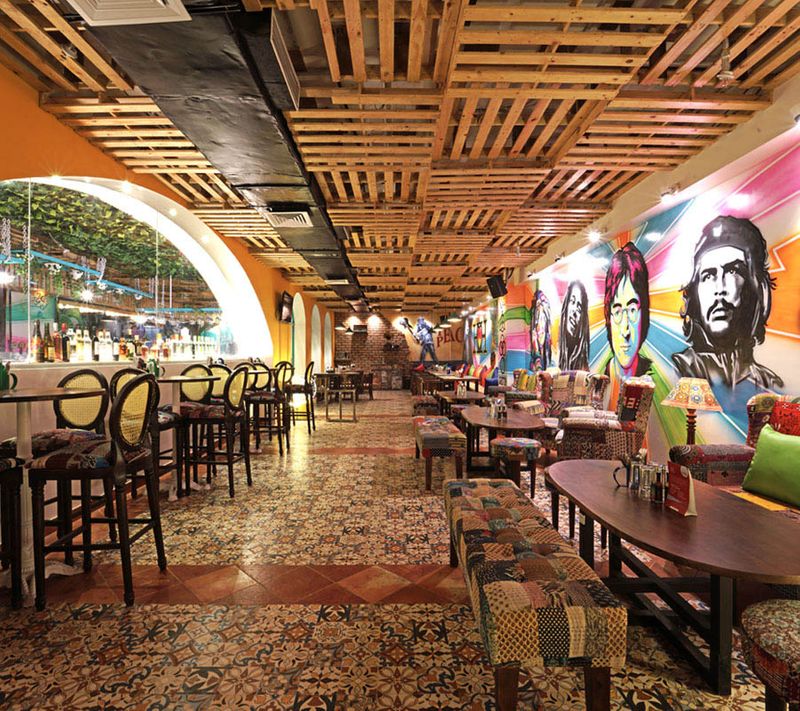 Just like its name, this pub is bright, colourful, cheerful and has a bohemian vibe. With three outlets in Bhandarkar Road, Balewadi High Street and Kothrud, the pub is all set to shortly start two more outlets in the city. Post the pandemic, the pub has gone the extra mile to focus on community-based activities. You can shop at the Sunday Hippie Bazaar - a flea market, enjoy a laugh at Laughing Hippies - a stand-up comedy event, shake a leg at the Salsa Nights or indulge in the wine tastings and beer fests. You can also choose to take workshops in calligraphy, art, craft, music and or be a part of this pet-friendly pub's stray adoption drive. If you're in the mood to experiment, try some signature cocktails like Back To School - a mix of bournvita, cream and alcohol or Flower Child  - a mix of four white spirits garnished with edible flowers. Pair your choice of booze with wood-fired pizzas or something from the live barbecue.
5. One Lounge
A pretty white al-fresco area, trees, fairy lights, a comfortable indoor dining space and a dance floor, One Lounge in Koregaon Park, transitions easily from an ideal brunch venue to the perfect place for a sundowner. You can look forward to good music, great cocktails and delectable bar bites. We recommend their pizzas, the classic fish and chips, prawn wrapped in chicken and mutton kheema tacos. At the bar, ask for the Caramel Pineapple Mojito made of spiced dark rum, white rum, pineapple chunks, mint leaves and lime, and the Watermelon Mint Martini.
Old school
1. 1000 Oaks 
One of Pune's oldest hangouts 1000 Oaks has been popular over the years for its charming outdoor seating, beer by the pitcher, affordable cocktails and simple yet delicious bar food. Located in East Street in Camp, the place is warm, easy and fuss-free. They play retro and rock and this fills an '80s and '90s kid with nostalgia. The favourite here is the 1000 Oaks Barman's Pitcher. The recipe, we are told, includes a heady mix of 30ml each of vodka, gin, whiskey, white rum and two glasses of beer, with a tinge of rose syrup. We even spotted a Kala Khatta Pitcher on the menu. The food will remind you of good ol' club and gymkhana fare. Try the Tandoori Mushroom and the Cheese Croquettes.
2. The High Spirits Cafe
Another popular hangout, High Spirits near ABC Farms has also been around for a while, and also happens to be one of Pune's favourite venues for live gigs and stand-up comedy. There's usually a guest DJ and the pub claims to have hosted almost every big name in the Indie scene. They also have the longest running Karaoke in the city. Apart from beer pitchers and sangria pitchers, you can order some of your favourite gin and rum cocktails by the pitcher too, from 11 am to 8pm. The place is known to have steal deals on offer on most days, so make sure you check before you order. Try their summer special menu by the chef which includes an Orange Ginger Chicken and Tempura Fried Prawns with Pineapple salsa.
To indulge
1. Paasha
Considered to be amongst one of the city's most romantic venues, Paasha at JW Marriott is a dating favourite. The rooftop bar and restaurant offer stunning views of Pune's skyline. The inviting, pristine all white decor, delicacies from the Northwest Frontier including a variety of kebabs, and indulgent decadent desserts is reason enough to love the place. They have a chic experimental and classic range of cocktails designed by expert mixologists. Try the signature Kakori Kebabs, Lasooni Jhinga, Barra Kebabs and the Gosht Gilafi Seekh.
2. Aasmana
Another great place to unwind in style after a long day at work is this pretty rooftop bar perched on the 18th floor of the Ritz Carlton. Aasmana offers breathtaking views of the city and the Pune Club golf course. Try unique cocktails like the Crescent at Equinox - spiced butter rum, pineapple, custard apple, and Sky Cinema - pop-corn washed bourbon, salted caramel, aromatic bitters with Islay mist. The restaurant serves traditional and contemporary Indian food and is known for its Dal Aasmana - black lentil cooked overnight, with cream and white butter, and their signature Butter Chicken.
 
---
Photo: Shutterstock; Suprita Mitter