We have all been collectively a part of the inner circle waiting for our letter from Hogwarts that would finally reveal our secret powers and the beckoning to the world of witchcraft and wizardry. Such was the power of the words that author JK Rowling penned—offering a glimmer of hope and escape to children and adults from the daily drudgery—leading to the cult status of the books and the beloved characters. The success of the books was given a cinematic visualisation with an equally successful film franchise.
On July 31, we decided to celebrate The Boy Who Lived – Harry Potter's birthday. We spoke to a few hard-core Potterheads—people who know the characters like the back of their hand—to deep dive into the memory lane of Potterverse to share their most memorable foodie moment from the books.
Chocolate frogs, butterbeer, pumpkin pies and more, here are some of the iconic moments:
1. Harry's birthday cake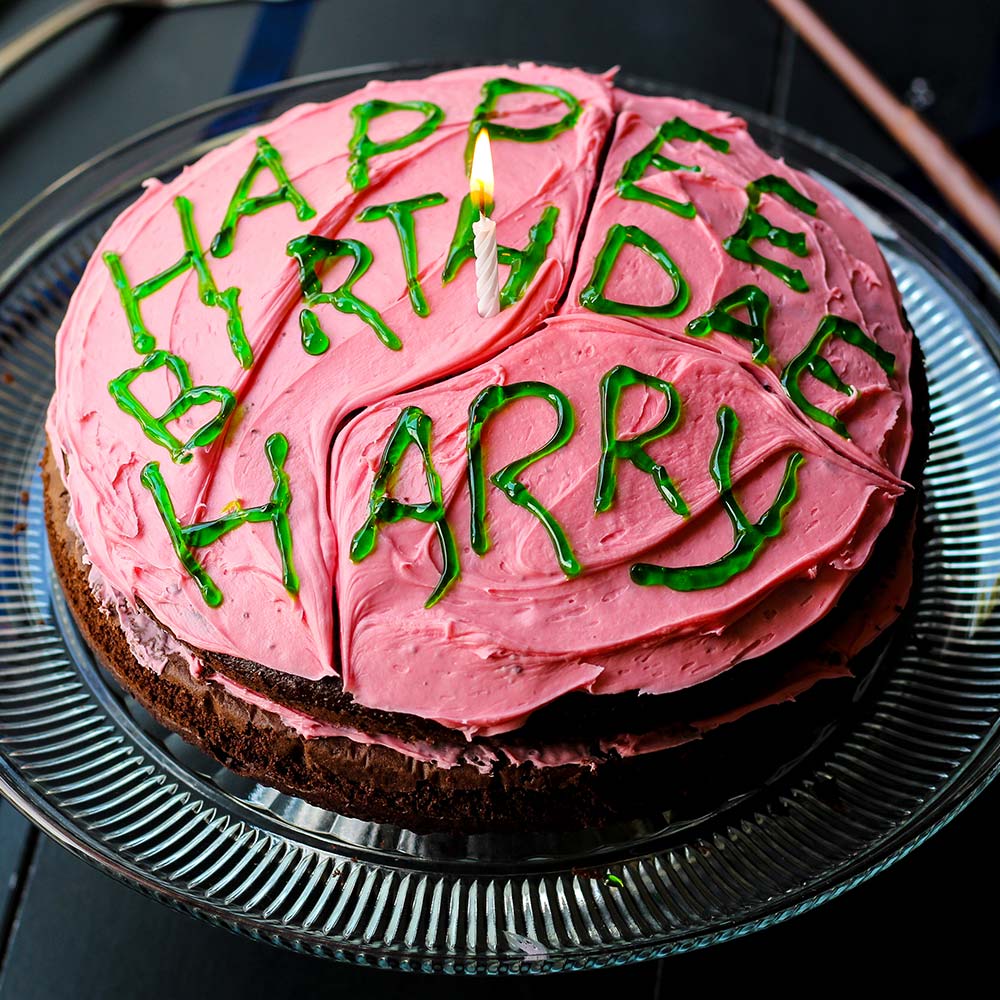 The one character who loved Harry Potter as much as his parents would've was Rubeus Hagrid. The half-giant gamekeeper and keeper of keys at Hogwarts School of Witchcraft and Wizardry bakes a birthday cake for Harry's 11th birthday in Harry Potter and the Philosopher's Stone.
It is a telling moment when Hagrid meets the fledgeling wizard, years after he rescued baby Harry from the ashes of his parental home. The birthday cake is a token of affection as well as an apology—everyone at Hogwarts knew about Harry's living conditions at 4, Privet Drive. This is also where you realise Hagrid's fiercely protective nature, as he gives Dudley Dursley, Harry's cousin, a pig's tail for sneaking a piece of the cake before harry could cut it and savour it himself.
2. The Hogwarts Express stash
"Imtiaz Ali might have romanticised train journeys for us but for a true Potter lover, Rowling did it right from the first book itself. The Honeydukes Express aboard Hogwarts Express was a miracle food trolley full of treats—Droobles Best Blowing Gum, the famous Fizzing Whizzbees to Chocolate Frogs jumping out of wrappers and treacle tarts—were invented by Rowling from scratch," says Ria Makhija, an anthropology student and a bookworm.
Honeydukes Express was pushed around the train by a dimpled old lady. As she comes to Ron and Harry's compartment, in Harry Potter and the Philosopher's Stone, Harry jumps up excitedly to buy Pumpkin Pasties, Cauldron Cakes, Liquorice Wands and Bertie Bott's Every Flavour Beans infamous for their realistic flavours including that of spinach, liver and tripe. "Young Harry, unfazed by Ron's inability to purchase any goodies, generously shares his Honeydukes haul with Ron. It was the start of an epic friendship over a chocolate frog," Makhija adds.
3. Professor Dumbledore's sherbet lemons
How can we forget Sherbet Lemons and Professor Dumbledore's soft spot for them?  A hard-boiled lemon flavoured candy that is filled with pop-rock-like powder, Professor Dumbledore was known to carry these around. He had offered Professor Minerva MacGonagall one when they went to leave Harry with the Dursleys in 1981.
In Harry Potter and Chamber of Secrets, Sherbet Lemon was even the password to Professor Dumbledore's office. The candy reminds us of orange candy and makes us want to sit back and revisit the series.
4. The grand meal at the Great Hall
Ridhima Mahabal, a literature professor and a Potter lover says, "One of my favourite food moments from the Potter series is the first time Harry sees delicious food magically appear on the Gryffindor table in the Great Hall, I vividly remember reading that chapter in Harry Potter and the Philosopher's Stone and craving a pizza. Rowling doesn't really describe the meal but the narrative makes you want to be at the table instantly." Food seems intrinsic to the plot in these instances and that makes these moments iconic and truly memorable.
5. Death Day party food
Of all the iconic Christmas dinners featuring mountains of potatoes with silver boats of cranberry sauce, tureens of buttered peas, flaming Christmas puddings, eggnogs and Romilda Vane's Chocolate Cauldrons are something to be remembered. Hagrid's homemade rock cakes made us smile and Fudge Flies made us cringe till we read ahead.
Then there was the death day party hosted in honour of Nicholas de Mimsy-Porpington's five-hundredth deathday. You know him better as Nearly Headless Nick in Harry Potter and the Chamber of Secrets. The feast included rotten fish, maggoty haggis (whatever that is), fungus covered peanuts, burnt cakes and mouldy slabs of cheese.
6. An ode to friendship
Ishaani Kulkarni, a 9-year-old speaks affectionately about an instance in the sixth book, Harry Potter and the Half-Blood Prince, when Ron keeps munching on jelly. Hermione questions Ron angrily about his loyalty to Harry. How he can happily be eating jelly when his friend is missing?
"It is one moment that I related to and it made me really crave custard with some delicious jelly on top. I have always envied Hermione for having friends like Harry and Ron by her side. The way Rowling has described a friendship and the bonds that she created through the book are pure, untouched and unreal."
7. A trip to Hogsmeade
"Butterbeer!" exclaims Niharika Rajgopallan, a chartered accountant who claims she's read the books five times and watched the films every time they come on TV. "The entire concept of butterbeer was fascinating to read about. The mystery behind its ingredients—was it alcoholic, why was it so yummy and why did Rowling call it butterbeer? Did it have butter? If yes, how does butter go well with beer? It left me dazed and excited."
Butterbeer first made its appearance in Harry Potter and the Prisoner of Azkaban when Harry relishes the concoction at 'The Three Broomsticks' when he sneaks into Hogsmeade. The foamy tankards are now replicated at the Wizarding World of Harry Potter, Universal Studios Hollywood, USA.
8. Fred and George's kitchen connection
With Harry Potter's Seeker skills on their side, Gryffindor has more than its share of the Quidditch Tournament, which also gave them an advantage for the House Cup. "Each of these Quidditch wins would bring with it the Gryffindor victory feast in the common room where Fred and George Weasley sneak food from the kitchens," Anshitaa Sabherwal from Bhopal describes the first of these feasts in Harry Potter and Prisoner of Azkaban.
How did the twins manage to get an endless stream of food is left to your imagination. "It's very enjoyable and satisfying to read about Hogwarts' alpha mischief-makers pulling off a feat no one had in years. Add to it the forbidden nature of a midnight feast," is what dreams of a perfect boarding school is made of.
9. Molly Weasley's homemade meals
"I remember more of Molly Weasley's cooking being great rather than the food at Hogwarts for some reason," says Mumbai-based content writer Neha Nair. A prolific cook, no one goes hungry at the Weasley matriarch's kitchen. Further explaining the thought, Nisha Menon, a fashion stylist says, "Molly's food was more scrumptious because of her motherly love and warmth. You can actually feel her affection while reading the way she fed them or rather overfed them all. All the moments at Weasleys' home, The Burrows, are lovely that way."
Whether it is the nourishing breakfast that Harry is greeted to after his midnight rescue in Harry Potter and Chamber of Secrets to the mince pies during Christmas every year. From book one to book seven, Molly Weasley unflinchingly stands by her children and has never backed away from defending and taking care of Harry, Hermione and their friends.
Talk about a range of foods that this singular series has featured? It may be in the background but some of the most crucial plot twists happen around a table of food. Happy Birthday, Harry!
With inputs from Sayoni Bhaduri
Photo: Shutterstock