Like any other Middle Eastern nation, Qatar is also young and blossoming. Even though most of the working population are expatriates who have helped the nation define its economic power. At the same time, local Qatari are equally aware of the need to protect and cherish their own cultural legacy, and food makes up a very important part of this.
Qatari food, much like cuisine from other countries in the region, is a mishmash of Mediterranean, Levantine and Middle Eastern dishes. There are many similarities to Indian food, but they are not the same. Qatari food uses fragrant spices and slow cooking techniques that are designed to manage the land's extreme temperatures. 
The influx of expatriates and business delegations from across the world has also deeply impacted Qatar's food culture. While there are plenty of homegrown restaurants that cater to all your cravings, globally recognised and celebrity chefs have taken the bait of this burgeoning world metropolis to set up their outposts here as well. 
The premise to be set here is to not write off the culinary explorations that Qatar has to offer a well-heeled international traveller. There is so much to eat, enjoy and remember in Doha, Qatar, as we discovered, that it guarantees satiation of the soul. 
Here are nine extraordinary dining experiences you must try in Doha, Qatar:
1. Jiwan by Alain Ducasse
This fine-dining restaurant, which calls the National Museum of Qatar its home, is an epitome of how local indigenous cuisines can be elevated. Conceptualised by legendary chef, Alain Ducasse, and managed in Doha by head chef, Morgan Perrigaud and executive chef, Jeremy Cheminade, the restaurant serves up contemporary interpretations of classic Qatari dishes. 
The décor at Jiwan is an expression of the two extremes that is Qatar—desert and sea. Beige décor culminates into blues at the centre of the restaurant while the ceiling pays homage to the nation's pearling culture with more than 4 million suspended Swarovski crystals that look like waves on the sea. 
Qatari food, its ingredients, herbs and spices will be more or less familiar to most Indians, thanks to centuries-old trade routes. But, at the same time, it is refreshing, unique and delicious. Our personal recommendation includes Qatari samosa—sambusak with camel meat filling—that will remind you of desi patti samosa. Another must-try is the confit lamb shank with vermicelli rice—a cross between delicate yakhni pulao and flavourful biryani intrigues the palate. There is also the local version of Haleem, called Harees, that also deserves a taste. Don't forget Jiwan's baklava and the house-made drinks.
Address: 4th floor, National Museum of Qatar, Doha
Price: Experience menu starts at 300 QAR per person
2. Nobu Doha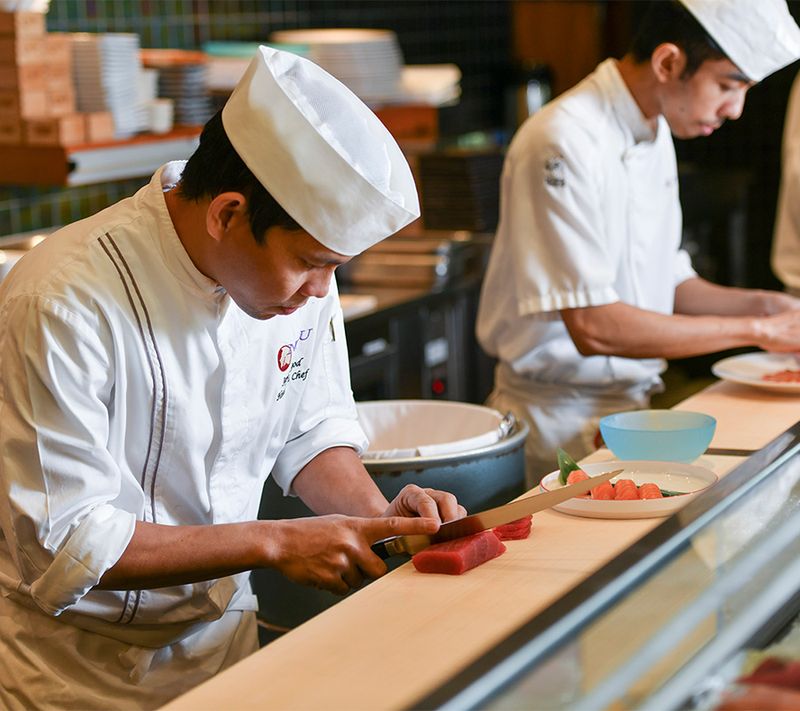 If you're in search of more familiar international flavours, then Nobu Doha is a smart choice. Chef Nobu Matsuhisa and his eponymous restaurant have made Japanese cuisine approachable and accessible. He is famous for combining traditional Japanese flavours with South American and Peruvian ingredients—a fusion popularly known as Nikkei cuisine. Nobu's black cod with miso is one of the most renowned, however, be wary of sweet miso as it can be overwhelming for Indian palates.
At Nobu Doha, located at the Four Seasons Hotel, the kitchen is helmed by chef Andrew Bozoki. Apart from the obvious sushi at the restaurant, try the salmon sashimi dressed with soy sauce and ponzu. The beef toban yaki is a hot pot-style dish with a variety of mushrooms and beef slices and is an umami wonderland.
Address: Four Seasons Hotel The Corniche, Doha
Price: Starts at 375 QAR for a regular package per person
3. Izu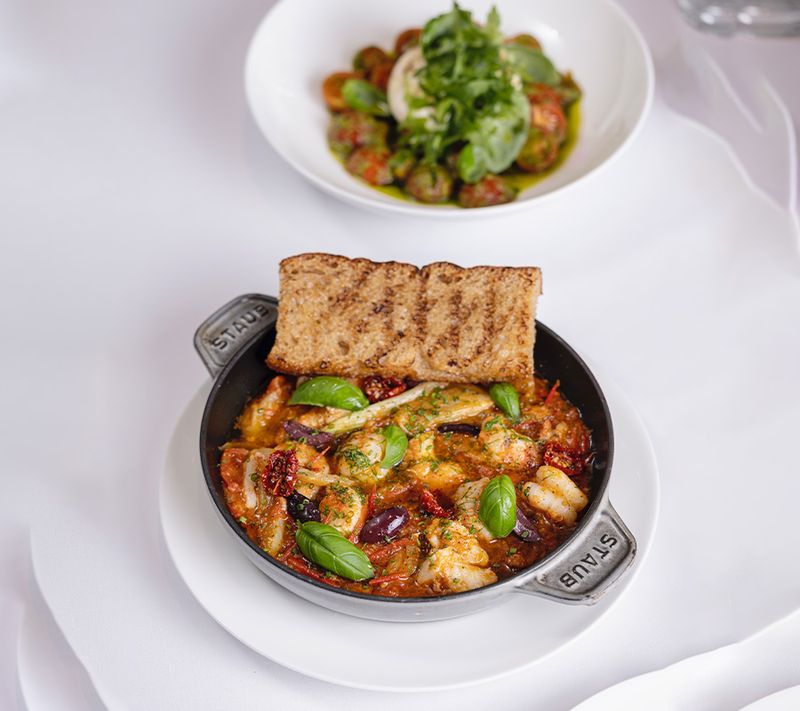 If the name gives you the impression that it is an Asian eatery, you are mistaken. It is a French Mediterranean fine dining restaurant imagined and executed by chef Izu Ani, who is considered Dubai's first celebrity chef. The restaurant finds home within the confines of the Mandarin Oriental Doha in the upscale Msheireb area. The food at Izu is yet another example of how diverse the dining options in Qatar are. 
Izu serves classic 'continental' fare such as a fresh burrata salad and Mediterranean garlic prawns to mushroom risotto and decadent cheesecakes. But these dishes straddle wholesome goodness without being redundant and are very 21st century with a focus on fresh produce and letting them shine through.
Address: Mandarin Oriental Doha, Barahat Msheireb St, Doha
Price: The signature five-course set menu starts at 420 QAR per person
4. BOHO Social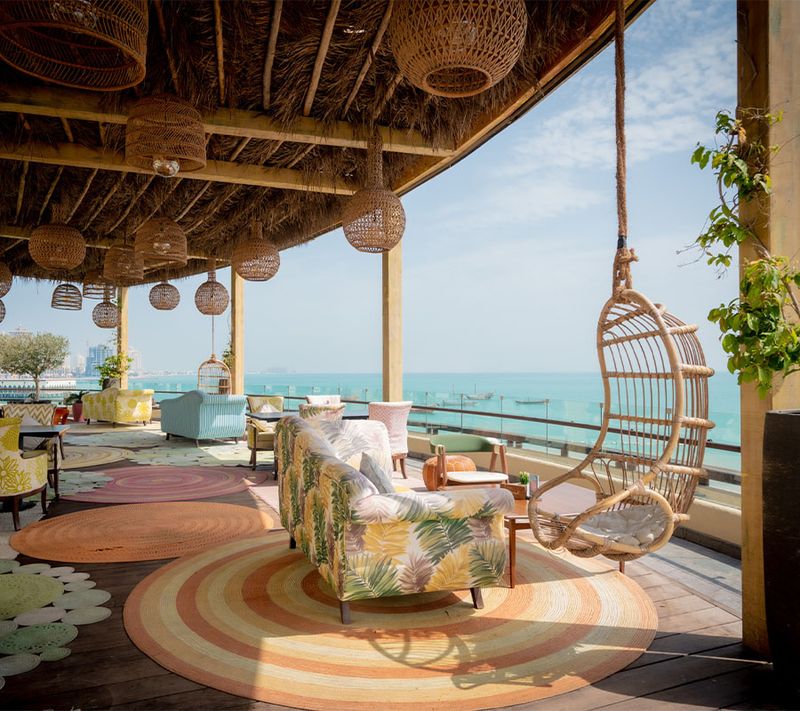 If you're looking for great food but with a relaxed atmosphere and none of the stuffiness of fine dining, head to BOHO Social at Katara Beach Club. The interiors and décor have been designed by Dubai and Miami-based Paul Bishop who has taken inspiration from nomadic and bohemian aesthetics. The food follows a multi-cuisine format featuring Southern European, Asian, Middle Eastern and American gastronomy. The highlight however is the boho-inspired al-fresco rooftop dining area that overlooks the Arabian Gulf and makes the dining experience all the more special. 
BOHO Social's Caesar Salad is a must-have as is the beef yakimeshi, which features stir-fried rice with shiitake, seared beef tenderloin, ponzu emulsion, home-made kimchi, seasoning and nori flakes. A word of caution, the portion sizes are big so make sure you go hungry to do the food justice.
Address: Katara Beach Club, off Katara Cultural Village, Shakespeare St, Doha
Price: Approximately 300 QAR per meal
5. Sugar & Spice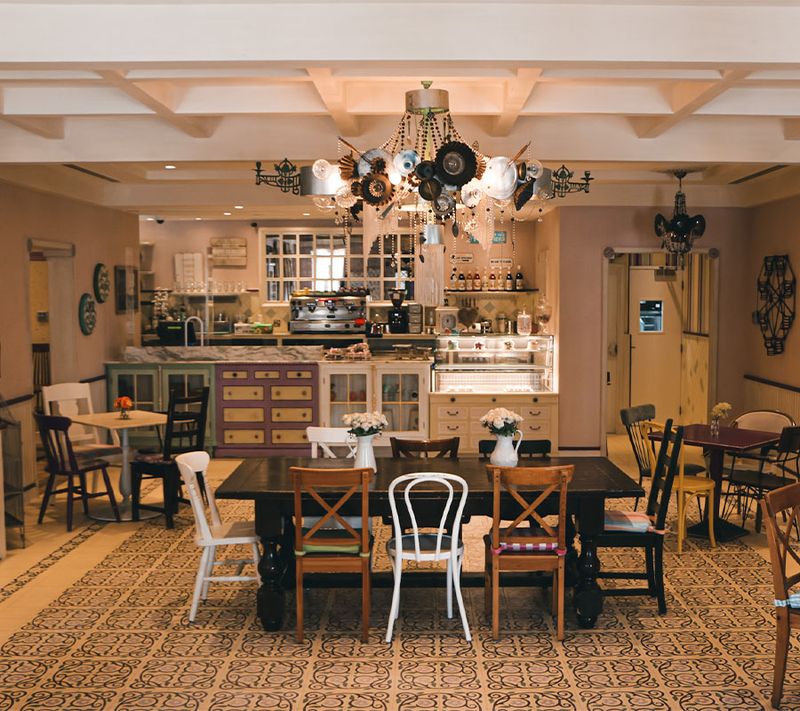 Sugar & Spice is one of Qatar's popular café and bakery chains. The outlet at Aspire Mall is a quirky, shabby-chic French-inspired café that revels in pastel hues and exaggerated country décor. The bright purple entrance is hard to miss as is the open-air section which is covered with trellis with blossoming vines.
While everything on the menu is incredibly appetising, the pancakes with maple syrup are perhaps the perfect combination of adorable and delicious. The pancakes were fluffy and soft and with the drizzle of syrup and dollop of butter, they were decadent too. But it was the little Santa on top of the pancake stack, made of candy floss and a strawberry, that elevated a simple home-style dish.
Address: Aspire Park Rd, Doha
Price: Approximately 300 QAR for two people
6. Al Shurfa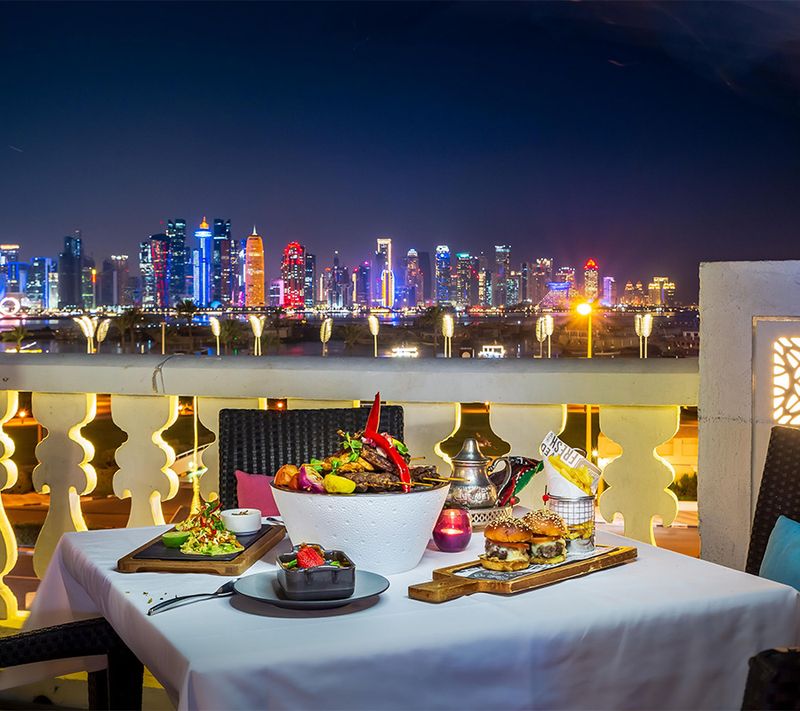 After meandering through the lanes of Souq Waqif in Doha, you are bound to build up an appetite at the end of a long day. Al Shurfa Arabic restaurant is just on the outskirts of the souq and is an exceptional choice, especially if you want to savour local Middle Eastern flavours. The view of the Doha Corniche and Museum of Islamic Art, lit up in the evenings, makes for an even more immersive dining experience.
While the restaurant does have international cuisine, it is best that you pick local favourites. The hummus and tapas trio is some of the best hummus and mutabal out there. But the piece de resistance was the Chef's Signature mixed grill—a packed tabletop grill that comes to your table loaded with classics such as shish taouk, lamb kofta and kebab, beef kebab and lamb chops.
Address: Al Jomrok Boutique Hotel Souq Waqif, Doha
Price: Approximately 300 QAR for two people
7. Yasmine Palace
This restaurant on The Pearl is reminiscent of tales from One Thousand and One Nights, better known as Arabian Nights. The restaurant's décor reimagines the opulence and grandeur of the Arab culture and civilisation. The restaurant is also a very popular haunt for locals during special occasions and celebrations. The food is a mix of Andalusian, Levantine and Qatari favourites.
Opt for the mixed appetisers tray as it gives you a taste of all their highlight hummus, mutabal, muhammara and more. There is also the homemade meat sausage with a pomegranate molasses glaze and a variety of kibbeh that are also a must-try. End the meal with a kunafa cream and a hot Moroccan tea.
Address: Parcel 18 Fountain Roundabout Pearl Qatar، Marina Way 31, Doha
Price: Approximately 350 QAR for two people
8. Karak chai
What masala chai is to India, karak is to Qatar; as a matter of fact, some of the most popular karak sellers are Indians. The milk-heavy and spice-laden tea comes as a great rejuvenation when you've been on a non-stop sightseeing spree in Qatar. Our tried-and-tested recommendation will be Tea Time outlets and Karak Mqanes.
9. Street food at Souq Waqif
At the far side of Souq Waqif, local Qatari women congregate every evening to sell homemade dishes that are said to taste far superior to any restaurant fare. Traditional regional dishes such as majboos, kushari, hares, ragag and more are freshly made and sell off just as quickly.
---
Photo: Visit Qatar; respective restaurants