Dosa, a savoury Indian crepe that originates from South Indian cuisine, has earned a place of pride in Indian cuisine and has become a beloved dish worldwide. It is a versatile dish that has undergone numerous transformations, with each region and household adding its unique twist to the classic recipe. 
Apart from your regular plain and masala dosa, here are some variants you must try 
1. Rava dosa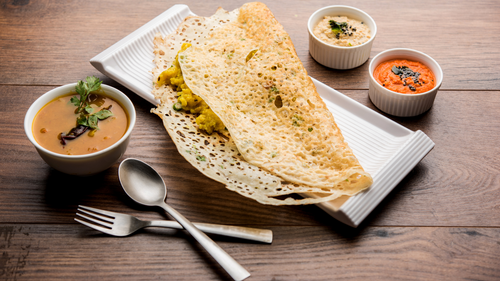 Rava dosa is made with semolina (rava) instead of rice, creating a crispy, lacy texture. The batter, made with a blend of semolina, rice flour, and all-purpose flour, requires no fermentation, making it a quick and easy option. Rava dosa pairs well with coconut chutney or tangy tomato chutney.
2. Mysore masala dosa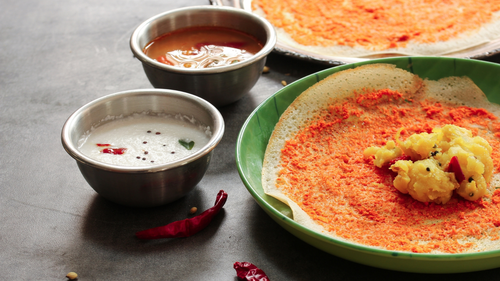 A speciality of Mysore, a city in the southern state of Karnataka, Mysore masala dosa is characterised by a generous smear of spicy red chutney made from red chillies, garlic, and lentils, spread on the inside of the dosa. The dosa is then filled with savoury potato masala and served with coconut chutney.
3. Set dosa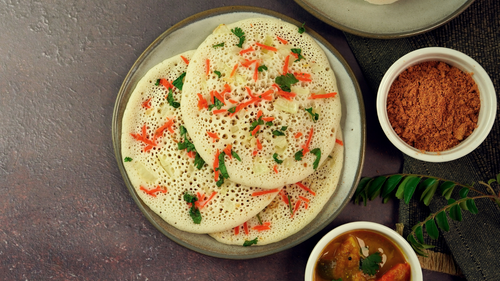 Hailing from the Karnataka region, Set dosa is smaller and thicker than the regular dosa. Its name 'set' refers to the practice of serving dosas in sets of 3 or 4. These spongy dosas are soft, fluffy, and slightly tangy, making them a delightful breakfast option, often paired with a coconut chutney and vegetable saagu (curry).
4. Pesarattu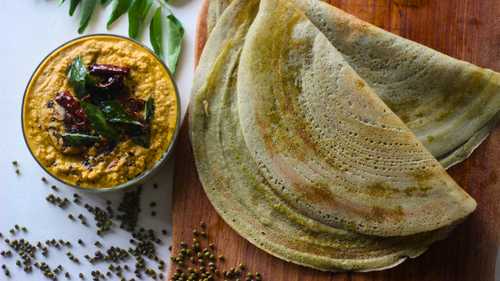 A speciality of Andhra Pradesh, pesarattu is a dosa made with green gram (moong dal) instead of urad dal. Pesarattu is typically served with ginger chutney or upma (savoury semolina porridge) and is a nutritious and protein-rich alternative to traditional dosas.
5. Neer dosa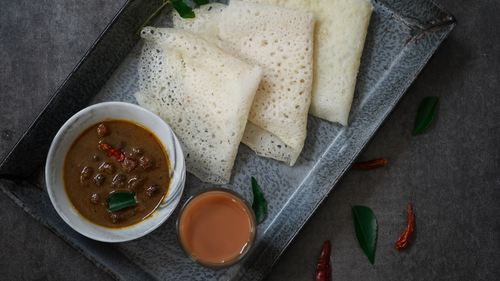 Originating from the coastal regions of Karnataka, neer dosa is made from a batter of rice and coconut, resulting in a delicate, thin dosa with a slightly sweet taste. Neer dosa pairs wonderfully with coconut-based curries and spicy chutneys.
6. Adai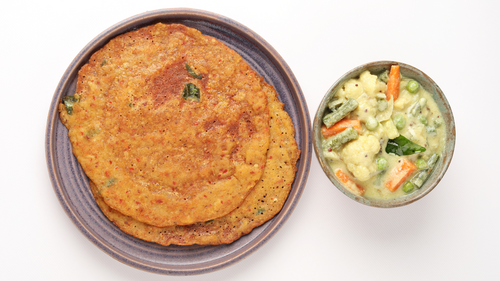 Adai is a savoury dosa variant popular in Tamil Nadu and neighbouring states. The batter is made from a mix of rice and a combination of lentils such as chana dal, toor dal, and moong dal. Adai dosas are often served with avial (a mixed vegetable curry) or jaggery.
7. Ragi dosa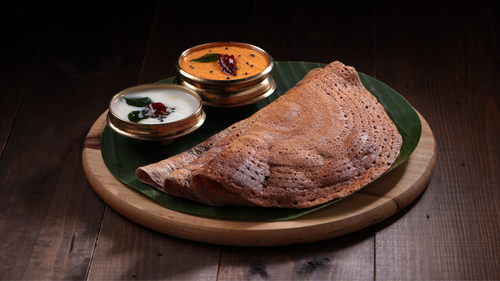 Ragi dosa is a wholesome and nutritious variation of the traditional dosa, made using ragi flour, also known as finger millet. Ragi is a gluten-free, high-fibre grain that is rich in essential nutrients, making it an excellent addition to a balanced diet. Ragi dosa not only offers a unique earthy flavour but also provides numerous health benefits.
8. Egg dosa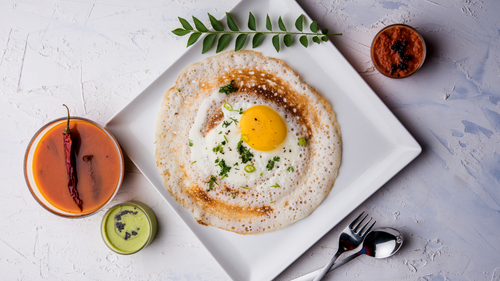 A delightful fusion of dosa and egg, egg dosa is prepared by breaking an egg directly onto the dosa as it cooks on the griddle. The egg is then spread across the dosa, creating a delicious and protein-packed treat.
---
Photo: Shutterstock