When it comes to summer drinks, RoohAfza is a class apart. Stir it in with lemonades, milkshakes and lassis or drizzle it on ice creams, kulfis and faloodas. Blame it on its dark pink hue, signature rose flavour and fragrance, kitschy packaging or its catchy Rooh…Rooh…RoohAfza jingle. In most homes, the arrival of a bottle of RoohAfza means the arrival of summer.
Neelam Agarwal, a Bengaluru-based IT professional came up with 27 different ways to get more life out of her RoohAfza bottle in the summer quarantine of 2020. Agarwal managed to sneak in the goodness of RoohAfza into her curd rasgulla, mawa bati, baked yoghurt, idiappam, churma bati, manda pitha, malpua, firni and basundi. And plans to come up with more such non-traditional ways of using up the rose syrup.
After asking around—home cooks, food bloggers and quarantine chefs—here are five RoohAfza recipes that we're currently drooling over:
1. RoohAfza-flavoured Haryanvi Churma Laddoo
Agarwal's Haryanvi churma laddoo is made using six ingredients, probably lying around in our pantry, these laddoos are perfect for in-between snacking without any guilt. "I realised that the flavour of Rooh Afza goes very well with desserts, especially Indian mithais, as it gives them an amazing colour, aroma as well as flavour," Agarwal says.
RoohAfza-flavoured Haryanvi Churma Laddoo recipe
Ingredients
For parathas
2 cup whole wheat flour

¼ cup ghee + ¼ cup ghee

¼ cup RoohAfza

Water, as required
For mixture
½ cup ghee

¼ cup Rooh Afza

¼ cup regular sugar

1 tsp cardamom powder
Method
To make the parathas, start by mixing the flour, one part of ghee and RoohAfza.

Add water and knead into a semi-stiff dough. Let the dough rest for 20 minutes before rolling into parathas. Roast these parathas on a hot griddle using the rest of the ghee.

When hot, crush the parathas in a mixture grinder. To that, add all the remaining ingredients and using the palms of your hands, roll into laddus.

Garnish with silver foil and serve with rabdi.
2. RoohAfza Cake
Bottles of RoohAfza are always a mainstay at Chennai-based Madhumita Ramachandran's home. "My husband is a big RoohAfza fan," she tells us. Often left with half-empty bottles lying for months at the back of her fridge was inspiration enough for her to start using the syrup as a secret ingredient in other recipes. Here, she shares a RoohAfza cake recipe. 
RoohAfza Cake recipe
Dry ingredients
1 ¾ cup all-purpose flour

1 cup of sugar

1 tsp each of baking powder and baking soda

½ tsp salt
Wet ingredients
½ cup of vegetable oil

1 cup unsweetened soy milk (or any other milk)

1 tbsp vinegar

2 tbsp rose water

1 tbsp Rooh Afza (or as per taste)

Chopped nuts (optional)
Method
Preheat oven to 180⁰C. Grease a baking tray and set aside.

In a large bowl whisk together all the dry ingredients.

In another bowl, whisk together the wet ingredients.

Gradually pour the wet ingredients to the dry ingredients and mix everything well until properly incorporated.

Pour the batter on to the greased baking dish, top with chopped nuts, if using and bake in the preheated oven for 25-30 minutes or until the toothpick inserted comes out clean

.
3. RoohAfza Chia Seed Pudding
Anamika Sharma's fondest summer memories are that of her and her younger brother gulping down tall glasses of RoohAfza-flavoured kacchi lassi that their dad would help distribute on hot afternoons as part of community service. Even summers at her naani's place meant being pampered with glasses of RoohAfza soda milk. She shares a rose-flavoured chia seed pudding and chia-oats-rose popsicles. 
RoohAfza Chia Seed Pudding recipe
Ingredients
1 cup milk (use non-dairy milk for a vegan version)

2 cups of water

¾ cup chia seeds

½ cup RoohAfza (or as per taste)

½ tsp rose water

1 tbsp Gulkand (sweet rose petals preserve)

½ teaspoon cardamom powder

Edible dried rose petals and pistachios, for garnish
Method
In a mixing bowl mix the chia seeds, RoohAfza, water, milk and also add in cardamom powder, Gulkand and rose water.

Cover it and keep it in the fridge to thicken. I prefer keeping it overnight and use it the next morning.

Just before serving, adjust the consistency of the pudding as per your taste by adding a little more water or milk if needed.

Serve it chilled in small serving bowls or glasses, top the pudding with dried edible rose petals and sliced pistachios.
4. RoohAfza Jalebi
Delhi-based Divya Malhotra used RoohAfza to add a pop of colour to her childhood favourite jalebis. "I remember my mom making kulfi and serving it with a not-so-common pairing of jalebi instead of rabri and I decided to relive that food nostalgia by recreating her recipe," she says.
5. Rooh Afza ice cream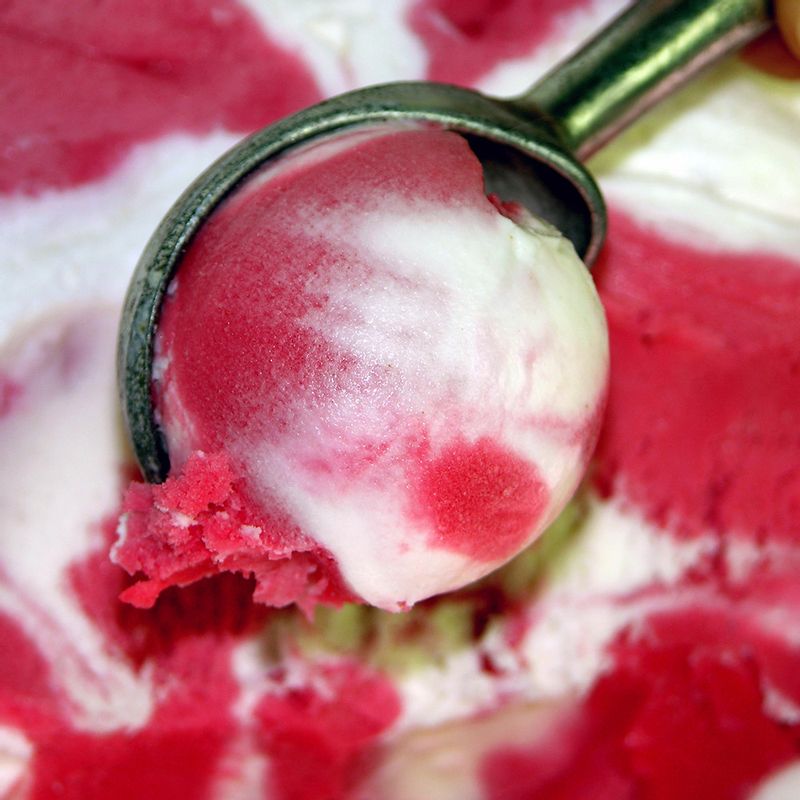 For Nisha Garg, RoohAfza has been a summertime constant since childhood. Her love for the rosy sherbet led her to experiment further and come up with her own unique creations ranging from ice creams to drinks. However, her RoohAfza-flavoured icecream is her fave. "It's a subtle twist on the homemade ice cream my aunt used to treat me with when I was 12 years old," she says.
Rooh Afza ice cream recipe
Ingredients
1-litre milk

½ cup malai (cream)

a few basil leaves

2 elaichi pods, crushed

2 tbsp sugar or 1 sachet stevia

10 ml rose water

4 tbsps Hamdard Rooh Afza

1 fresh rose petals (edible)
Method
Boil the milk in a hollow pan and once it starts boiling, reduce the flame and let it simmer. Keep stirring it at intervals until it reduces to half its quantity.

Next, add in the elaichi, malai, basil leaves, sugar and rose water.

Keep stirring and let it get a little thicker.

When the milk reaches a thick consistency as much as a pudding, switch off the flame.

Let the mixture cool for a while.

After the mixture comes to room temperature, add in the Roohafza and chopped rose petals.

Mix it well and add in the moulds you want to freeze the ice cream in. You can also use ice-trays for this.

Deep freeze for about 4-6 hours or overnight. Serve when done.
6. Dalgona RoohAfza
For New York-based Sufi Malik, Ramzan under quarantine was a balance of both fasting and feasting. Thanks to bae Anjali Chakra who has been whipping up delicious meals to help Malik break her fast with. The latest being the Dalgona RoohAfza, a drink inspired by the Dalgona coffee trend.
Made using three ingredients – whipping cream, milk and of course RoohAfza, Chakra gets onboard the Dalgona trend. All you've got to do is mix 1 tablespoon of Rooh Afza with 4 tablespoons of heavy whipping cream. Mix it until your arm is numb and serve over cold or hot milk.
---
Photo: Shutterstock