Aaji began cooking for her rather large family of eight as soon as she hit her teens and earned the title of sugran (one who has mastered the art of cooking) from her in-laws by the time she turned 18. My great grandmother ensured that Aaji picked up cooking as soon as she was old enough to understand the kitchen dynamics.
Like grandmothers all over the world, Aaji, too, loves feeding anyone who comes home. And once you've tasted her food, second helpings become second nature. Back in the day, when they couldn't afford expensive ingredients, Aaji would utilise all her creativity to make food interesting for her three kids and grandkids. "The trick to make any meal interesting is to add a variety of chutneys and pickles to it," she says. This is how she would trick us into eating even our least favourite vegetable.
I have had the good fortune of staying with her and Azoba for two years while I pursued my post-graduation degree. Much to my disappointment, Aaji doesn't believe in fixed measurements, making it very complicated to replicate her recipes. I try! But it'll never be the same. More than anything, I have learnt the secret to her efficient cooking - lots and lots of love and patience!
Here are some of my favourite chutney recipes from the treasure trove of my Aaji's recipes.
1. Kauth (wood apple) chutney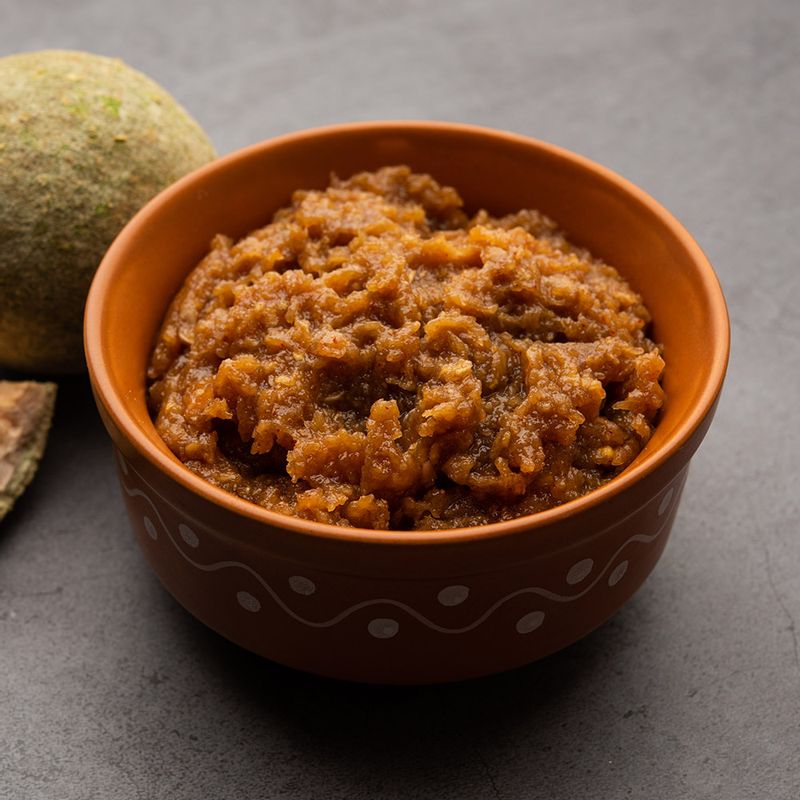 I have always wondered how the white spherical fruit, which I had so often seen on the vegetable cart of local vendors was eaten. Aaji solved the mystery with a tangy mouth-watering chutney. It tastes best with steaming hot varan-bhaat (dal-rice) and toop (ghee)!
Kauth chutney recipe
Ingredients
1 kauth (wood apple)

1½ cup powdered jaggery

2 tsp red chilli powder

1 tsp salt

1 tsp jeera
Method
Break a wood apple in half. Discard as many big seeds as possible.

Scoop out the remaining paste. Add the paste to a blender.

Add in jaggery, red chilli powder, jeera and salt.

Blend the mixture into a chutney. Adjust the salt if required.
2. Laukichya garachi chutney
The best way to eat vegetables is to eat them wholly, without wasting any part, believes Aaji. And hence, came the recipe of this unusual chutney. Made with the flesh of a lauki or bottle gourd, this has to be one of the most unusual condiments that I have eaten.
Laukichya garachi chutney recipe
Ingredients
1 cup of lauki cha gar (or flesh of bottle gourd)

3-4 green chillies

2-3 garlic cloves

3-4 tsp curd

1 tsp peanuts

1 tsp jeera

Salt to taste

1 tsp sugar

Few coriander leaves

1 tbsp oil
For tadka
1 tsp oil

½ tsp mustard seeds

a few curry leaves

A pinch of hing
Method
Heat 1 tbsp oil in a pan. Add in jeera, green chillies and garlic cloves. Saute for a minute. Then add the bottle gourd flesh and peanuts. Cook the mixture till the flesh becomes soft and mushy.

Let the mixture cool. Transfer the mixture to a blender. Also add curd, sugar and salt to it. Blend it into a smooth paste.

Transfer the chutney to a bowl. Add the hot tadka. This chutney tastes best with Thalipeeth.
3. Jawas (flaxseed) chutney
Science has recently unveiled the benefits of omega 3, something that Aaji knew since the beginning. Back in college, while studying nutrition when I told Aaji how important it is to eat jawas daily, she immediately shared this easy and tasty recipe of jawas (flaxseeds) chutney.
Jawas chutney recipe
Ingredients
1 cup flax seeds

¼ cup urad dal

¼ cup chana dal

¼ cup peanuts

¼ cup dry copra (dried coconut) slices

2 tsp chilli powder

1 tsp jeera powder

1 tbsp amchur powder or 1 lemon sized tamarind ball

Salt to taste
Method
Dry roast flax seeds, urad dal, chana dal, peanuts and dry copra.

Let it cool. Transfer the mixture to a blender. Add chilli powder, jeera powder and amchur powder/ ball of tamarind to it.

Grind to a coarse powder.

Flaxseed chutney is ready. It tastes best with pithla bhakri, steaming rice or roti.
4. Karal chutney
Another ingredient that has been deemed a superfood, Karal or niger seeds were unknown to me, until my Aaji served it to me one day, mixed in dahi with hot and crispy Thalipeeth. And till today, this remains my favourite way to eat karalachi chutney. Niger seeds are great for boosting immunity and have antioxidant properties. They are also great for getting rid of the common cold and cough.
Karal chutney recipe
Ingredients
1 cup Karal (Niger seeds)

½ cup sesame seeds

1 tbsp cumin seeds

¼ cup peanuts

¼ cup dry coconut slices

2 tsp red chilli powder

Salt to taste
Method
Dry roast niger seeds, sesame seeds, cumin seeds, peanuts and dry coconut slices till they release their fragrance.

Let the mixture cool down. Transfer it to the blender.

Add red chilli powder and salt to it.

Grind the chutney into a powder.
5. Panchamrut chutney
Puja bhog or prasad is incomplete without panchamrut. But don't confuse this condiment with the milk-based offering to the Gods popular in northern parts of the country. The main motive is to make a chutney with foods having excellent medicinal properties and different tastes. It has a tangy taste and can liven up any thali.
Panchamrut chutney recipe
Ingredients
1 cup sesame seeds powder

4 teaspoons tamarind soaked in ½ cup water

½ cup coarsely crushed peanuts

½ cup dry roasted coconut slices

1 tsp red chilli powder

5-6 curry leaves

1 tbsp coriander-cumin powder

1 cup jaggery

1 tbsp finely chopped green chillies
For tadka
1 tbsp oil

1 tsp mustard seeds

A pinch of hing

1 tsp turmeric powder
Method
Prepare tadka by heating oil in a pan. Add in hing, mustard seeds and green chillies.

Add in the tamarind pulp, jaggery and let the mixture come to a boil.

Now add the sesame seeds powder and peanut powder and dry roasted peanuts. Add in salt to taste. Cover the mixture and let it cook for a minute.

Panchamrut is ready to be served.
---
Photo: Shutterstock