After a delicious meal, we all crave for something sweet. There is nothing better than a plate of your favourite dessert. Fruits in desserts is a common occurrence, but which fruit? Here is another question – what is the most common pineapple dessert you have tried? If you answer pineapple cake or pastry, then you must keep reading.
Pineapple desserts, with their juicy, fresh and tropical flavours, are perfect to make you feel refreshed. Pineapple's sweet and sour taste is something that our taste buds really crave, and when we make a dessert out of it, it becomes a feast for our taste buds. Pineapple is a fruit to savour and packed with various health benefits.
For instance, it is a good source of Vitamin C and B, improves gut health, promotes tissue healing, is a weight loss booster, and much more. But before diving into pineapple dessert recipes, here are three quick facts about pineapple you didn't know.
A pineapple plant can stay alive for over 50 years. 

A single plant produces only one pineapple in a season. 

Pineapple word was first used in 1398
Aren't these simply interesting facts? By now, you must be undoubtedly eager to know more pineapple dishes recipes. So, without any further ado, let us dive into some delicious and flavourful forms of this fruit.
1. Eggless pineapple pastry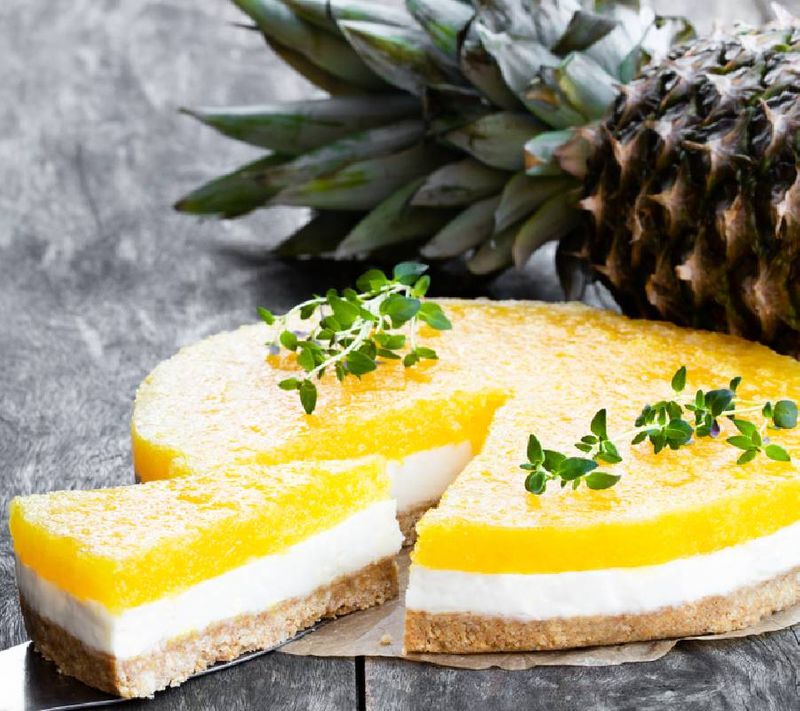 One of the most common and well-known confectionaries is the simple, pillowy-soft, and delightful pineapple pastry. It is known for its light and airy texture, and its base is a pineapple sponge. The layers are filled with whipped cream and juicy pineapple pieces that makes it a cloud-like delight. A well-made pineapple pastry is loved by all the age groups, and second, it is easier to make than any other pastry.
Pineapple pastry recipe is one of the easiest pineapple desserts recipes. Most of the pineapple pastries have an egg to make them spongy and fluffy. But an eggless pineapple cake recipe is equally delicious.
2. Pineapple sheera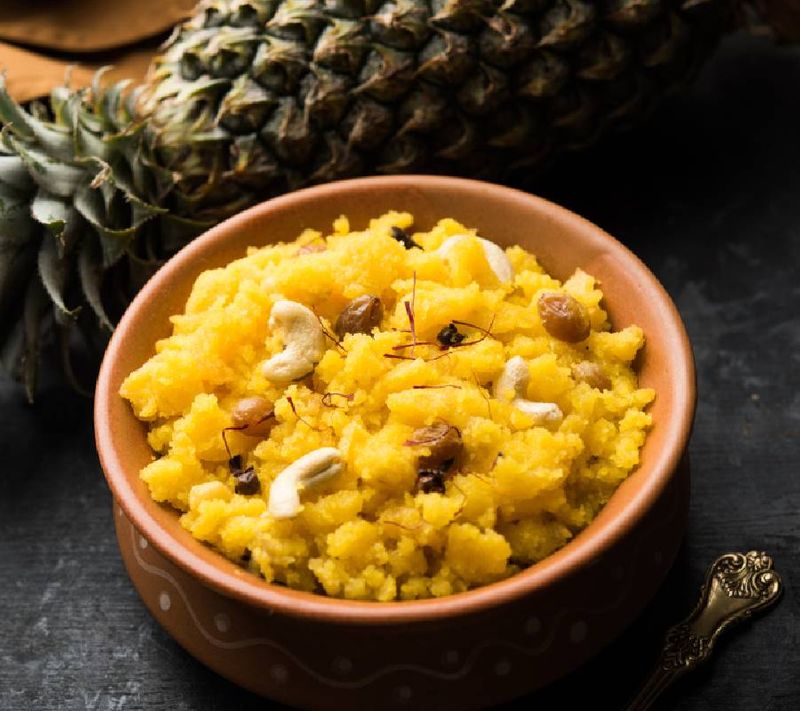 Get ready to give your favourite suji ka halwa a new twist with pineapple. Pineapple sheera is also known as pineapple kesari. It is made with semolina, pineapple, ghee, dry fruits, and berries (optional). Pineapple sheera is perfect as a dessert post a family dinner. This mouth-watering dessert has a rich aroma of desi ghee and nuts and a savoury aroma of pineapple. Sheera is an age-old Indian dessert that can be easily found in any household; when it is prepared with a diced pineapple and cooked properly, it easily becomes unbeatable that is sure to stay with you.  
3. Pineapple-ginger upside-down cake
Gone are the days of canned pineapple dessert. When you taste our recipe of pineapple-ginger upside-down cake, then there's no going back. The thick layer of caramelised pineapples with sweet and spicy notes of ginger elevates the cake. While pineapple gives a tarty and sweet flavour, ginger oozes out a subtle spiciness, and blending both of these properly is nothing but a kind of gamble. Too much of anything and your cake's new home is the garbage can until you forcibly eat it. But when prepared right, the chef's kiss blend of pineapple and butter is undoubtedly the best thing you will taste in your life.
4. Pineapple crumble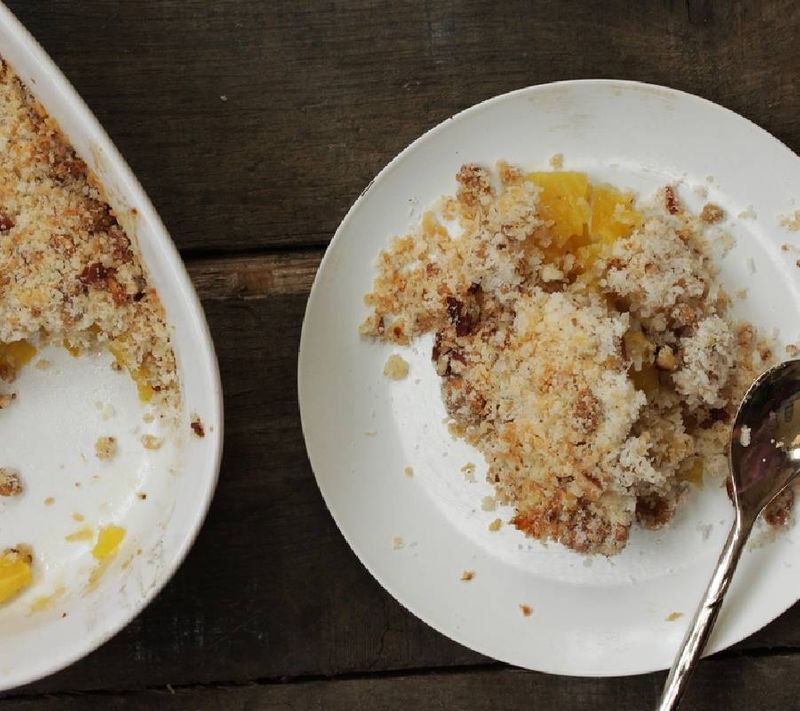 Mouth-watering and butter-like crumble is a satisfying dish for your midnight or midday cravings. But these crumbles become even more delicious when pineapples are added to it. And we are sure that once you taste pineapple crumbles, this might easily become your favourite pineapple dessert and not merely a snack. The tropical taste of pineapple added with spices like cinnamon or coconut can pump up your mood and make you feel good. Rather than using canned pineapple recipes, why not make pineapple crumble for tonight? 
---
Photo: Shutterstock