As one of India's staple cereals, rice finds its way into many Indian dishes. Take poha, for instance, aka flattened or beaten rice, it is one of India's favourite breakfast staples. And why wouldn't it be? It is a good source of healthy carbohydrates allowing you to kick start your mornings on an energetic note and is loaded with essential vitamins and antioxidants.
Across the country, these rice flakes are toasted or fried and combined with a variety of ingredients, from spices to dairy, to relish during breakfast or snack.
In Maharashtra and Gujarat, poha is tempered with mustard seeds and curry leaves; Uttar Pradesh, Assam and Jharkhand mix theirs with yoghurt. Meanwhile, south India uses it as an alternative to rice and semolina in dishes such as kozhukattai and kesari baat. And these are just a few examples. Scroll down to read about the many ways India eats poha.
1. Kande Pohe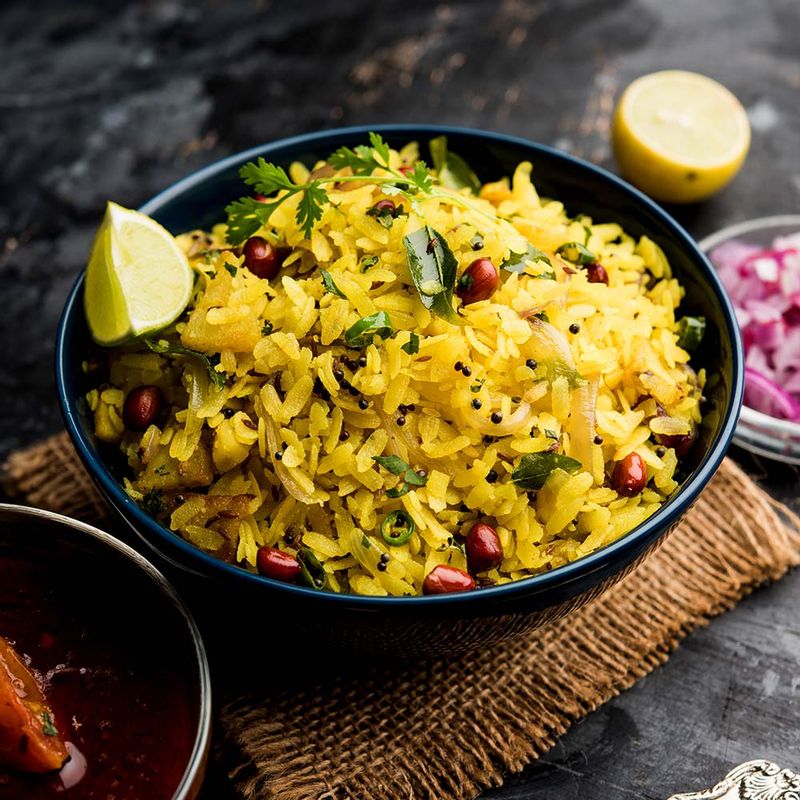 Maharashtra's favourite breakfast dish, kande pohe is made with soaked flattened rice cooked with lightly sautéed onion, green chilli, peanuts and curry leaves. It is served with a dash of lemon juice and a garnish of coriander leaves. Kande pohe gets its unique texture, taste and name from onion, which is called kanda in Marathi.
Not just as a breakfast option, but kande pohe is also an integral part of the arranged marriage scene in the state. Traditionally, the formal meeting between a boy and girl for marriage is known as the kande pohe karyakram. A few also call chaha-pohe karyakram.
Maharashtra's version of poha is similar to Gujarat's, but the latter recipe contains fried potatoes and little sugar. A few Gujarati households even give the onion a miss in their recipe.
2. Puli Aval Upma
Tamilians swear by the puli aval upma, which is basically soaked poha and roasted peanuts cooked in tamarind paste and tempered with mustard seeds, green chilli and curry leaves. Some say it tastes similar to tamarind rice. Kannadigas know this breakfast/snack recipe as huli avalakki and shower on it the same amount of love as the Tamilians. 
3. Chuda Santula
Odisha calls flattened rice, chuda and it is made using the fragrant rice variety, Acharmati, a short bold rice. This poha is used to prepare a variety of dishes such as khichdi, pulao and kheer in the state; however, the most popular is chuda santula. Chuda is cooked with vegetables such as carrots, peas and capsicum, and tempered with the mustard seeds, ginger and turmeric powder.
4. Aval Dosa
If you like your dosa extra spongy and crispy at the same time, you must try aval (poha in Tamil) dosa. A weekend staple at Tamilian households, the aval dosa batter consists of rice, lentils and flattened rice. The trio is fermented and ground into a paste to make this type of dosa and it is usually eaten with a side of tomato or coconut chutney. 
5. Indori Poha
A famous street food from Indore, the Indori poha has a distinct tangy-sweet taste and is best paired with jalebi. What sets it apart from the Maharashtra and Gujarat variation of poha is the addition of pomegranate seeds and jeeravan masala, a unique spice mix featuring cumin, bay leaf, nutmeg, mace, asafoetida, cardamom, cinnamon, dry mango powder, cloves, black salt and dry ginger powder.
6. Nalla Rosanche Fov
Goans like their fov (poha) cooked in coconut milk with sugar/jaggery and a hint of cardamom. This five-minute pudding recipe is traditionally prepared during the festival of Diwali. A variant of this nalla rosanche fov is the doodanche fov where coconut milk is replaced with cow or buffalo milk.
7. Atukula Laddu
This delicious laddu recipe hails from the kitchens of Andhra Pradesh. Tamilians know it as aval laddu. It is also a traditional offering made to for Lord Krishna on Janmashtami. Atukula laddu is easy to prepare. All you need to remember is this needs to be formed with hot ghee or you will have a crumble and not a laddu. 
8. Aval Payasam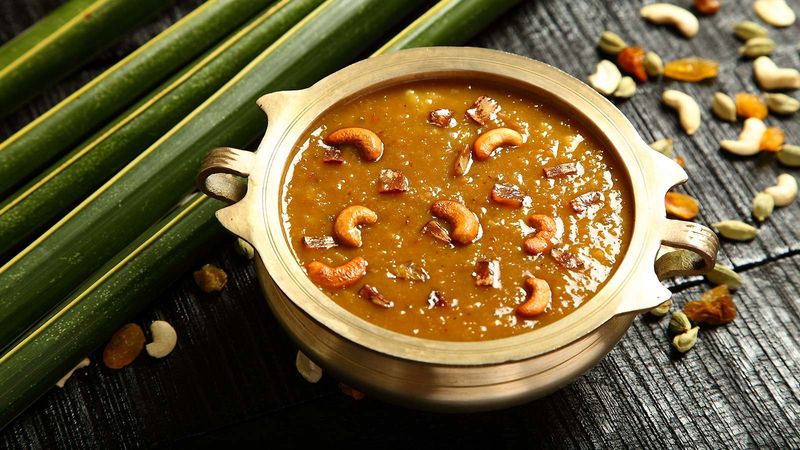 Love a piping hot bowl of payasam? Then you're going to love the aval payasam more because it is ready in less than five minutes. Jaggery, milk, ghee, nuts and poha come together to make this rich and delicious pudding from Tamil Nadu. If you want to make it richer, just reduce the quantity of sugar and milk and add some condensed milk. 
9. Aval Kesari
Sweet, rich, ghee-laden, aval kesari is a variation of the popular kesari baat or rava kesari from south India. For this, roasted poha is ground into a powder and then cooked in ghee, sugar/jaggery and water. Cardamom powder is added for additional flavour and aval kesari is garnished with raisins and mixed nuts tossed in ghee.
10. Aloo Poha Tikki
Pair it with tea, eat it with a side of carrot and cabbage salad or pour over some ragda and tamarind-jaggery chutney to make a ragda pattice - there are so many ways you can eat aloo poha tikki, as recommended by Gurdip Kohli Punj.
11. Aval Kozhukattai
Aval kozhukattai is a steamed oval-shaped dumpling made with poha and grated coconut mixed with a tempering of coconut oil, mustard seeds, urad dal, chana dal, green chilli and curry leaves. You can eat it as is or dip it into your favourite chutney.
12. Poha Cutlet
Chef Shazia Khan combines mashed potatoes, grated vegetables, cashew nuts and poha to make soft and tender cutlets. These cutlets are a great way to get children to eat their vegetables.
13. Aval Nanachuthu
A sweetened poha dish, this is a popular tea-time snack in Kerala. Nanachuthu is poha soaked in a mixture of liquid jaggery or grated jaggery, sugar and grated coconut for a couple of hours and then eaten topped with a teaspoon of ghee or some milk and banana slices. Many add cardamom powder to the dish to amp up the flavours. 
14. Poha with Spiced Coconut Milk
Bollywood actor Malaika Arora's mother Joyce loves cooking and sharing those recipes with family and Instagram followers. One of her posts was a scrumptious poha recipe that she learned from a friend. For this, poha is soaked in water and topped with a spicy concoction of coconut milk, tamarind extract, jaggery and spices.
15. Papad Poha
If you're bored of the traditional papad poha, a crispy and flavourful Diwali-special snack made using thin rice flakes, crispy papad, spices, peanuts and roasted coconut, check out chef Ranveer Brar's take on it. The chef whips up a papad upma garnished with a lemon wedge, green chilli and spring onion.
16. Parched Rice Croquettes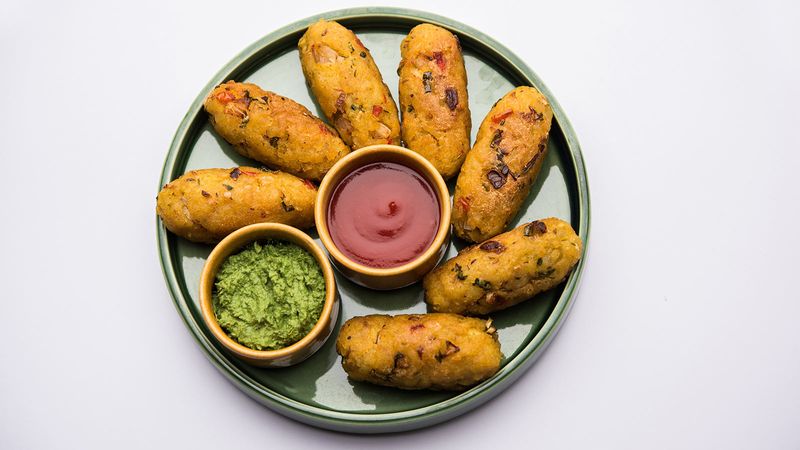 Give the usual potato and veggie croquettes a break and snack on parched rice croquettes by chef Gautam Mehrishi. These croquettes come stuffed with a flavourful mixture of grated coconut, cumin, dried mango powder, and mint and coriander paste, and they can be prepared in under 30 minutes.
17. Chura Matar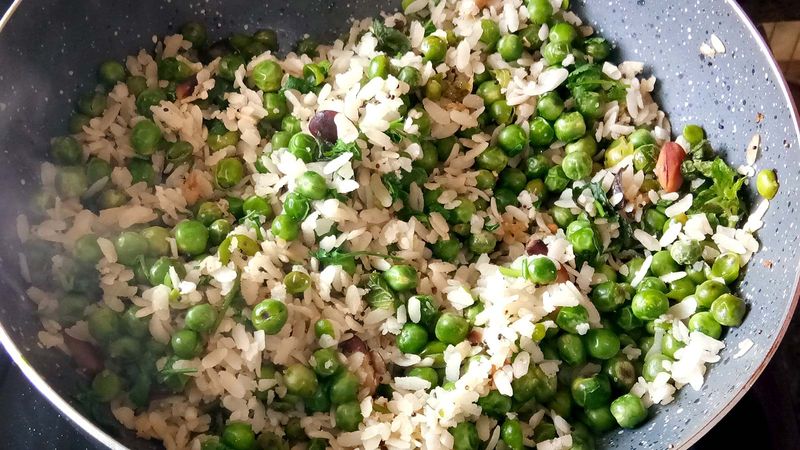 A traditional breakfast delicacy from Varanasi, chura matar is a winter speciality. Fresh green peas and poha are seasoned with salt, black pepper, sugar, garam masala, amchur (dry mango) powder and coriander leaves. You can also add nuts and raisins tossed in ghee for additional flavour and texture.
18. Dahi Chura Gur
This gluten-free delicacy is considered one of the healthiest breakfast dishes in Bihar, Jharkhand and Uttar Pradesh. It is a no-cook delicacy that requires washing poha in water and adding curd and jaggery to it. In some parts of Bihar, ripe banana slices are added to this dahi chura gur recipe for additional flavour and texture.
19. Indori Poha Croquettes
Indori poha and croquette come together to make these mouth-watering rolls. A snack recipe by chef Rakhee Vaswani, these croquettes are spiced with the famous jeeravan masala from Indore and garnished with a cheesy cheddar sauce, microgreens and farsan.
20. Dadpe Pohe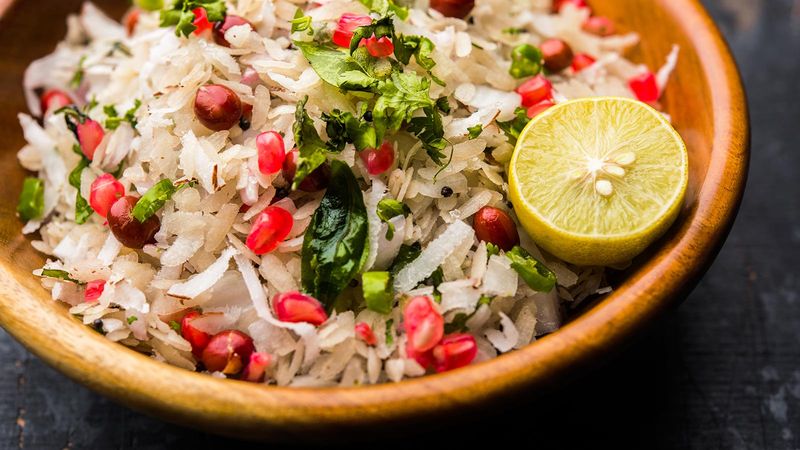 Another Maharashtrian poha dish, dadpe pohe features rice flakes, chopped vegetables and a tempering similar to that of kande pohe. Also, unlike kande pohe, this snack-cum-breakfast dish is not cooked in the tempering, but it is poured over the mixture of vegetables and soaked poha. It is finished off with pomegranate seeds, coriander leaves and grated coconut.
21. Chirer Pulao
Much like Odisha's chuda santula, chirer pulao is packed with vegetables. This poha variation is mostly eaten during winters and it is loaded with seasonal vegetables like cauliflower, green peas and carrots. It is mildly sweet, thanks to the veggies, and is flavoured with the Bengali garam masala and kalonji. The chirer pulao is enjoyed with a dollop of ghee on it and pairs well with a hot cup of strong tea.
22. Allepak
Belgaum's special allepak or alipaak is a snack that is best paired with a glass of fresh sugarcane juice and ginger balls. For alipaak, you soak the poha in water for a few minutes, drain it and mix with grated coconut, sugar, salt, lime juice, green chilli and coriander leaves. The highlight here is the ginger ball that is relished with, which is a laddu of sorts made with roasted chana dal, ginger and chilli.
23. Phova Kallo
This poha recipe from the Chitrapur Saraswat cuisine of Maharashtra is a combination of uncooked thin flattened rice and a scraped coconut mixture. The mixture features coconut, green chilli, crushed coriander seeds, cumin, salt, sugar and little coconut water, which is mixed and then tempered with oil, mustard seeds and curry leaves. Here, the poha is added right before serving to ensure it soaks in all the flavours of the mixture but doesn't end up soggy.
24. Poha Chivda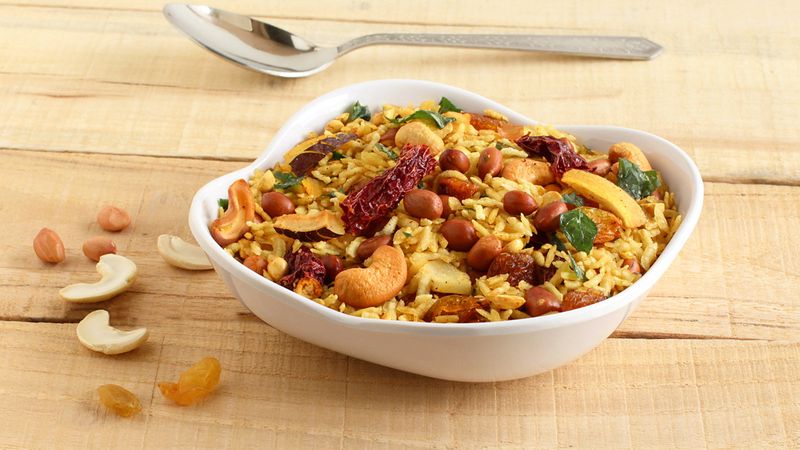 A Diwali-special in Maharashtrian households, poha chivda is a crunchy, savoury-sweet snack which is an assortment of roasted or fried thin poha, chana dal, dry coconut, peanuts, cashews and raisins, cumin and curry leaves.
25. Doi Chire
Doi chire is a typical Bengali breakfast of champions that combines curd and poha with sugar. Many relish doi chire with chopped fresh fruits. Think ripe mango, banana and pineapples.
---
Photo: Shutterstock