For someone who never planned to be a significant part of the film industry, Taapsee Pannu has indeed come a long way. The 34-year-old completed 12 years as an actress this July and already has an impressive repertoire of films to look back upon, including  Pink, Naam Shabana, Manmarziyaan, Mulk, Saand Ki Aankh, Badla, Thappad and others. 
Shabaash Mithu, her latest, releases on July 15, and will be her fourth sports-based movie (the earlier ones were Soorma, Rashmi Rocket and Saand Ki Aankh). It is about Indian skipper Mithali Raj, who has been the torch bearer in bringing women's cricket to the fore, has led India to two World Cup Finals and has had the longest career in ODI cricket in the world, across genders. There is no other person who can introduce people to women's cricket better than Mithali Raj.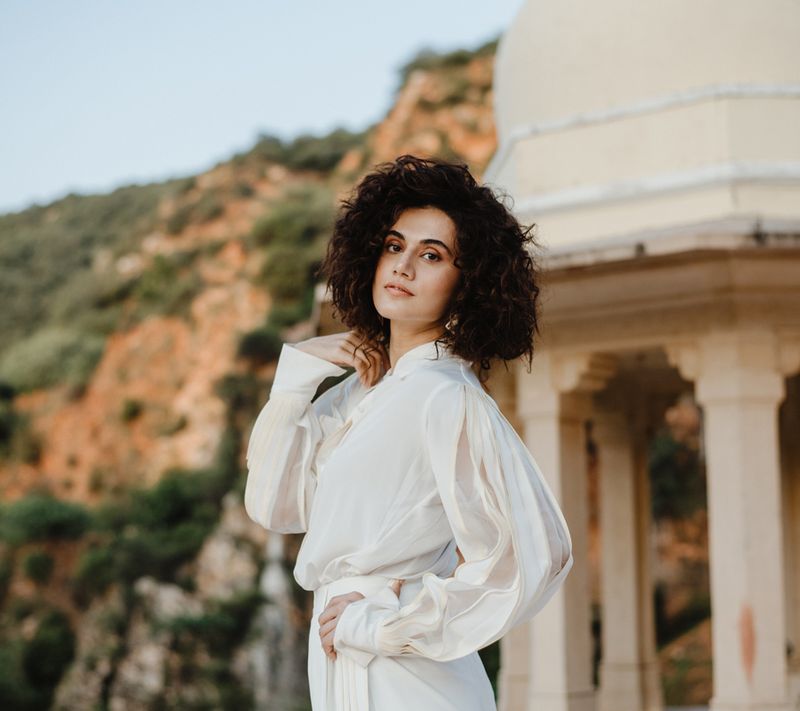 'I love sports and I think sports movies and I have a mutual attraction'
Taapsee and her connection to sports-based films is noteworthy and talking about that she says, "I love sports and I think sports-background films chahe kisi bhi language mein ban rahi ho, ek chakkar mere pass aa hi jaati hai. We have a mutual attraction. But now I really want to take a break from sports related movies. Honestly, I feel tired of this. Acting and sports have been going on simultaneously in my life for many years now. And now I want to feel like an actor and not feel like an athlete all the time."  
'I want to take a break from sports-related films because it is taking a mental toll on me'
In a world where work stress is taking a toll on people almost every day, actors like Taapsee too are affected. While she has her fitness game on point with all her rigorous physical training, she acknowledges that staying fit mentally is equally important for her. "That is one of the reasons why I want to take a break from sports related films because it is taking a mental toll on me. I literally have no life beyond training and shooting and that is because every morning I wake up at 5 am and go for two to two and a half hours of training, then go on to shoot another film for 12 hours, and then come back home and I'm forced to sleep as soon as I'm back, because otherwise, I will not get enough sleep to be ready for the next day! I have been living this life for two years and it is taking a mental toll on me because I need to have a life beyond my work. Hence it is very unfit and bad for my mental health to continue doing these kinds of films and I do not mind taking help of mental health specialists to make sure that I have a bouncing board or someone who will take my anxiety out of me. It is an extremely demanding profession mentally, especially when you are shouldering your films and you're going to be one who will face the maximum repercussions, good or bad. It is not a very rosy position to be in all the time. I've gotten used to prepping for one film and then shooting for another but it is taking a mental toll on me so that is why I'm stopping. I am not doing any more films where it requires months and months of prep while I'm shooting something else. Just like you go to a doctor for a physical ailment, whenever. I feel like I need some mental health help, I go out and take help." 
'Yes, the upcoming release is making me nervous and making me feel the pressure'
With this Taapsee will be seen on the big screen after two years, as her last release was Thappad and she confesses that she is a little nervous about that. "Yes, it is making me nervous and making me feel the pressure and rightfully so. The day I stop feeling the nervousness before a theatrical release, I think it would be time to change my job. Because it means there is indifference then. Agar kuch bhi ho raha hai aur farak hi nahi pad raha then what's the point."
'It isn't a biopic of personal struggle, but showcases women's cricket in India'
While most sports related biopics showcase the personal struggles that sports persons go through, Shabaash Mithu steers clear of it. Taapsee explains, "Underdog stories are very relatable and in fact your biggest films are those where the underdog becomes the hero in the end, regardless of being a sports biopic or not. But this film is different. Mithali Raj has no personal struggle, there is no usual spin-off of parents who are poor or are unsupportive. There are no such problems in her life. This is more of an underdog story of women in blue, and not Mithali. The story is being told from Mithali's lens. She has had a very long career in cricket and over the years she has seen the anonymity that women in cricket face. For 10 years there was not a single footage of her games or her career. She has made multiple records, yet I did not have a single visual reference of that. After a decade of playing, recording of her matches finally began. So, from anonymity to getting women's cricket to what it is today, her whole life looked like the perfect vehicle to showcase women's cricket in India. So, it is not a biopic of personal struggle, it is more about a team rightfully asking about acknowledgement and love, that this cricket-loving nation has been overlooking and avoiding. In the film we have some dark humour - you feel that it is so sad, yet you laugh at how ironic things are in cricket just because a different gender is involved."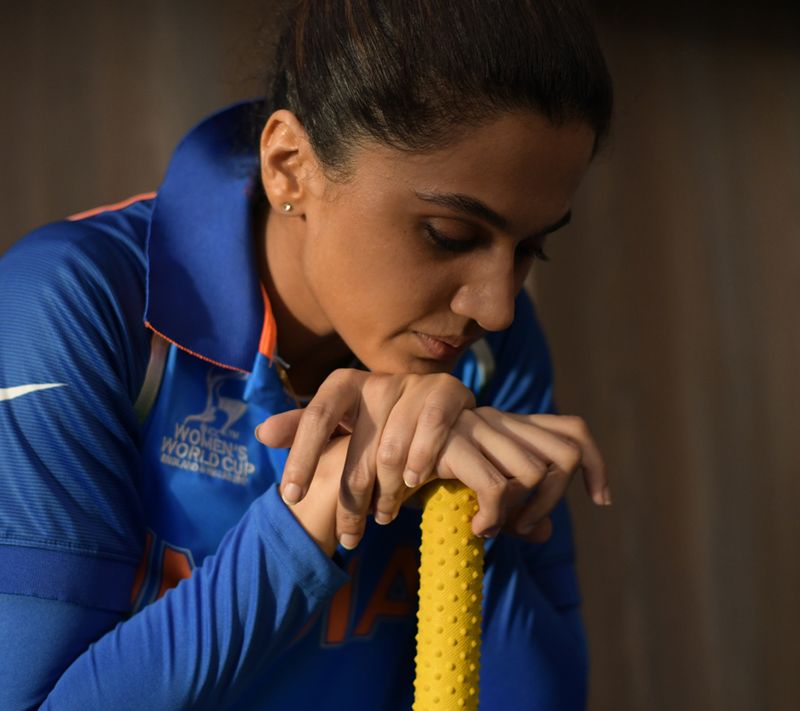 'I was excited to play a legend like her on screen, but it came with a heavy price of learning a sport I've never ever played'
The actress reiterated that this is one of the hardest roles she ever played not just because of the prep part and physical practice sessions but also because it involved being in the state of mind of Mithali and her personality.  "Never in my life had I picked up a cricket bat! When I was young and would play galli-cricket, I would only get a chance to field, and not to bat or bowl. I played a lot of other sports including hockey and badminton but not cricket at all. When I got this chance, I was really excited to play a legend like her on screen, but it came with a heavy price of learning a sport I've never ever played! It took me months and months to master the shots that I had to show on screen. I have not mastered the game and I still don't know how to play the game as a full match. But yes, I can hit the shots and I can hit a square cut, or a cover drive. But I don't know how to bowl. It is impossible to learn such a big sport in just a few months." 
'Playing Mithali was a massive acting challenge because I am totally opposite to her'
The actress says that in this film one will rarely get to see cricket much. The audience will see her journey from when she was 16 till she was 36 years old. "If we show Mithali's cricket then one film is not enough, we'll have to create a web series. We just show the milestones of Mithali's career, only the highlights of the matches where she broke many records. The majority of the film is actually the drama portions where you will see what went beyond the field and for that I had to be like her. That was a massive acting challenge because I am totally opposite to her.  She is very laid-back, quiet and does not express, emote or talk much, and this is just the opposite of who I am. For me the challenge was to show my audience in 2 1/2 hours that I'm happy, sad or angry or jovial without showing much emotion. Mithali never shows emotions, and she says, 'I do not want the person in front of me to know what I'm feeling inside'. She's not at all expressive and you cannot read her. My mother watched the film with me and during the interval she said, "Tere zyada dialogue nahi hai film mein." I told her that it was Mithali's biopic, not mine! It was a big challenge for me to make sure that my audience understands her emotions without me showing obvious expressions. I had a really tough time portraying Mithali."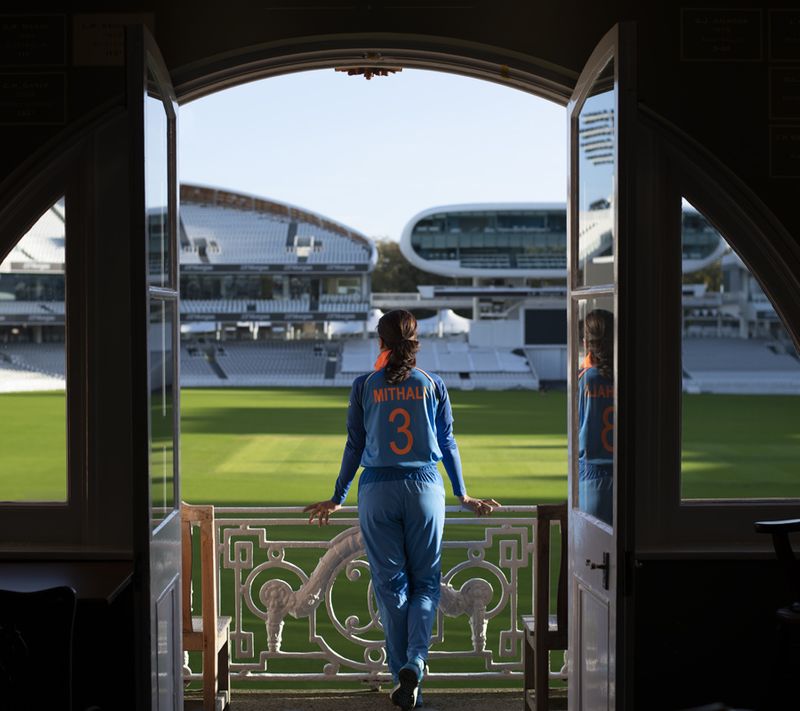 'I just want validation from my audience because they are the ones paying for the content I'm putting out'
Taapsee debuted OTT with Haseen Dillruba last year. While she is happy with that platform, she personally loves the idea of watching films in theatres. She says, "I know that I want people to spend time and money on my film, believing that it is going to be worth spending their time and money. It does not matter whether it releases on OTT or theatres. I just want validation from my audience because they are the ones paying for the content that I'm putting out on OTT or theatre. I was quite skeptical about OTT until 'Haseen Dillruba' was released. But then, I did not feel for a second that it was not a theatrical release with the kind of buzz that it created. While I'm not averse to the idea of OTT releases I personally like the idea of community viewing where the entire family is sitting down in a theatre with 200 other people and watching a film on a big screen. That gives me a good feeling and I would want my audience to do that for me."
Taapsee has been known to take on roles that "nobody else wants to do". Roles which are "too risky to do" and which are too "out of the box", or the ones which are "too prep heavy" have mostly landed on her platter. After doing quite a few films without a hero, Taapsee will next be seen opposite Shah Rukh Khan in Raj Kumar Hirani's Dunki in December 2023.
---
Photo: Team Shabaash Mithu