Shriya Pilgaonkar is a determined actor. When she heard the theme for our October 2023 cover shoot was 'Joy', she truly understood the assignment. She knew how to work the girl-next-door look without dimming her aura and personality. She knew what would make her stand out, and nailed each look with effortless ease. It's can be said that Shriya seeks perfection in everything she does. A job well done is what gives her the dopamine boost and instils joy.
Her perfectionism is also what drives a sense of urgency and need within, where she wants to prove to the world—and possibly herself—that there is more to her than what meets the eye. She states, "As an actor, it has always been important to establish myself as a versatile performer. I can do any character or role, so I think my choices are always in that direction." One of the most popular next-gen actors, Shriya's debut was in her father Sachin Pilgaonkar's directorial, Elkulti Ek (2013), a Marathi family drama.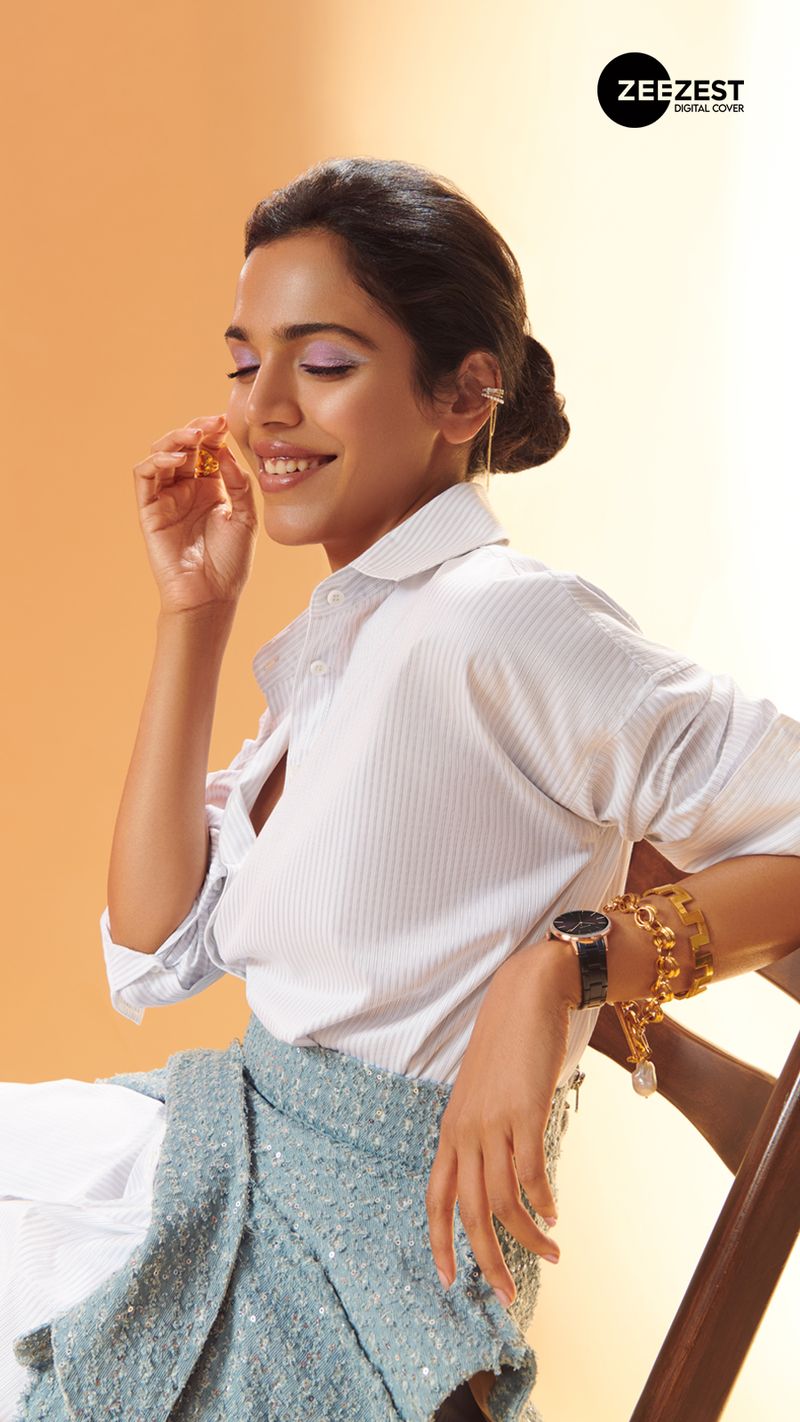 She made her Bollywood debut with Fan in 2016 where she shared screen time with none other than Shah Rukh Khan. A dream come true for most debutante actors, Shriya has since chosen roles that she knew would not be easily forgotten. This includes characters such as Sweety Gupta in Mirzapur and Ayanna in the French film Un + Une.
In the last two years with back-to-back OTT releases, Shriya has found a permanent spot under the spotlight and truly showcased her versatility as a performer. In a deeply introspective conversation, Shriya Pilgaonkar reveals what makes her an actor with a difference.
Smitten by storytelling
Our conversation begins with media and newsroom dramas being a storyteller's playground for modern web series. Shriya herself is fresh off the success of The Broken News and hence makes for an apt commentator on slow and gradual interest in the machinations in a newsroom.
Since the rise in the popularity of OTT platforms, one predominant genre that has gripped audiences across are crime dramas and thrillers. But shows such as AppleTV's The Morning Show and Scoop on Netflix, Zee5's The Broken News and even Kartik Aaryan-starrer, Dhamaka are good examples of how a newsroom fascinates audiences. It is empowering to see the Fourth Estate take down those who are corrupt-minded and full of criminal intent, at least on our screens. There are many international shows such as Aaron Sorkin's The Newsroom and Reporter, starring Shekhar Suman, in the glory days of Doordarshan that have previously set a successful precedent for the genre to grow.
Shriya informs that The Broken News season one was an adaptation of a 2018 BBC show called Press. The show's success was such that there is a season 2 in the pipeline. "The BBC original didn't have a season 2, but we just finished shooting for the second season," she adds to the conversation about the depiction of journalism and media on screens. One of the biggest reasons for commissioning season 2, she believes, is the skillful adaptation in the Indian context. "The Broken News reflects the situation in Indian newsrooms and media houses, and more importantly how things are not always black and white. While Jaideep (Ahlawat) and Sonali's (Bendre) characters were different ends of the spectrum, my character, Radha Bhargava, in contrast was a very layered one," she says.
The genre has depth, interest, and impact that allows resonance. "We got really good feedback from a lot of journalists and reporters," she exclaims about the upcoming season. "Season two is full of crazy twists and turns. I think our writers did a very good job in subtly infusing real-life scenarios in the country that add to the intrigue."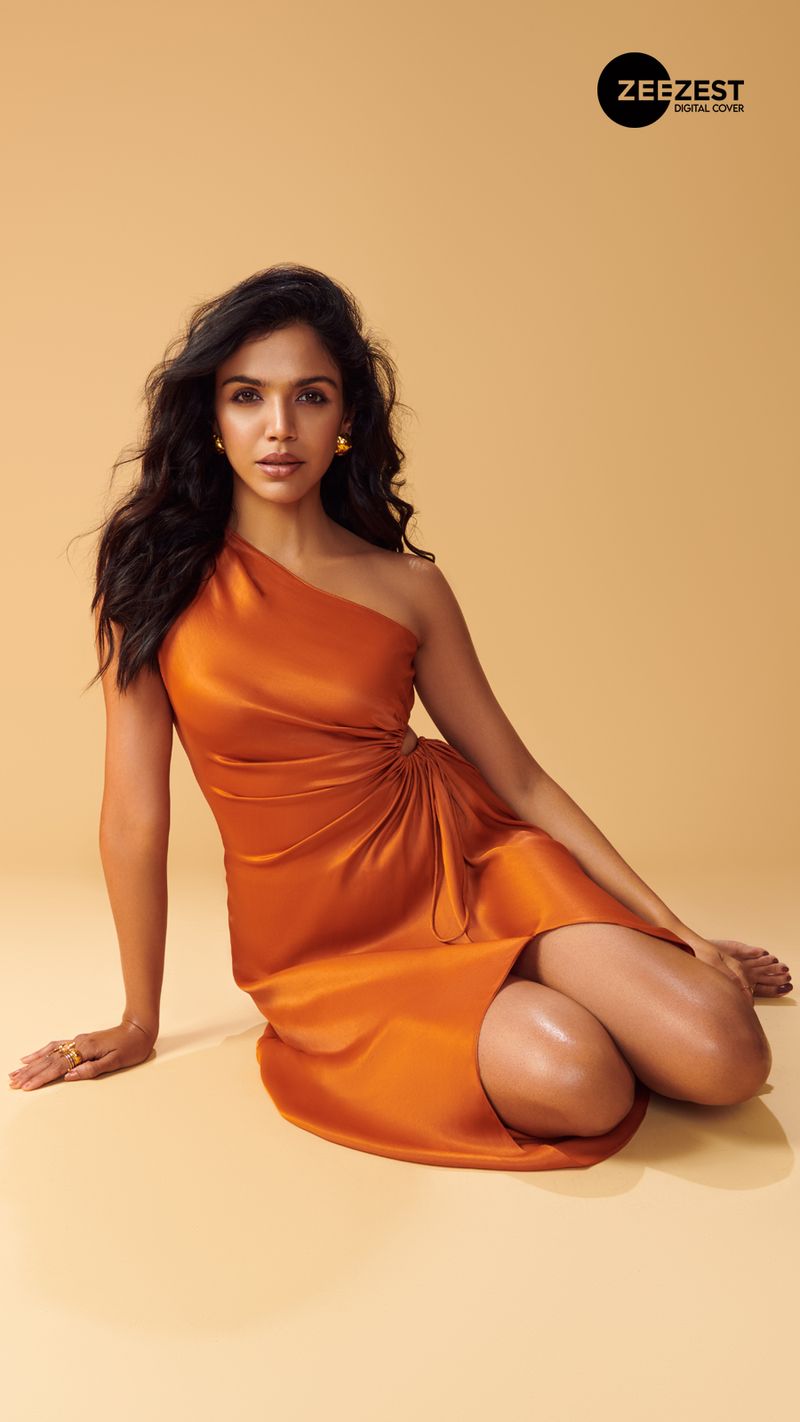 A lot of this positive feedback has to do with OTT as a platform that allows actors to pick up subjects and stories that have roots in reality and are conversation starters. "I don't think the point is to teach life lessons," Shriya says. She gives the example of her courtroom drama Guilty Minds, which she thinks is different from other courtroom dramas in India. "Guilty Minds conveyed an authenticity to the legal system in India. If you have makers who want to be authentic and want to present stories in an engaging, intriguing, and entertaining way—it will be appreciated and successful," she says.
Shriya's recent success
Speaking of successful shows, Shriya's success as Kashaf Quaze in Guilty Minds has to be addressed. She acknowledges that it was a dream character to portray in her career. "It's so interesting when writers don't look at you in a one-dimensional way, a limitation that is often faced when women characters are being crafted for the screen. But Guilty Minds allowed me to understand myself better as an actor and to explore myself purely because of how beautifully complex Kashaf was. She was strong and vulnerable at the same time. For me, building that character was a very beautiful experience," Shriya reveals.
As for success, she says that it is more rewarding that success finds its way through word-of-mouth because it is a much more real reception based on how much people have liked and chosen to recommend it. This sort of recognition takes time to build and get people's attention.
This is how Shriya wants her audiences to perceive her and is her vision of being a professional in the cut-throat business of entertainment. "I have always been very clear about one thing, I don't look at my journey as a five-year, 10-year or even 15-year career," she says. "I am in it for the long haul and have a vision for a 50- or 60-year-long career. While short-term setbacks can get to me, I am always looking at the larger picture. My professional decisions are not taken based on fear," states Shriya, explaining how she wants her audiences to perceive her and sharing her vision of being a professional in the cut-throat business of entertainment.
"It's very important for me to maintain that balance of doing different mediums. I'm very conscious of it as an actor and my approach is not about how much work I'm doing—but the impact of the work," she adds. In a world where there is so much content and so many opportunities to hone one's craft and prove their mettle, Shriya truly believes that her body of work will shine and will sustain irrespective of the medium.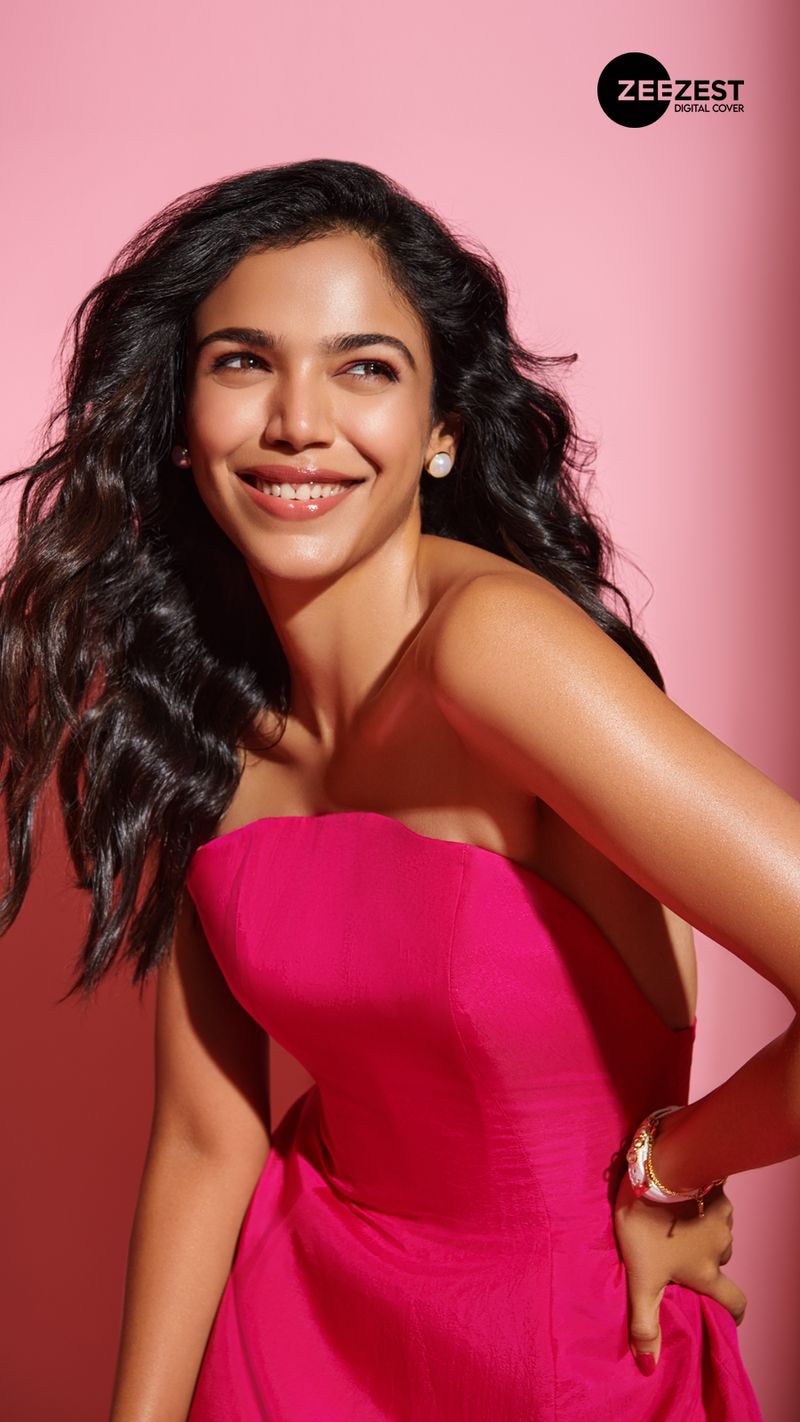 While Kashaf Quaze gave Shriya a lot of satisfaction as an actor, she is on to manifesting her next dream role. "One of my dreams is to be part of a period drama or an epic historical feature," she confesses.
A long journey
There is a hint of dissatisfaction in her voice when she says, "There's a tendency for people to immediately box you into stereotypes and notions. I'm often introduced as an OTT star, but I don't imagine myself being an artist in one medium. Films, web series, and theatre all are different mediums that I want to explore as an actor. These preconceived notions can be annoying. As an actor, I don't want to allow people a chance to stereotype me or put me in a box me in any way."
Having said that she also acknowledges that there are many things an actor can't control. "You can work very hard but cannot control what opportunity finds you and what project works out. The only thing I have in my control is the ability to focus on my craft and diversify myself," Shriya explains her method of mitigating the uncertainties of the profession. She adds, "There are times you have to spoon-feed people about your skills and capabilities because they lack the imagination." She is referring to a big music video that is slated to launch soon, which will feature her in an avatar that no one has seen before. She also touched upon her character in Taaza Khabar, iterating that it was also not a conventional character—she played Madhu, a sex worker and love interest to Bhuvan Bam's Vasant Gawde in the compelling series.
"If you speak to any actor who's done some successful roles, they'll tell you that they will get a lot of similar kinds of characters to play," Shriya explains. After Mirzapur, she was getting offers to play characters reminiscent of Sweety Gupta from the show. "I love surprising people with the work I'm doing. What would be very interesting for me is to do something completely unexpected, and sometimes getting that is difficult," she continues on the importance of perseverance and upfront communication.
It is this communication that led her to star in music producer OAFF's music video Dokhi Na, shot in two days in Kolkata. "It was a chaotic shoot. I have not spent too much time in Kolkata, those two days were also my way of exploring the city. It was a completely guerrilla-style shoot with no plan and all DIY," Shriya beams about her experience.
Regional films
Though Shriya has inherent access to Marathi films, she is currently not working on any. She quickly clarifies, "People misunderstand that I'm not keen to do Marathi films, but that's not true at all." According to Shriya, it boils down to the fact that the scripts that have come her way have not excited her yet. But there are storytellers on her wish list such as Avinash Aaron and Chaitanya Tamhane.
She has worked in Tamil and Telugu films such as the trilingual Kaadan (Haathi Mere Saathi in Hindi). "I've been vocal about the fact that language is not a barrier and I want to work across industries and even globally."
Family wisdom
For an actor, the trials and tribulations of a box office or critical success can make or break their career. Shriya's approach is inordinately mature. We suspect it has to do with having prolific industry veterans and stupendous actors as parents—Shriya was born to Sachin and Supriya Pilgaonkar, both of whom are great artists. "It's an absolute privilege to have had this sort of grounding and perspective to my work," she accepts. Sachin Pilgaonkar, Shriya's father has been in this industry for almost 60 years with more than 200 films under his belt; he started his film career at the age of five. Her mother Supriya also has an exceptional body of work in Hindi and Marathi films, television and theatre as an actor. "The whole idea is to enjoy the journey of the creation but to detach yourself from the result," Shriya says, suggesting this is the single biggest professional learning from her parents. "It is a hard ask but it is the only way to go because, otherwise, you will be lost," she adds.
Shriya considers emotional intelligence a fundamental requirement of being an actor because empathy is where characters are built and developed from. "It is something I have learned by observing my parents. They did not overprotect me and allowed me to take that leap of faith, fall, and learn from my mistakes," she says. The Pilgaonkar legacy in the film fraternity is built on hard work, dedication and love, she adds.
At the same time, Shriya is glad that the environment and competition within the film and entertainment industry have evolved with so many different opportunities, scopes and mediums of work that 'insecurities' have become redundant. She also firmly believes in supporting peers. "When I see a good performance, I reach out to the person because I think it's always nice. It's always inspiring."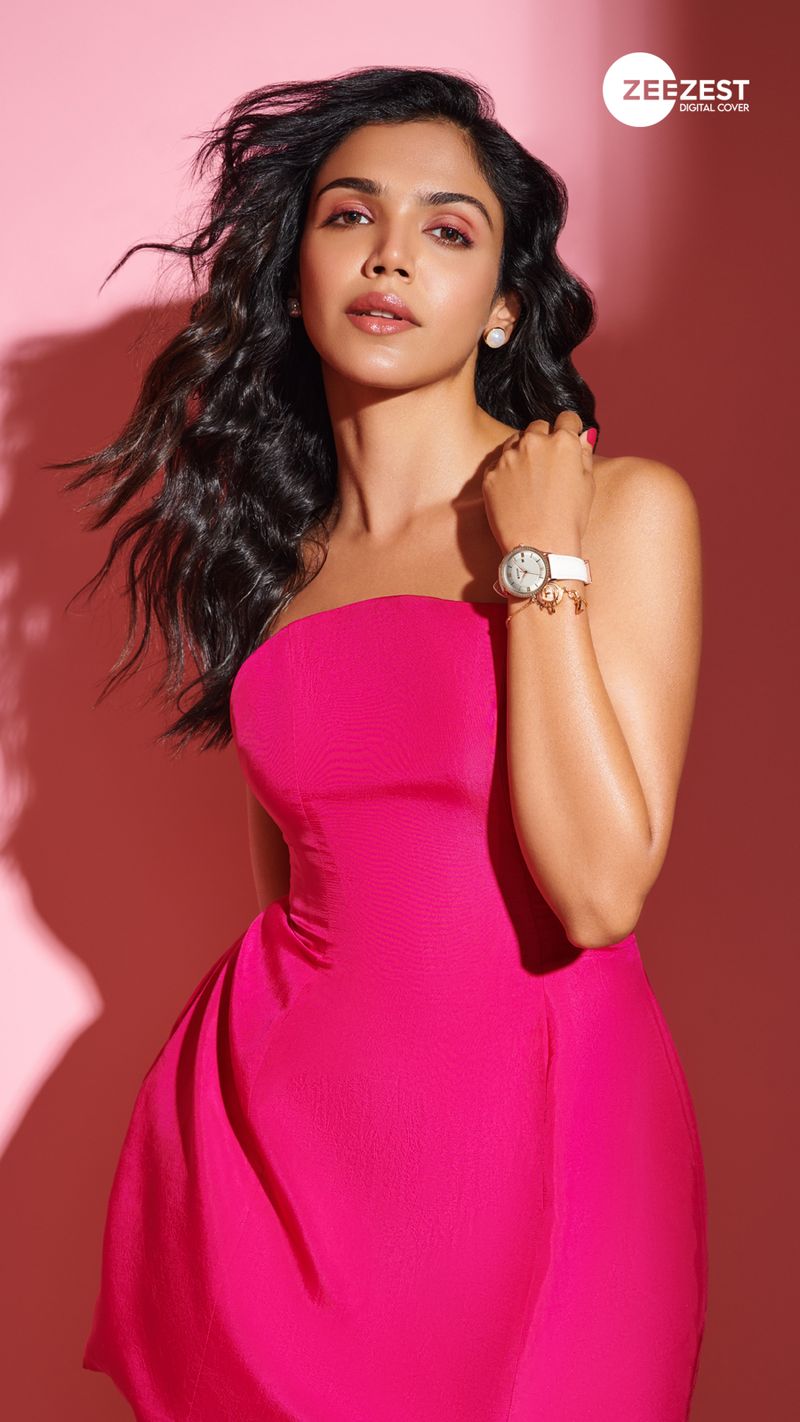 Soul searching with travel
A glance at Shriya's Instagram profile will reveal that she was bitten by wanderlust a very long time ago. "Travelling is food for my soul! It helps me nourish myself as an actor," she says. Her favourite travel companion though is an unlikely choice for most millennials—her grandfather.
"My grandfather and I have a very special travel bond and connection. He's always loved to travel and it was his dream to visit 100 countries and recently he managed to achieve it. He's travelled to 102 countries now and I have had the fortune of travelling with him and taking him also." The most memorable for her would be the time Shriya and her grandfather went on a trip to Iceland together. "He and I have travelled around India together. Rajasthan was the first place we went to together. We've also done a Mediterranean cruise and every time we have travelled, I have filmed him myself."
Shriya loves to travel solo. Her first solo trip was to Japan, she recalls. "I planned the trip from the little money I earned from my first few projects, I spent it all on this Japan trip. I was living in hostels and exploring the country on my own. It was so freeing and beautiful, and I came back with fresh zeal for life and new energy for my work," she says.
This segues into Shriya's diary writing habits. "I have lots of diaries wherein I write my travel stories and travel experiences. Sometimes I get a lot of cool ideas for films and short stories when I'm travelling." She does hint that she may be thinking of bringing some of these ideas to fruition but time will tell.
While Shriya is looking forward to the upcoming season of The Broken News and Guilty Minds she is also excited about some big projects in the coming year. Slowly but steadily, Shriya is set on chiselling a niche for herself on her own terms, as a thespian.
Credits:
Creative Consultant: Mitrajit Bhattacharya
Photographer: Kunal Gupta
Watch Partner: Titan Watches
BTS Video: Gaurav Talekar
Video Edit: Media Edge
Stylist: Yukti Sodha
Makeup: Shruti Kode
Hair Stylist: Darshana Mule