Politician and author Shashi Tharoor's recent book with Aleph—Pride, Prejudice and Punditry—captures the 'essential Shashi Tharoor'. It encompasses a lot of the writer's concerns and themes, in both fiction and non-fiction, and even boasts a smattering of poetry. We picked Tharoor's brain about his new tome and his journey as a politician-cum-author. 
Edited excerpts:
1. What prompted you to collate the essays and speeches into this book?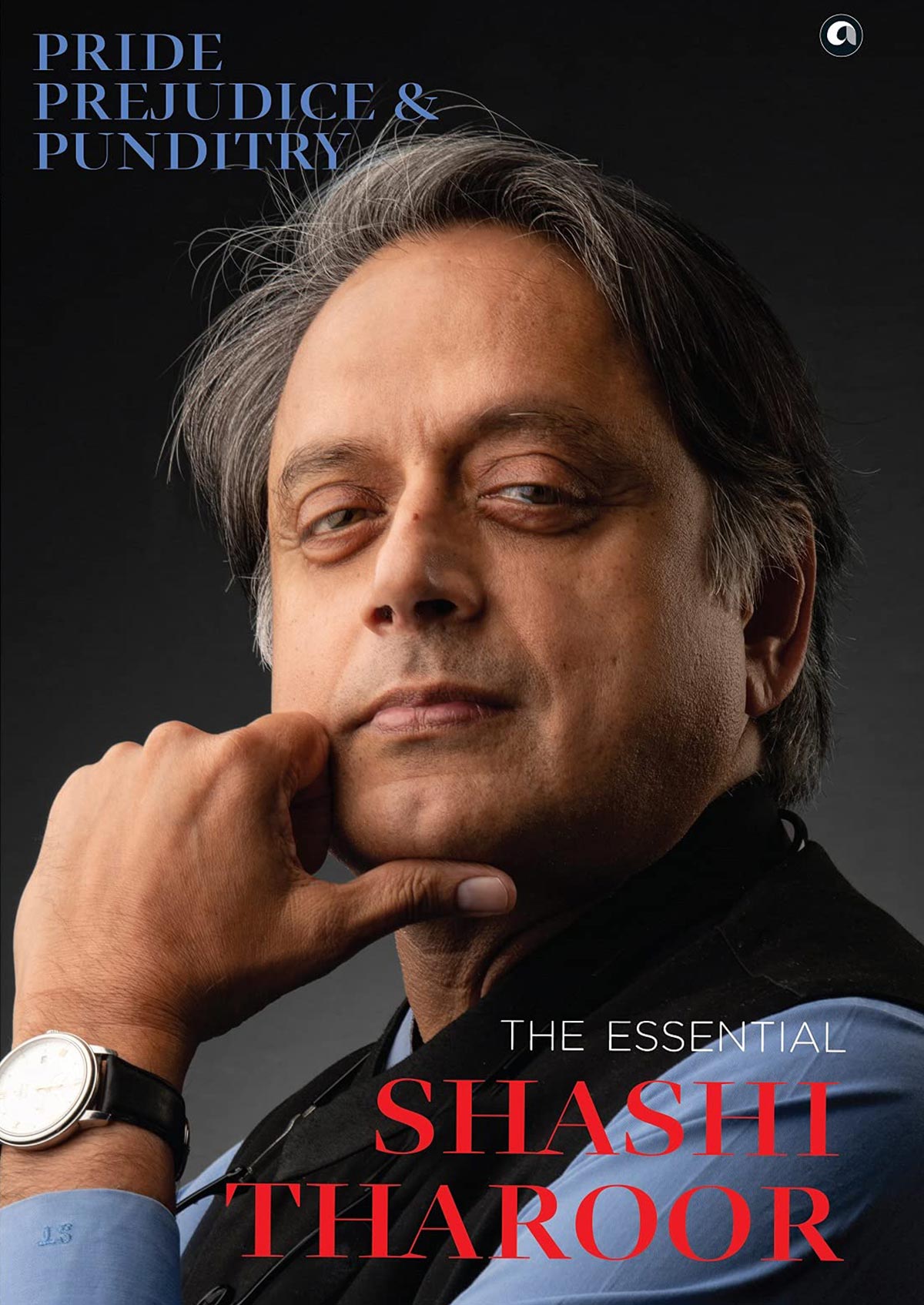 The idea actually came from my publisher David Davidar, who encouraged me to put together this book on the occasion of Aleph's 10th anniversary since it also marks 40 years of my published books (my first, Reasons of State, came out in 1981). It didn't take much persuading to convince me of the need for a volume that would expose a new readership to a wide range of my writing over the last four decades. 
2. Do you think humour is missing from our political discourse?
Definitely! There are people who believe that humour doesn't have a place in something as serious as politics, but I'd disagree. I think humour can be a source of camaraderie and friendship, essential for people who often find themselves at odds with each other in the political realm. But it's been quite rare in India and attempts at humour misfire all too easily in our multi-lingual polity. Our trigger-happy outrage culture leaves little room for humour in politics—a fact of which I have personally been reminded more than once. I have learned the hard way the wisdom of Shakespeare's sage observation that the success of a jest lies in the ear of the hearer, not the tongue of the teller.
3. You write: "I am, in a sense, a child of the Indian newspaper". Could you elaborate?
In part, this is quite a literal statement. My late father, Chandran Tharoor, started in the newspaper business when barely out of college, representing a pair of Indian papers in post-war London, and spent his working life as a senior advertising executive for some of our country's better-known mastheads. As a result of this, growing up in then Bombay and Calcutta, I enjoyed reading three or four newspapers every morning. Then during the day, the papers from the rest of the country would be flown in, and my father brought them home after work when I would have a second round of newsprint to digest. When, at the age of 10, I first published a short story, it was not in a fiction magazine, but in a newspaper, the Bharat Jyoti—the Sunday edition of Bombay's venerable Free Press Journal.
That daily morning ritual of tea and newspapers alongside my father gave me an early and abiding passion for the Indian press—one which I have sustained during three decades abroad, when I would have Indian newspapers sent to me in places like Geneva, Singapore and New York. Throughout my UN service, I managed to write occasional pieces for Indian newspapers and maintained columns in three of them.
This relationship with print media (and now its televised and digital counterparts) is one that has endured well into my adulthood. Despite my criticisms and concerns, I firmly believe in the indispensability of a free press in any society, especially in holding the ruling dispensation accountable for its actions. 
4. You had your first published work at the age of 10. More than five decades on, is writing still as exciting?
Yes, it's rather sobering to realise that it's been more than half a century since I first appeared in print in 1967! So why do I still bother? George Bernard Shaw probably explained it better than I can: "I write for the same reason a cow gives milk". It is inside you and it has to come out, and like an unmilked cow, I'd be in real distress if it didn't. I write because I feel I have to—and because writing continues to be a source of joy in my life and work. 
It's also true that, when you have so little time to write, given my full-time responsibilities as an MP and politician, you want your effort to be meaningful. Writing always comes at the expense of other things—your family, friends, entertainment, social engagements, and so on—so you really want to use that time in a very focused and effective way. I write because I have something to say. I limit myself to subjects on which I believe I have something worthwhile to say to my readers.
Having been a writer for so many years, it is a constant and vital part of my identity. It's often "exciting" to use your word; but it also often just is.
5. You say how Natwar Singh's speech at St Stephen's impressed you. Do we owe Shashi Tharoor, the politician, partly to him?
In the book, I write of the time when Natwar Singh Sahib delivered an address at St Stephen's when I was a student there. I wrote of it because it is an incident that remains etched in my mind. He spoke to us with such candour that I was compelled to listen. I have never forgotten the speech, thinking about which kept me awake most of that night and helped change my own career plans—deciding to join the UN instead of taking the foreign service exams, which put me on the path to where I am today.
You ask if it led to Shashi Tharoor the politician. In an indirect way, it did!  
6. You have always taken immense pride in pluralistic India. But in the spate of recent events, do you see that the dogma of unity in diversity is a little shallow?
I do not think that any ideal that acknowledges and celebrates diversity could ever be shallow. Indian nationalism does not follow the logic of geography, language, ethnicity, caste, creed, or religion. Emerging from an ancient civilisation, united by a shared history, and sustained by a pluralistic democracy—Indian nationalism is the nationalism of an idea. There is no single uncontested conception of an Indian identity, which leaves plenty of room for a multiplicity of identities. Pluralism and diversity have been built into the very foundations of the country. To deny them would be to challenge the very idea of India.  
As I love explaining to Americans, they may be a melting-pot, but we in India are not. We are a thali—a collection of different dishes on one platter. The dishes taste different and, since they are in different bowls, they do not flow into one another, but they belong together on the same platter and they combine on your palate to give you a satisfying repast. That is my idea of India's unity in diversity.
7. Many observers point to the bad news coming out of India—riots, corruption, the rise and fall of governments, uncertainties on economic policies. Yet you seem quite upbeat about India.
Despite all of these troubling developments, I remain a cautious optimist. But then I define optimism as regarding the future with uncertainty: the pessimist says everything is doomed to fail, my kind of optimist says that if we do the right things and do those things right, we could still pull off a success. I am confident that these are the values, together with the innate creativity and resilience of Indians, which will propel India forward into the 21st century and beyond. This is not to say that no challenges await us or that the road ahead is smooth. But I remain unshaken in my belief that we have the tools to face the future.
8. Writer, scholar, diplomat, politician—what do you most identify with and why? 
I've been privileged and fortunate in being able to pursue so many of my interests and passions in one lifetime. I have had a long and interesting career at the UN, where I had the opportunity to contribute towards addressing many of the great global challenges of our time. In politics, I am truly grateful to the people of Thiruvananthapuram, who have seen fit to make me their representative three times over. My political career has given me both moments of great turbulence and great satisfaction but always the comfort of being able to rest at night knowing that things I have done have made a difference in people's lives.
I wouldn't call myself a scholar, but if my research and writing has stimulated scholarship and prompted others into doing profound academic work, as so many have told me, then I am grateful.
9. How would you sum up your writing?
Writing has, in its own way, been immensely rewarding and integral to the person that I am today.  I would not be who I am without the ideas and the values that have defined my life, ideas and values that I have had the honour of sharing with the world through my writing. Writing has been my life's constant companion and it is the path on which I hope to carry on trudging as long as possible. As I have often remarked, I am a former minister, and one day I will be a former MP; but I hope I will never be a former writer.