There's something very encouraging about watching your favourite Miss India take centerstage 20 years later, armed with a sparkling smile and crown, with her husband and kids. It's a sign of innate confidence and happiness that we want real-life queens to wear more than figure-hugging gowns and contoured faces. 
And that's why Neha Dhupia, who was recently felicitated at the finale of Femina Miss India 2022 for completing 20 years of winning the Miss India crown, is the perfect Zee Zest Cover Star for July as we celebrate heartfelt conversations and causes. With Neha on set at the cover shoot, there's action all around. What clothes to pick, what course to give the mood board, what careers to pursue, what camera angles work best, and a lot more. 
A slew of no-holds-barred conversations that show her involvement and passion for putting her best self out there is the reason why we adore Neha.
She's done it all 
Not many would remember but she featured in Euphoria's music video for the song 'Sha Na Na Na Na'. The curly-haired Neha in that video went on to compete in Miss India beauty pageant in 2002 and won! She represented India at the Miss Universe pageant. Her first film was with Ajay Devgn—Qayamat: City Under Threat. She also went on to do critically acclaimed films such as Ek Chalis Ki Last Local, Shootout at Lokhandwala, and Dasvidaniya. In 2016, she started her podcast No Filter Neha, a chat-show format podcast where she speaks to the who's who of the Indian entertainment industry—including Karan Johar and Sourav Ganguly. She produced the last season from home during the peak of the pandemic in 2020.  
Most recently, she played ACP Catherine Alvarez in the OTT-release film A Thursday. "It's a huge change to let an eight-month pregnant woman be on screen," Neha says of her role in A Thursday.  Always on her toes, Neha has already finished shooting two projects—a short film for Guneet Monga's Sikhya Entertainment and a comedy film for Anand Tiwari and Dharma Productions.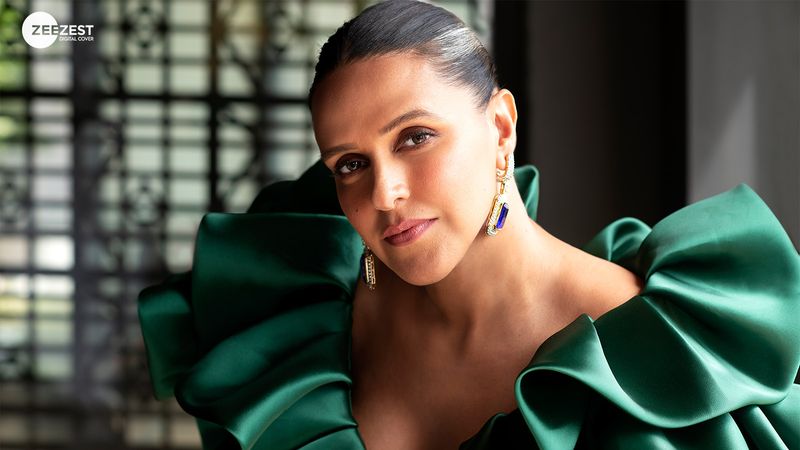 Her unfiltered conversations on her podcast are just another reason why Neha continues to win our hearts with her refreshingly candid ways in an era where most actors use filters to look and sound good. But if you ask her, Neha will tell you that this is your opinion of her and not hers necessarily. And yet, she is unafraid to share her own truth—whether it is acknowledging that she didn't succeed in many of her early auditions in Bollywood or dealing with her post-pregnancy body. Neha's journey as a model, actor, TV show host, and podcaster sets her apart from others who tread on the tried and tested path.  
Ageing with grace 
Our conversation with Neha is peppered with throwbacks to the early days of her career and comparing that to now. As a 40-something, with experience on her side, Neha finds growing older liberating. She accepts that her career choices, during the initial years, were dependent on what her peers and people she looked up to were doing. "There were times that it was difficult to gauge which parts of me were appreciated more. Those moments were important turning points for me," she admits, saying that it finally pushed her to accept herself as she was. "The coolest part about getting older is that you're extremely comfortable in your skin. And one of the reasons is that you've been living with yourself for so long and somewhere down the lane you get tired of living up to expectations, and it's very refreshing to just be yourself," she adds. 
Raw, refreshing and unabashed—this is the person a lot of people relate to when they think of Neha Dhupia. She explains, "I'm a little more risqué in my choices when it comes to my work. I also think that by being myself I've given myself more relevance and length to my career. When I started working, I always thought I'd be doing mainstream commercial films," she says, adding that this was also when she fit presumptuous stereotypes that came with being in the Indian film industry. 
"At that point, I never thought that 18 years later, I would be eight months pregnant with my second child and still acting," she says. The mother of two—her second child, son Guriq was born in October 2021—is enjoying the success of her recent film, A Thursday, an OTT release. She plays a pregnant cop, a role that was reconfigured for her. Being part of modern storytelling, as she calls it, is exciting as it's more inclusive. 
"We've survived a pandemic where entertainment is the last thing on one's mind when you have to make it. And the first thing on someone's mind when you want to consume it," says Neha, speaking of change. The pandemic was a time of introspection for the industry where everybody was focused on reevaluating and reassessing what needs to be done. "New, interesting and never-before-explored subjects and concepts have had the opportunity to be told. The most satisfying feeling is that these stories have worked. The trial and error of the business are continuous, especially now in the digital age," she explains. 
Always on her terms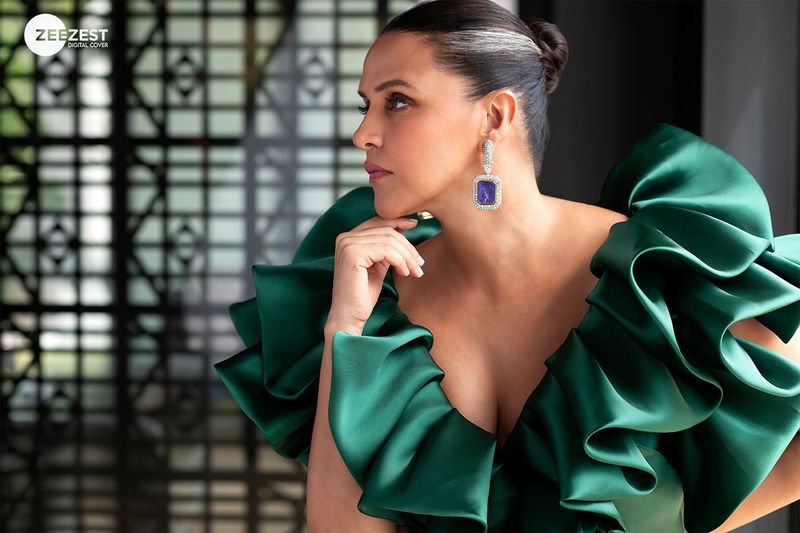 From an era of shooting films where every scene was rehearsed before the final take to doing Reels for Instagram—Neha considers herself blessed to be on the evolutionary journey. "I love this job. I don't want to do anything else," she says with great passion. "I have always enjoyed the choices I made in life, and I also have had many offbeat choices in my career, in my style, in my personal life (I became a mum, much later in life), and here I am. I think, as long you are true to yourself without hurting anyone along the line, you're not in a bad space." 
Neha has always consciously shed labels to that she is cut from a different cloth. "People have expectations from you all the time. But the whole idea of living your life is to minimise these." She considers herself to be a perfectionist, "who strives for as much perfection in a minimal amount of time." A big part of this is to find balance in life. "Things are expected out of me as a professional and then things are expected out of me as a mom. It is my aim to give attention to both and make sure that I embrace each one with as much love and care and responsibility," she adds. 
Like any other woman in the country, the elusive work-life balance is the ultimate goal for Neha. She runs through a daily timetable that ensures she gets her me time as well time with her husband and keeps her children on a routine. "The balance needs to be maintained," she reiterates stating that her relationship with her husband needs to be prioritised while balancing their parental duties. "I can't be with my kids and take work calls or vice versa. It's counterproductive," she says, adding it helps find balance when you set boundaries. 
Messy momma and proud of it 
Neha is a hands-on mother—this conversation and her social media are proof. She chuckles as she says, "I am a mess at home! I do not look like what I look like on a magazine cover. Most of the time I am working on 10% brain capacity because 90% is taken up by my children." But she wouldn't change it for the world. 
She tells us how her two pregnancies were different from each other. "With my first one (daughter Mehr), I was taking advice from everyone. With my son, I'm kind of learning from my own experience," she explains. It is a more relaxed approach with Guriq that comes from experience and knowing that every little thing won't always go as planned, but there is no need to panic. "I've just decided that I'm going to run with the cuteness that they come with. I look at them and then my heart is full. My eyes can't get enough of them, and my arms just want to hold on to them. They are two pieces of my heart that are beating outside of me. I wake up and I think that I must have done something right in my life and I feel so blessed," she gushes about her children. 
Parenting is a subject that she feels strongly about and that's why she started the community, Freedom to Feed—which stemmed from the stigma she faced while feeding her daughter. "It started with one voice talking about breastfeeding and now I'm very proud to say that we're 25,000 parents strong," she adds. The conversation has expanded to important discussions about child development. 
Currently, Neha's aim is to get her strength back and she's back into fitness in a big way. "I am on track and on the track running to help me get back in shape," she says adding that fitness is a big part of her life and her aim is to be at a level of fitness and health that makes her happy.  
---
Credits:
Editor: Sumita Bagchi  
Photographer: Atul Kasbekar
Creative Consultant: Mitrajit Bhattacharya
Assistant photographer and BTS video: Rahul Sawant
Editing: Media Edge
Stylist: Anshika Verma
Assistant stylist: Tanazfatima Charania
Hair stylist: Poonam Solanki
Makeup: Mita Vaswani
Location: JW Marriott Juhu Mumbai
Artist PR: Think Talkies