DIGITAL COVER
Milind Soman: The OG Heartthrob Is Back!
Even before Ranveer Singh bared it all, there was Milind Soman. The OG trendsetter tells us how to run the extra mile and make heads turn!
Dare you ask Indian women, who is the finest of them all? And Milind Soman manages to be the undisputed choice! To make the celebratory month truly special, the OG heartthrob also makes a rare appearance as the Zee Zest Digital Cover Star for December 2022.   
Not just for his good looks, but you can't put Milind Soman in a box—and not because he appeared out of one when he swept all of us off our feet in Alisha Chinai's Made in India video in 1995. As a model, runner and actor, just when you think he is settling down, he stuns you with something completely unexpected. 
A man who finds long-distance running easy and resting on a couch difficult, Milind believes he can take up any challenge by keeping himself in an optimal state of fitness at all times. Whether successfully completing the gruelling 'Ironman' at 50 and the even more difficult 'Ultraman' at 52 or cycling 1,000 km from Baroda to Delhi at 56 in 2021, Milind has always pushed his body and mind to achieve the next target that looks almost impossible to others.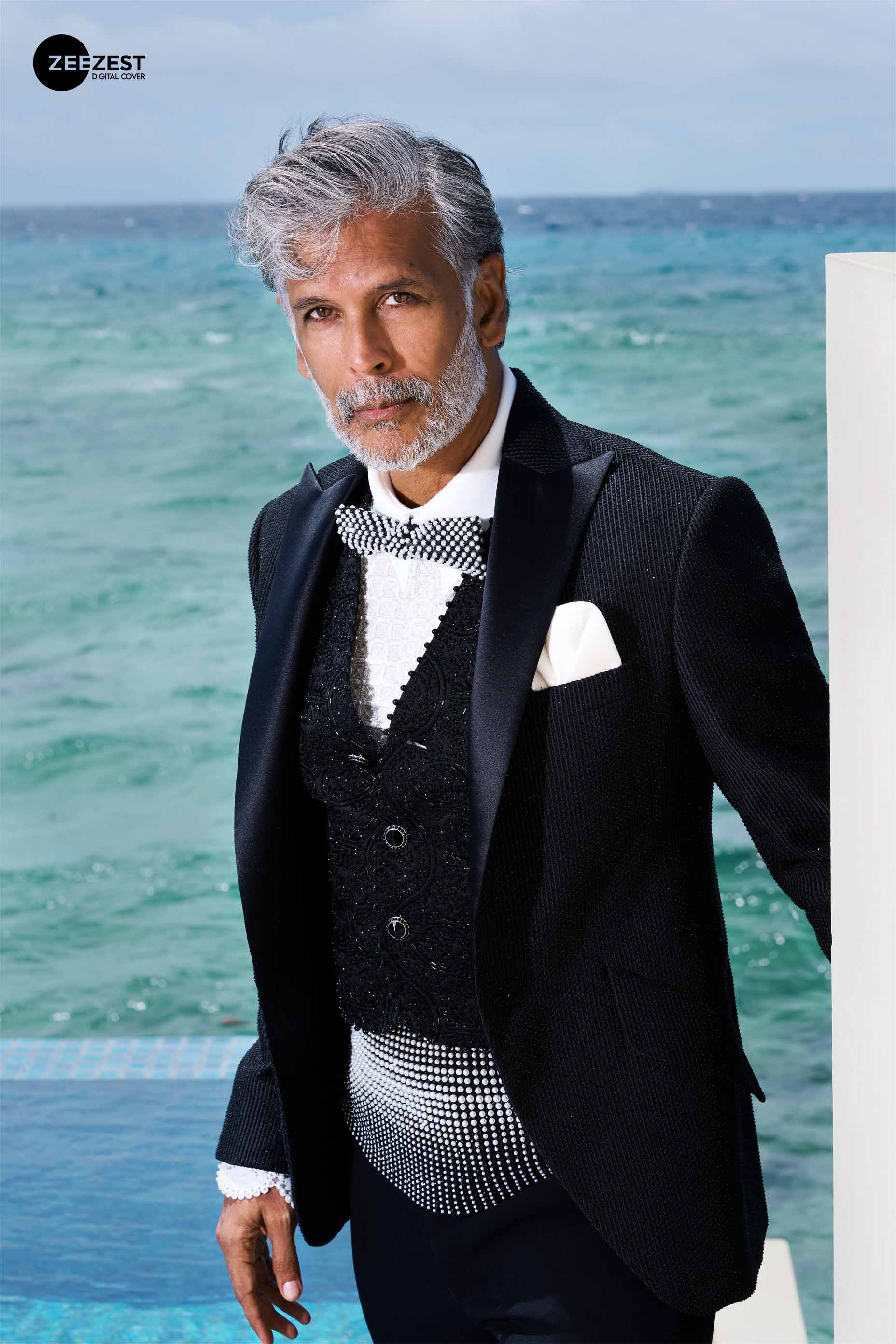 Milind has a busy December ahead of him. There are marathons to run in Singapore and other Indian cities, and a cycling expedition from Mumbai to Bengaluru, which he plans to complete in six days by December 25. As he continues to push the boundaries of physical endurance, his wife Ankita Konwar gives him company in most of his adventures. In Milind's words, Konwar anchors him by making him aware of who he is every day. 
We sneaked the unconventional couple off to The Residence Dhigurah, a resort located in Gaafu Alifu Atoll, Maldives, for what turned out to be the year-end Digital Cover Shoot for ZeeZest.com.  
Unlike other shoots, this shoot was packed with fitness and yoga challenges thrown at the crew before we got shooting. Not one to compromise on his daily running regime, Milind transitions from shorts to suits and sarongs in a jiffy leaving us rethinking the need for investing in hair and makeup products and realising the natural effect of a post-workout glow. Considering Milind was making a comeback to an editorial shoot after a hiatus, the mood board was sketched keeping the OG supermodel's sartorial hunger in mind. 
In a freewheeling chat that carried over from the Maldives to Mumbai, we got a peek into his mind, that otherwise races past our tepid imagination. 
Running wins
When asked to choose between running, modelling and acting, he quickly picked running as his current favourite. He runs every day, whenever he finds time. "It gives me a lot of joy and helps me to connect with myself better. Maybe because it's such a natural activity. Human beings are evolved to run. When you do things that you are meant to do, there is a connection with dharma," says Milind.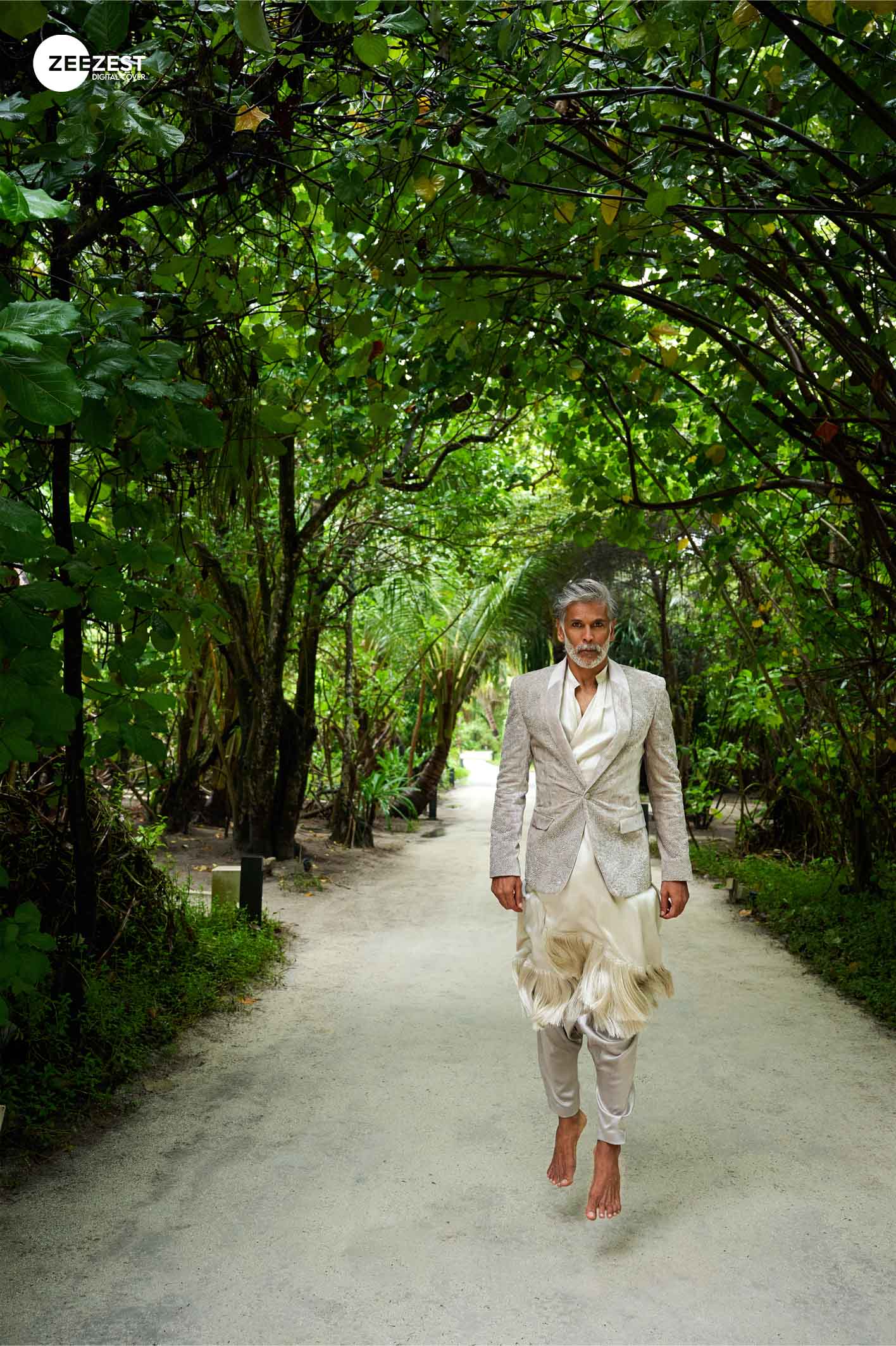 He finds acting and modelling fun too. He loves that they allow him to explore various opportunities and considers them as part of his creative expression. "Even though I stopped modelling in 1995 and started doing television, I never lost touch with being able to do something new or something that was exciting for myself," he shares. "In the media, they usually label me as swimmer-turned-model-turned-actor-turned-fitness expert but for me, there is no turning. Everything exists simultaneously. Whenever I do something, I enjoy that immensely," he clarifies.
On not attending fashion shows  
"I actually have no reason to attend a fashion week. Even earlier, when I was modelling, if I wasn't a part of the fashion show, there was no reason for me to attend the event," says Milind. "I remember attending one in Delhi where we presented the brand, Deivee, that I had started and I walked the ramp too. A lot of my friends walked too, so that was fun," he recollects. Also, in 2009, he remembers walking alongside Naomi Campbell for a charity event in Mumbai, which he enjoyed thoroughly. He later moderated a session with her in 2017 in New Delhi. According to him, the Indian fashion industry works as a business model, and lacks the creative art and expression. He explains, "If you look at fashion in the West, starting with Coco Chanel, 70-80 years ago, fashion was an artistic expression. We haven't seen this side of fashion in India. If you look at fashion weeks, it is a business model. I think we didn't go into understanding the true meaning, the depths of creativity and imagination of fashion here." 
We quiz him further about if he were to walk the runway again, who would it be for? And he replies, "I don't really look around that much but if you're talking about a well-made suit, I will definitely name Shahab Durazi, I think he's great with cuts and designs."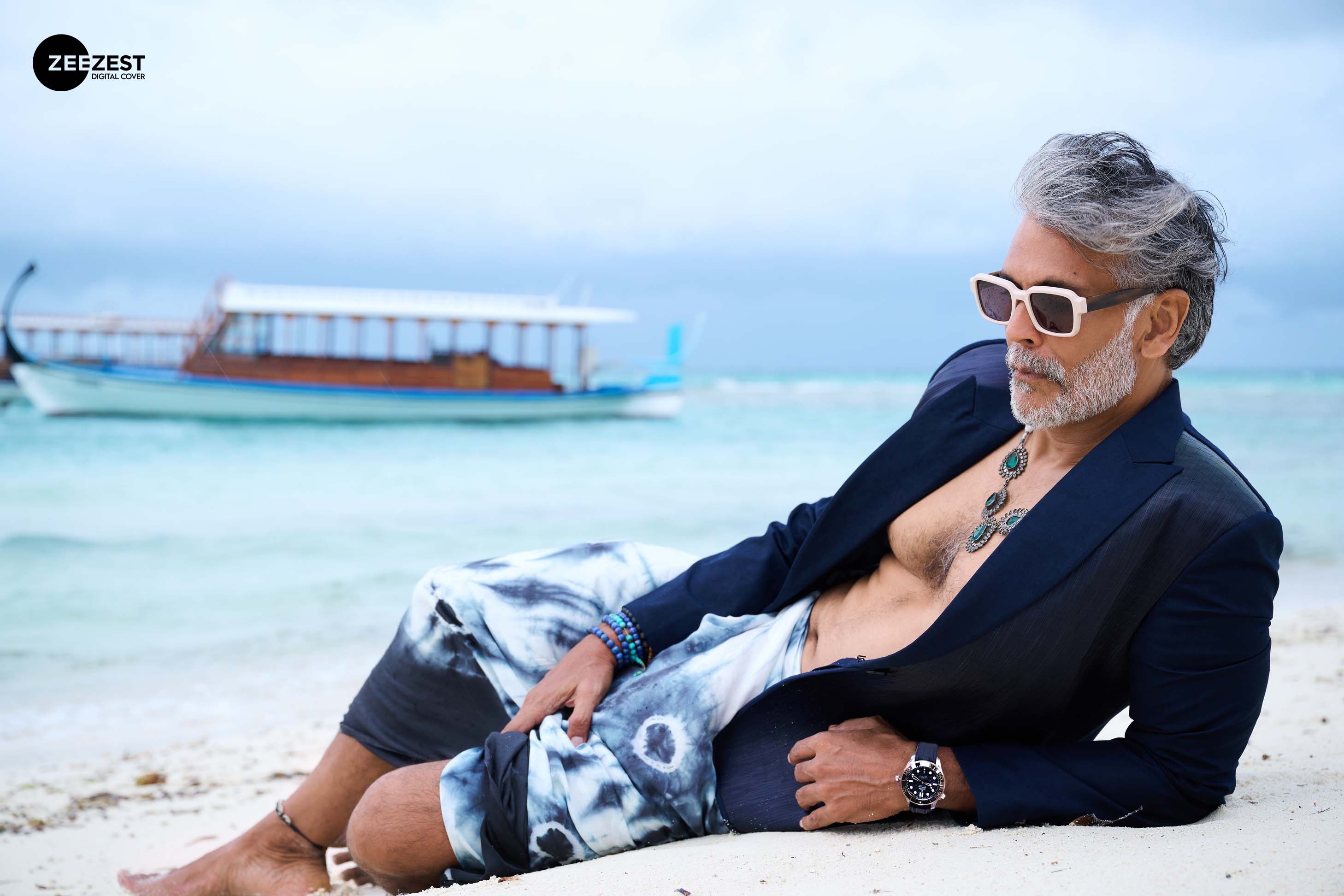 Not one to follow fashion trends or brands, ask him about three designers who have left a mark on him over the years and he names fashion icons Karl Lagerfeld, Dolce & Gabbana and Vivienne Westwood. 
And supermodels that have impressed him? "Apart from Naomi Campbell, I also like yesteryear's modelling superstars like Cindy Crawford and Linda Evangelista. Though they didn't influence my work directly, I always admired their craft," Milind shares.
On the wellness industry's evolution
As we talk about how fitness and wellness have become trendy now, Milind shares a personal experience. "Six years ago, I remember approaching a brand that makes breakfast cereals to sponsor a sporting event. To my surprise, they said they were not a fitness brand. Imagine from that to now, more than even fitness, they have now adopted wellness as a plank and we are working together." He also thinks mental health has taken centre stage because corporates are talking a lot about it. Commenting on celebrities talking about mental health, Milind says, "Sometimes you may have what it takes to become a celebrity, but many times you may not have what it takes to deal with it."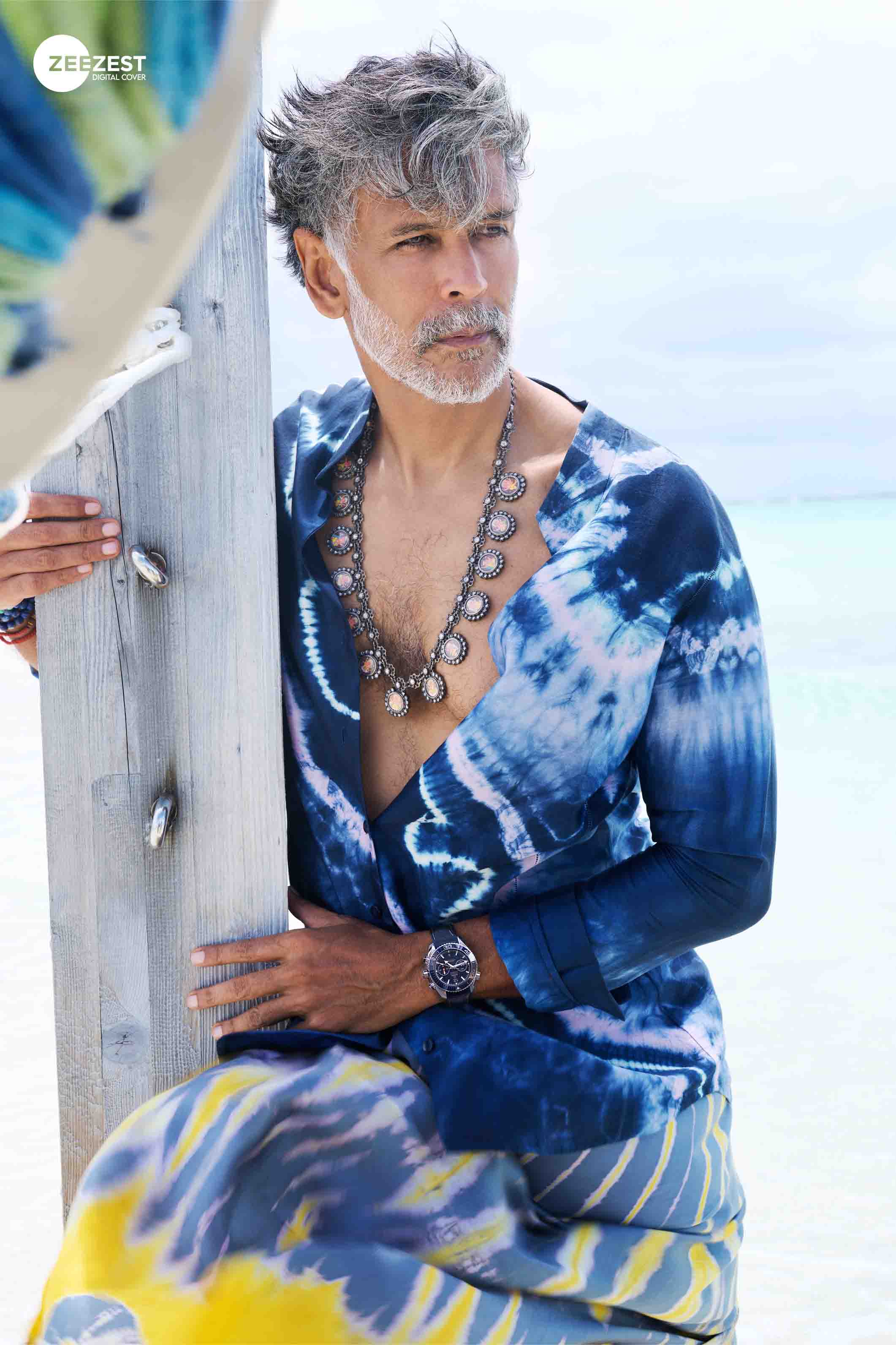 Coming full circle
When he was a national swimming champion in his teens, no one knew him. Now he is famous as a fitness enthusiast and an influential voice in the space. The fame he earned as a model and actor may have contributed to his fitness popularity. Reflecting on his success with fitness, he comments, "Probably, it works for me, as no one else from this space I occupy, is doing what I am doing. For example, which really famous person has competed in the Ironman race or run more than 1,000 km from Delhi to Mumbai? My guess, none."
Meeting the Prime Minister of India
Milind participated in the Unity Run from Jhansi to New Delhi in August 2022. The Prime Minister's Office (PMO) contacted him on Day 4 of his run, requesting if he could connect with people on the way to spread a message. He readily agreed. When he reached Delhi, the PMO had organised an event at the Red Fort. Later, he was delighted to receive a call to check if he would meet the Prime Minister the next day. "I was very impressed that our PM Narendra Modi took out time to meet someone like me without a specific agenda. That is being really organised, at least that's how I see it," says Milind. Recollecting the event, Milind candidly shares, "It's kind of embarrassing as I later realised that I spoke mostly while he listened. I even asked him if he wanted me to stop and he said he was happy to listen to me. I remember speaking to him about how we can promote indigenous sports in India instead of focusing only on Olympic sports. We obviously connected on yoga and Ayurveda, topics which are close to both of us."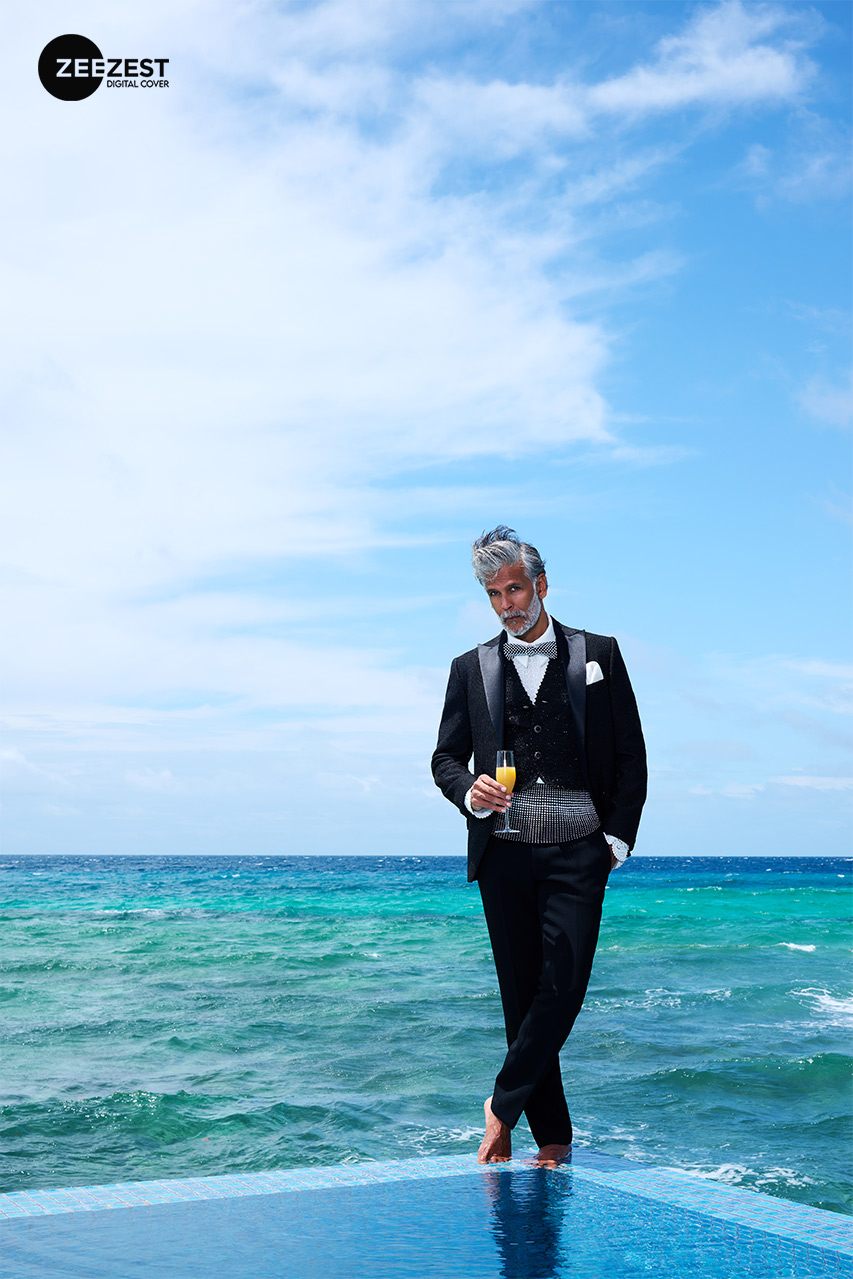 On travel adventures
He confesses he never used to travel earlier, except for work. He says he is not a tourist and doesn't enjoy sightseeing. "After marriage, we started travelling as Ankita likes to travel. We still don't do sightseeing, but now we look for places where we can do things. She has learnt diving, so we dive a lot now," shares Milind. "Recently, we were in Egypt to dive. We went to Europe to climb Mont Blanc and to Africa to run in a sanctuary and climb Kilimanjaro," Milind says, summing up his travel habits. 
As an adventurer, he likes to challenge himself, and that's why he doesn't like visiting places where he has nothing to do. "The reason to challenge myself is also not to fall sick. I believe the human body and mind deteriorate if you don't challenge them," he explains. "If you still want me to pick places on my bucket list, they would be more places from Africa and the Arctic and diving sites around the world." Explaining his choices, he says, "I prefer places that have some amount of romanticism and ultimate romanticism for me comes with ruggedness. There is no romanticism in lying on the couch watching TV. That's why the greatest love stories come from struggle."
Role model from the world of:
Sports: Muhammad Ali
Modelling: Naomi Campbell, Cindy Crawford
Acting: Balraj Sahni, Amitabh Bachchan, Naseeruddin Shah
Swimming: Mark Spitz, Michael Phelps
Looking back at 'Made In India'
Reminiscing about the music video that almost gave Milind a brand identity for the rest of his life, he says, "Those were the very early days of music videos in India. MTV had just come to India and Alisha Chinai and I were already collaborating on some videos. This particular one was the second after an English music video we did together."  
Milind had also shot for Ken Ghosh directorial and forgot about it. He adds, "Those were not the days of social media, not even 24x7 in-your-face traditional media." It was only after two months, when he accompanied a friend travelling from overseas to a club in Pune, that he realised how big a hit the song was. The loudest cheer possible greeted them the moment they entered the club. That music video made Milind's face recognisable across the country and the title became his tagline for the rest of his life.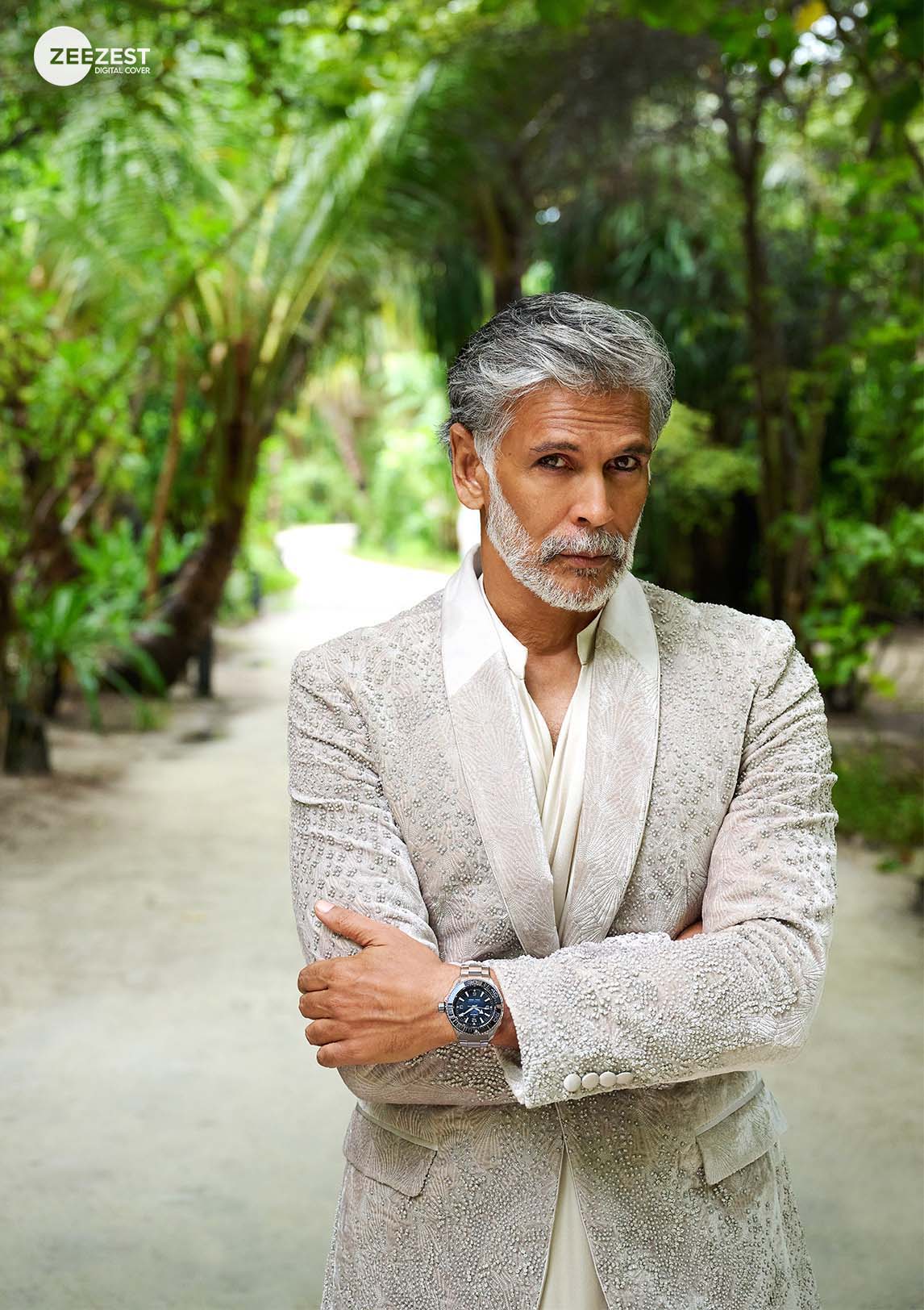 When Milind met Ankita 
The couple met at Pasha, a nightclub at The Park, Chennai in February 2014. "I don't normally go to nightclubs. It was one of those odd days when I succumbed to the hotel manager's sudden request to drop by for a few minutes as it was a ladies' night at the club. Even Ankita doesn't go to nightclubs often. That day, we both were at Pasha at the same time. That was pure coincidence," shares Milind. 
Recollecting the night, he says, "I was waiting for my young colleagues to finish drinking. Meanwhile, some girls came and requested me to dance. Suddenly, the dance floor was full. More people had come in by then. It was then that I saw Ankita across the room with her friends. I kept watching her. She is the one who came up to me and asked for a dance. I had no idea what to chat about, I found myself asking some random questions like what her parents did, whether she had any siblings and things like that. I don't socialise, don't meet people at parties and start conversations, this was rather difficult for me. I asked her for her number, she said she didn't have a phone as she had just moved from Malaysia, with Air Asia starting operations in India then. I left my number with a friend of hers, and finally, she sent a message the day after that she had a nice time. I invited her for dinner. That's our story in short."
The 'age-gap' marriage
Milind feels Ankita challenges him in all the right ways. More than motivating and inspiring him, she makes him more aware of himself. And he likes that. "If I were with a person from my generation, it would probably be simpler. Here I look at something that's almost alien to me, maintaining that equality in the relationship with someone so much younger teaches me about myself, every day. As we grow older, we develop an attitude, as we change over time. But we often don't realise that. But I do, every day, when I speak to her. So, living with Ankita is a kind of exploration, though she may have a different view of it. It's an opportunity to see the world of today, I just see it through her eyes," says Milind, fondly summing up their marriage.
His beautiful bond with his mother
"We fight a lot. But I have learnt a lot from her, mainly, not to be judgmental," says Milind about his relationship with his mother who is super active at 83 and does push-ups regularly.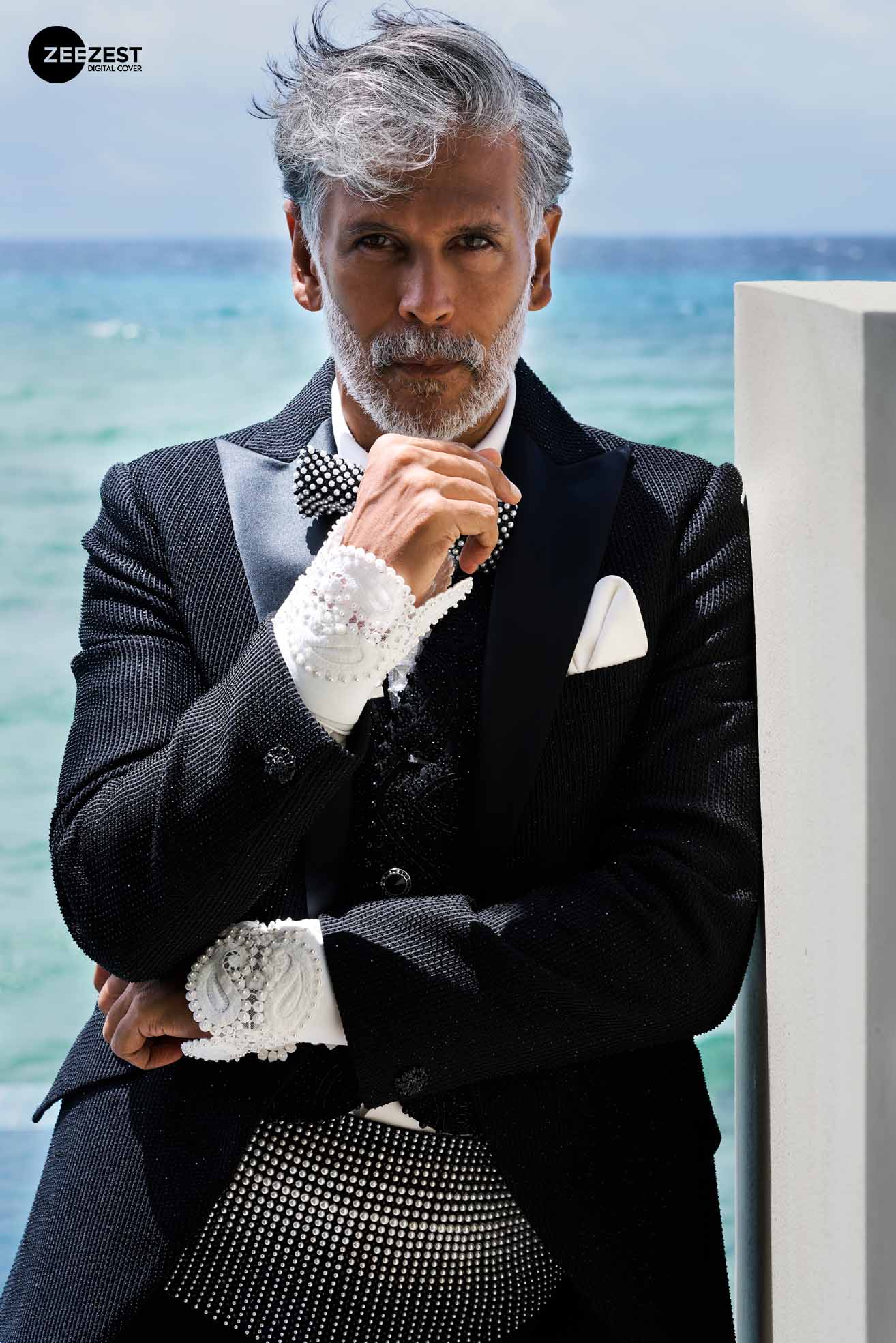 Favourite cuisine
"I love Bengali food. Basically, I like freshwater fish. Though I have lived in Mumbai almost all my life, I don't know why I have this fascination for Bengali cuisine. I like Japanese cuisine as well, not just the sushi and the sashimi, I love the soups and the noodles too. Basically, anything that's made well, respecting traditions, I enjoy that. In fact, I don't like fusion as much as traditional food, which is basic, staple and sumptuous. Milind names boneless Bhapa Ilish (Hilsa) as his favourite dish. But what he eats most often is Dal Khichdi. "It's a complete meal. I have grown up with it. It's easy to make comfort food, easy to digest and highly nutritious."
Ankita's take on Milind
As a husband
"As a husband, he is the best partner. I don't know what you look for in a husband as I never wanted to get married. After I met him, my perception towards marriage changed. It's been almost five years since we got married, and every day we learn new things about each other. It has been such a beautiful journey. He is such a big part of me. Our upbringing was so different, he grew up in a city while I almost grew up in the jungles but we are so alike, it is unbelievable. We have always been close to the earth and that's one thing we can always connect on."
As a role model in fitness
"I don't know about others but I can talk about myself. I had adopted a very unhealthy lifestyle in the middle, so when I woke up, Milind would have finished running 25 km, which I saw on Facebook or Instagram. I would wonder how does he do 25 km every day so easily. I remember when I turned 25, I realised I was unhealthy I had become. So, I went to the gym, but it was shut for some reason. I didn't come back and I went for a run instead. I have been running ever since. It has liberated and healed me, in a way, with each run I came closer to myself. All the credit goes to Milind. I remember when we were in Athens, one of our friends called us to run the marathon. Those days I was running the half marathon regularly but I wasn't trained at all for the 42 km. Milind trained me for six days and we ran the marathon on the seventh day. He has been such an inspiration in every aspect, be it emotional, physical or spiritual. I want to be like him when I am 50."
About the age gap in marriage
"I don't feel that at all. It's only when someone asks me the question, I realise we are 26 years apart. To me, it has always been the companionship we share that is so authentic. I remember even when I told my parents about the wedding, my mother reacted that he was almost her age, while my father was not comfortable with the idea of me getting married to an actor; he had some preconceived notions about the entertainment industry. I was very clear that I wouldn't go against their wish to get married to Milind, but I also made it clear to them that I would be with him and they should be comfortable with the idea."
---
Credits
Editor: Sumita Bagchi
Photographer: Atul Kasbekar
Creative Consultant: Mitrajit Bhattacharya
Watch Partner: Omega
Eyewear Partner: John Jacobs
Assistant Photographer and BTS: Rahul Sawant
BTS Edit: Media Edge
Stylists: Pyu Mishra
Location: The Residence Maldives At Dhigurah
OTHER DIGITAL COVERS
Check out food, Travel, health, fashion, beauty, home decor related mobile visual digital covers
View All