While 35-year-old Shivani was born in Kolkata, she has spent the last 30 years of her life living in Delhi's Lajpat Nagar. Shivani was married when she was just 16. Tired of her bad marriage, she finally decided to get a divorce in 2009 and raise her two young sons by herself. The need to provide for her family—which also includes her widowed mother and sister (and her two children)—made Shivani work as a house help in her locality. She even worked at an export factory for a year. These were tough times for Shivani, who as a young mother was often coerced to get remarried by her relatives and neighbours, often hearing that a woman has no life without a husband. However, by now Shivani was deeply embittered by her previous relationship and had vowed to make something of her life—and never marry again.
It was in 2013 that Shivani first heard of Azad Foundation (through a street play near her home), a social enterprise that works towards empowering women by teaching them work skills to explore different livelihoods. One of the things the foundation teaches is driving, and helping women get a license and a job. Shivani, who back then would zoom on a non-geared scooter to her workplace, would always get fascinated by female drivers, often even clapping for them when one would drive by. In Shivani's world, driving was considered to be a man's job, and when she spoke about the foundation to her mother and relatives, they waved it off and refused to give her permission to associate with them, citing her kids as the reason.
It was only in 2018 that a determined Shivani finally signed up for the six-month course at the foundation. She would go for her daily housework at 5.30 am and then for her course, which would go on from 10 am to 5 pm. Her perseverance paid off—and on a friend's suggestion, she got a job as an Uber driver for a car owner at a monthly income of Rs 18,000. She has been an Uber driver for almost three years now and is working harder to achieve more. We spoke to Shivani about her life journey and what prompted her to get behind the wheel. This is what ensued…
Why driving?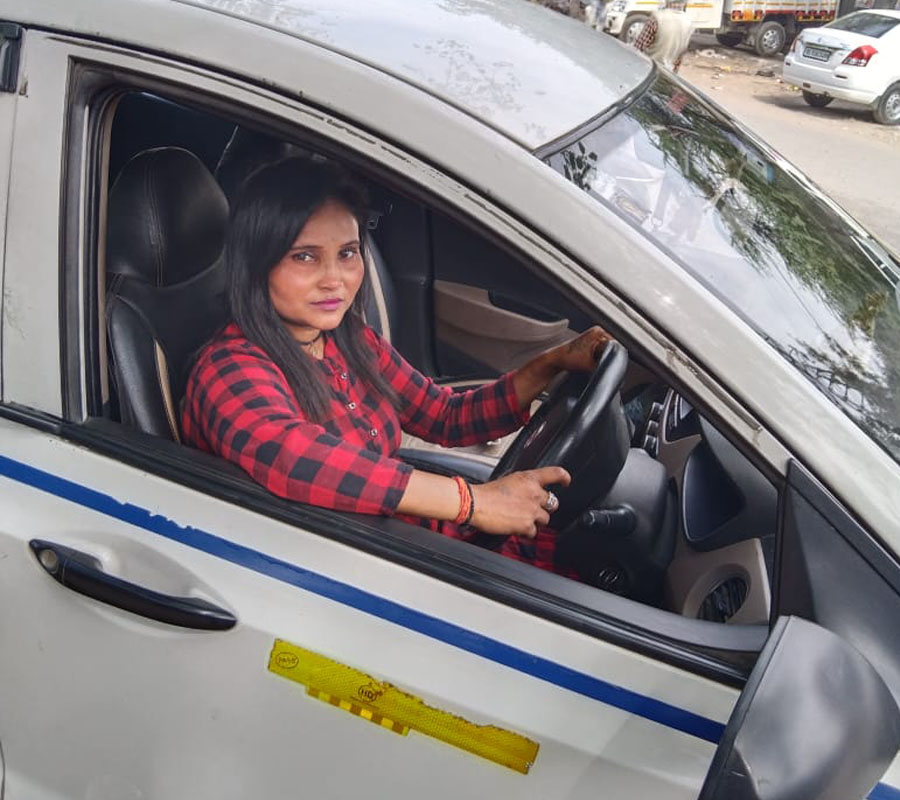 When I would look at female drivers, I would find it very empowering. The thought of learning how to change gears or care for a car was scary at first and I would marvel at the women who had aced it. I have a passion for driving—I can drive for 24 hours and not get tired. I felt so powerful when I learnt how to drive and started earning a big salary. My mother and family have happily accepted my work today. Now I have the will to continue. My sister too is learning how to drive and never misses a class, and I wish for her to start driving confidently too.
Being a single mother, who supported you through your journey?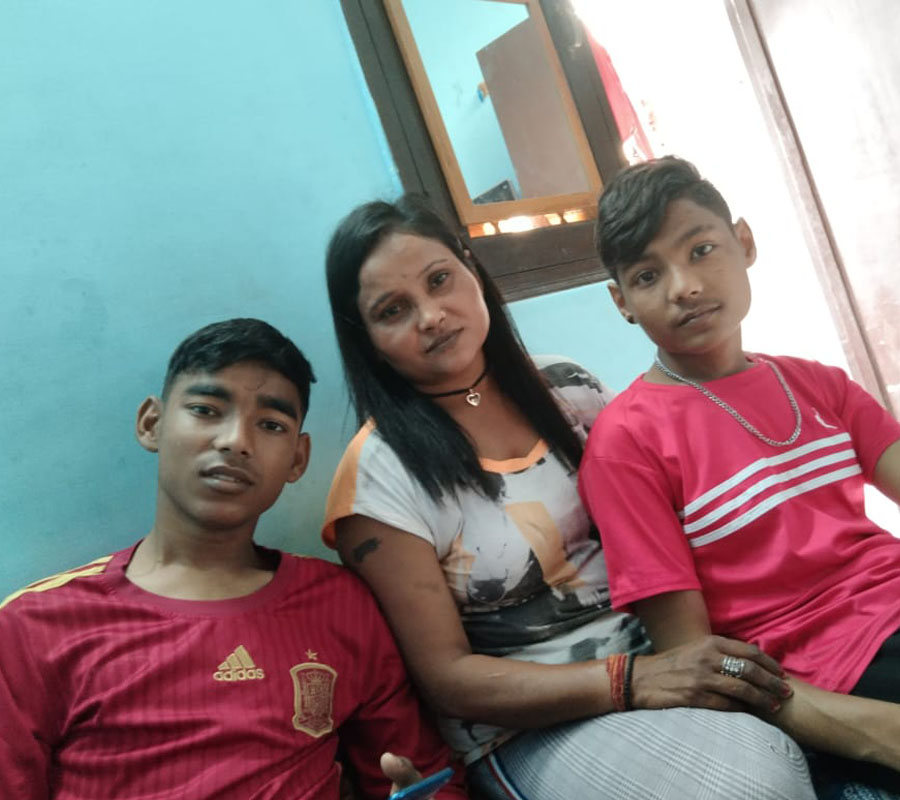 My mother and sister helped take care of my sons when they were young. Today, my children's teachers are extremely supportive. When I couldn't make it to parent-teacher meetings, they immediately offered to be flexible for me once they got to know that I am an Uber driver and support my family.
What gives you a sense of achievement?
No work is beneath anyone. Rather than lose hope and sit at home thinking that your husband's money is going to save you, it's better to be independent. Spending your own money offers a different kind of peace. Because I wasn't educated, I always thought that I wouldn't get a good job. Today I get so much respect; people call me ma'am, they say thank you at the end of the ride. We need to do away with the fear that girls can't do certain things.
Have you ever had to face any untoward incidents while driving?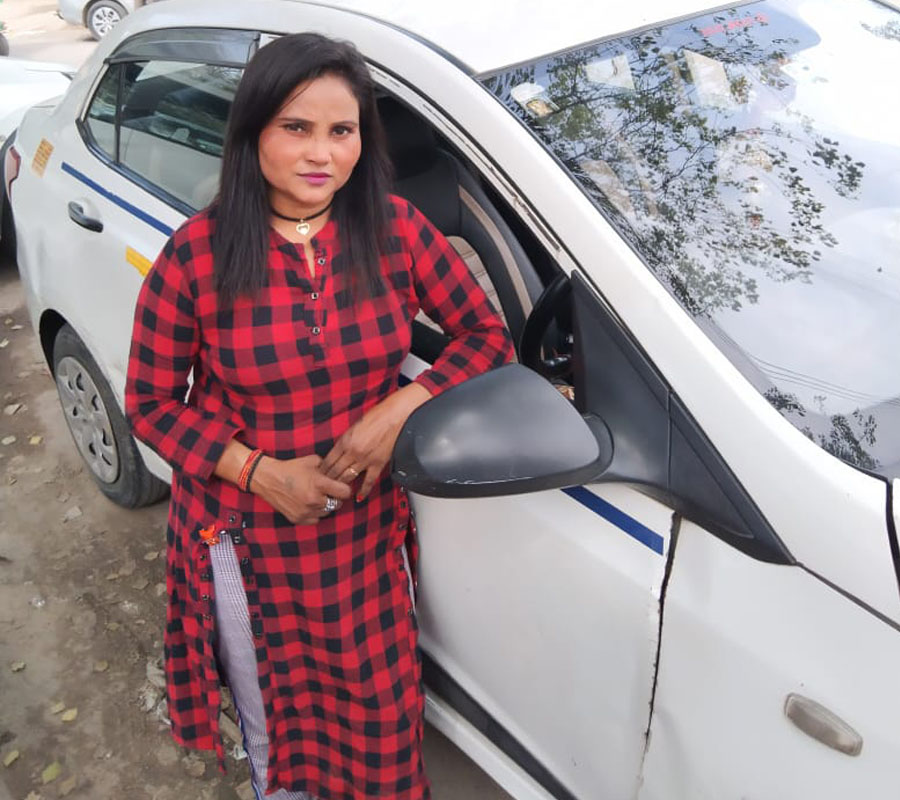 Most of my passengers are female and the men are just surprised that their ride has a female driver. Men often ask if there is an option to book a female driver for the safety of the women in their family. There is often a pause at the other end of the phone when I call to tell the passenger that I have arrived [laughs]. Men have never misbehaved. The only two arguments I have ever had have been with female passengers. I have slowly learnt that it's best to just stay focused on driving. Women very often exclaim, 'Wow! And please don't cancel the cab' when they know it's a female driver, and always say that they are proud of me and that I should continue driving to inspire other women.
Your future plans?
I want to focus on helping my sons, Om (17) and Jai (15) get successful. One of them wants to be a footballer, and the other wants to be a gamer and YouTuber. I saved money and bought a secondhand car, which was a big deal for me. I now want to finish my instalments and buy more cars.
Photo: Shivani