DIGITAL COVER
Huma Qureshi: The Maharani Who Aspires To Be A Superhero
For most of us, she already is a real-life superhero, showing us the real meaning of self-love and confidence.
"My dream role? I am a greedy actor. I am someone who wants to do it all," Huma Qureshi tells us. "But being a superhero would be my dream role." 
We're chatting with the Maharani 2 actor on the sets of Zee Zest's August 2022 digital cover shoot at the newly launched Hyatt Centric Juhu Mumbai hotel. She's dressed in a plain black t-shirt and a comfy pair of track pants, her hair tied in a ponytail, and a bare face that tells us she's comfortable in her own skin. It is a dressed-down, cosy attire for a rainy mid-week afternoon before she transitioned into the chic style diva for the digital cover shoot. We started with multiple rounds of rapid-fire questions to break the ice, and I was comforted by her casual and friendly demeanour peppered with a unique sense of humour and sarcasm. That set the stage for a candid conversation about her travels, experiments with movies, becoming a positive thinker, and leading her life on her own terms.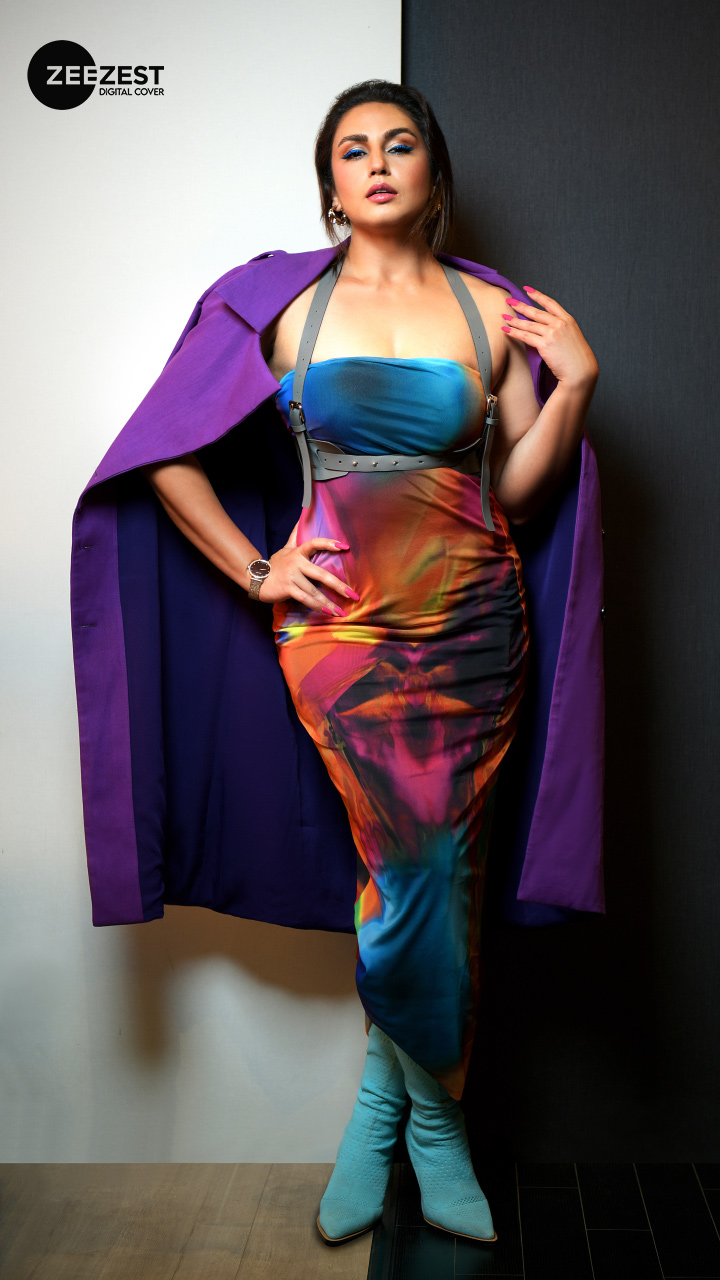 "People often think that I am a very serious person. But I am a goofball and you should never take me seriously," she asserts. A few responses to our rapid-fire Q&A, and there is no doubt that she's funny—but there is also no way we can take her lightly. There is no mistaking that her dynamic personality and jauntiness also come with a strong work profile. 
Huma shot to fame with her debut role in the multigenerational crime saga Gangs of Wasseypur (2012). Her badass portrayal of a mafia's wife won the actor several awards. She and her fellow actors garnered global recognition when Gangs of Wasseypur was showcased at the Cannes Film Festival in 2012; after all, it was the first mainstream Bollywood film to be selected for the Director's Fortnight. She has won critical acclaim for her roles in Dedh Ishqiya and Shorts. And that's just Hindi films. She won the 'best actress in a leading role' award by one of India's leading publications for her performance in SonyLiv's Maharani, a political drama series on OTT. Huma as the protagonist managed to mesmerise the audience with her powerful and magnetic aura. Cut to 2022, Huma's Valimai (in Tamil and Hindi) has garnered a lot of appreciation; and now, she's ready to reel in the success of the second season of Maharani.   
Conforming is not the norm for Huma
Huma's not the one to try and fit in; instead, she stands out, knowingly or unknowingly, courtesy of her game-changing approach to life. "I never took any of the stereotypes seriously since I valued dedication and hard work. I firmly believe that you get what you give, thus I always gave my all and [have] received nothing less," shares Huma, who seems to have made her peace with the fact that her work will do the talking on her behalf. 
This is evident in her unconventional role choices. If you have watched Dedh Ishqiya, Ek Thi Dayan, Badlapur, Dobaara, Kaala, or Army of the Dead (her Hollywood debut), you'll notice that each character has a distinct personality. At one point she's the companion of a con-woman; at another, she's playing a mother looking for her daughter's whereabouts in a totalitarian regime; and then there she is acing a Qawwali performance in the recent Sanjay Leela Bhansali film Gangubai Kathiawadi with her killer expressions. "I enjoy exploring and experimenting with new roles and scripts, so I select a project that allows me to learn a new character and become a better version of myself," shares Huma, who looks at each work opportunity as a chance to learn new things and skill sets.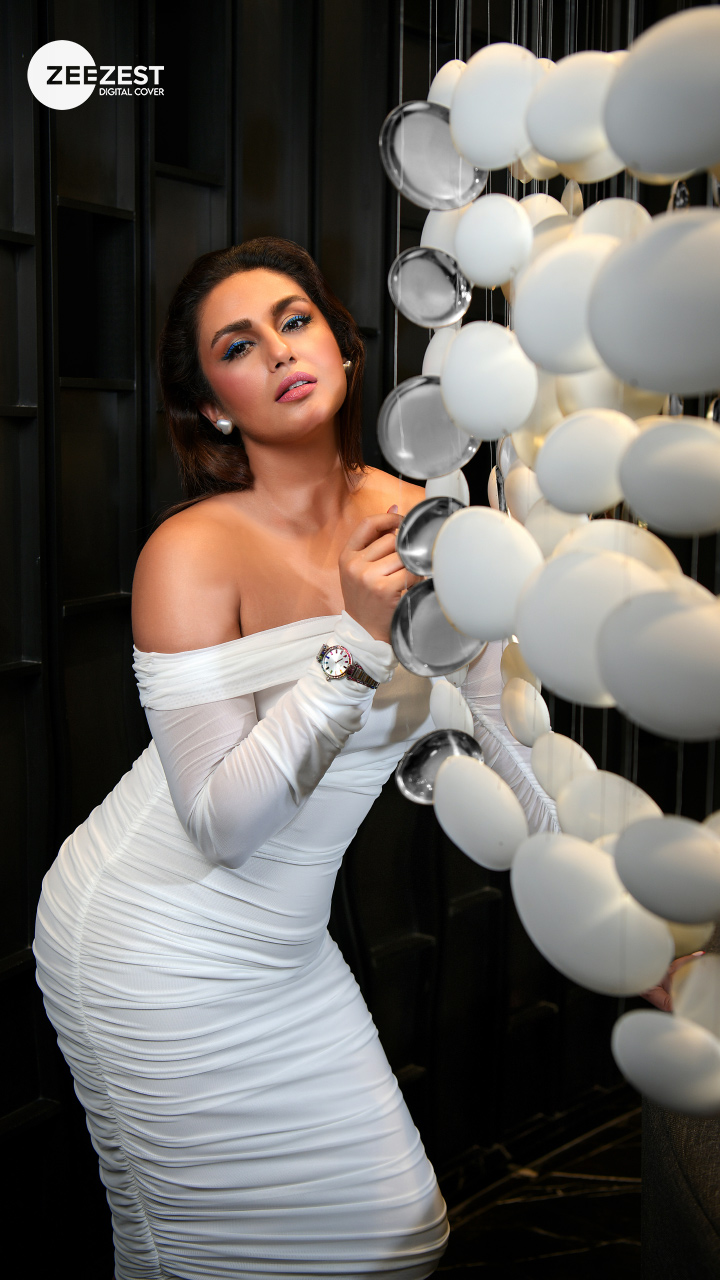 Based on her experience in the industry playing diverse and eclectic roles, Huma also feels that at this point, we are walking the talk when we say that women today should be empowered in more ways than one. "The audience is quite appreciative of how well women are doing in every aspect of life," she says.   
Well-being comes first
"Health and wellness have always been top priorities for me; but in 2022, I started prioritising mental wellness too," shares Huma, who swears by the mantra: 'my body, my rules'. In 2021, Huma debuted on TV as the host of Zee Zest's Fit Fab and Feast with Huma Qureshi, where we watched her ace fitness challenges like a bawse. And in 2022, her focus on mental well-being has been evident. Scour through her Instagram profile and you'll know there's more than what meets the eye. She's adventurous, creative, affectionate, ambitious, and straightforward.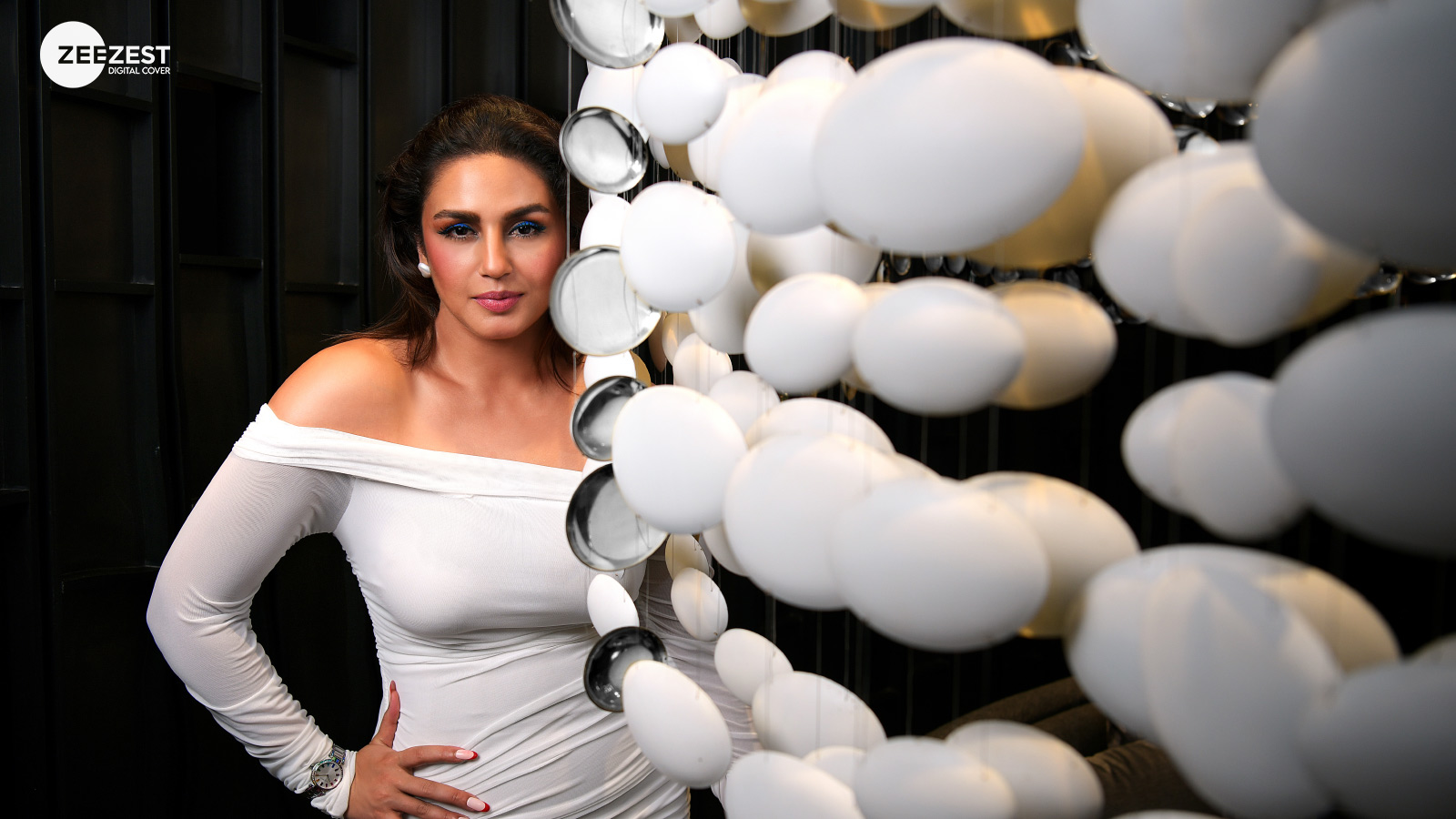 She recently opened up about how battling her inner demons gave her the confidence to embrace herself in the most authentic way and her life decisions. Curious to know how that happened, we enquired about Huma's secrets for mental and physical wellbeing. "I make sure to set out time for my wellbeing. I combine HIIT (high-intensity interval training) with yoga for my workout. And my physical and mental health have greatly benefitted by my practice of yoga and meditation," she explains. But her biggest therapy, and stress reliever, has been her dog. 
Her lightness of being and optimistic attitude toward life becomes ever more evident through her poetic endeavours. Soaking in the little moments and joys of life, and weaving them into poetry, Huma is clearly a dreamer, who is manifesting her own desires one step at a time. Loving, living and dreaming, Huma often gives wings to her gypsy soul by bringing alive her hidden melancholic poet.  "I want to go where the seas meet the skies, mountains kiss sunshine, and winds whisper sweet-nothings in my ears," reads one of the verses she posted on her social media account. Perhaps, this is Huma's way of expressing herself. Or maybe, it's a beautiful escape from the strenuous limelight. Either way, it's hard to ignore this whimsical side of Huma.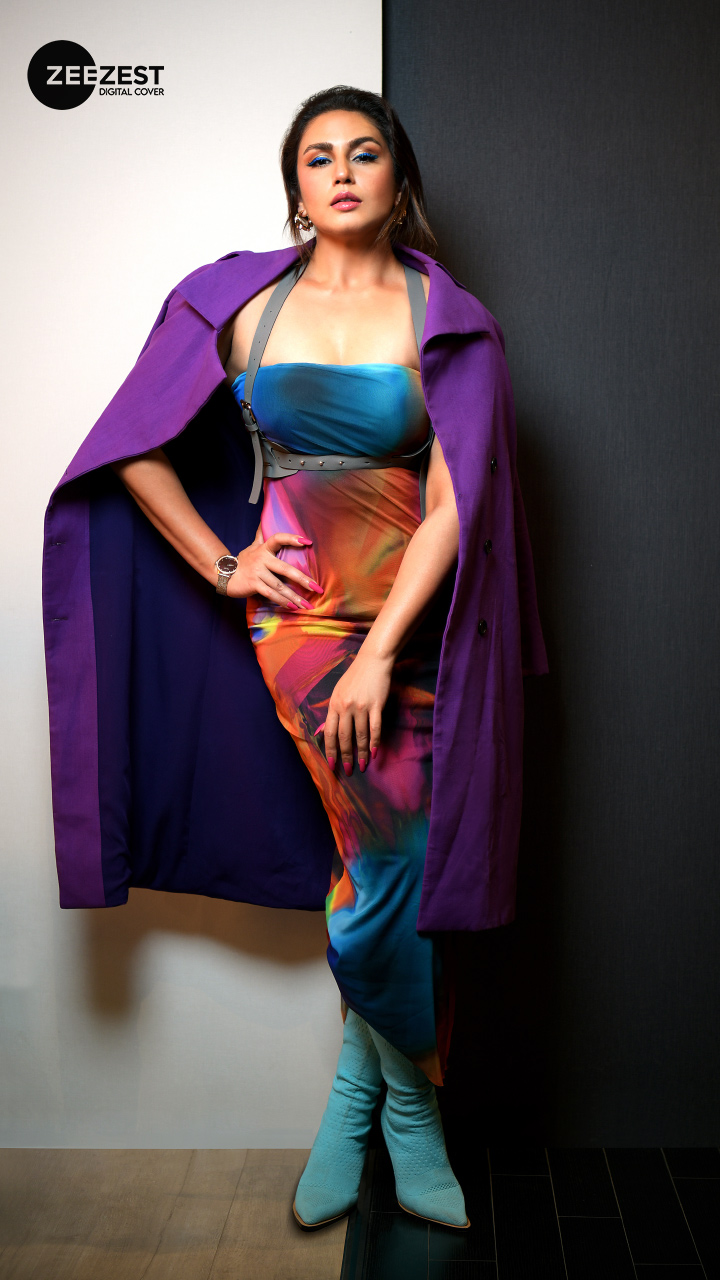 Thinking positive 
A key point in taking care of one's mental health is to cultivate a positive outlook on things. Huma acknowledges the power of positive thinking and says that it has allowed her to communicate with the universe. "Because attraction is defined by what you think or say, optimistic thinking has enabled me to achieve much in life." 
But it doesn't take much time for positivity to turn toxic at times. The need to always be positive at any cost, in any situation, can get tricky, and Huma quite agrees. "It is not easy to change your negative thoughts to positive ones. It is genuinely not easy to do, but I believe we do it most of the time," she reassures.  
Matters of size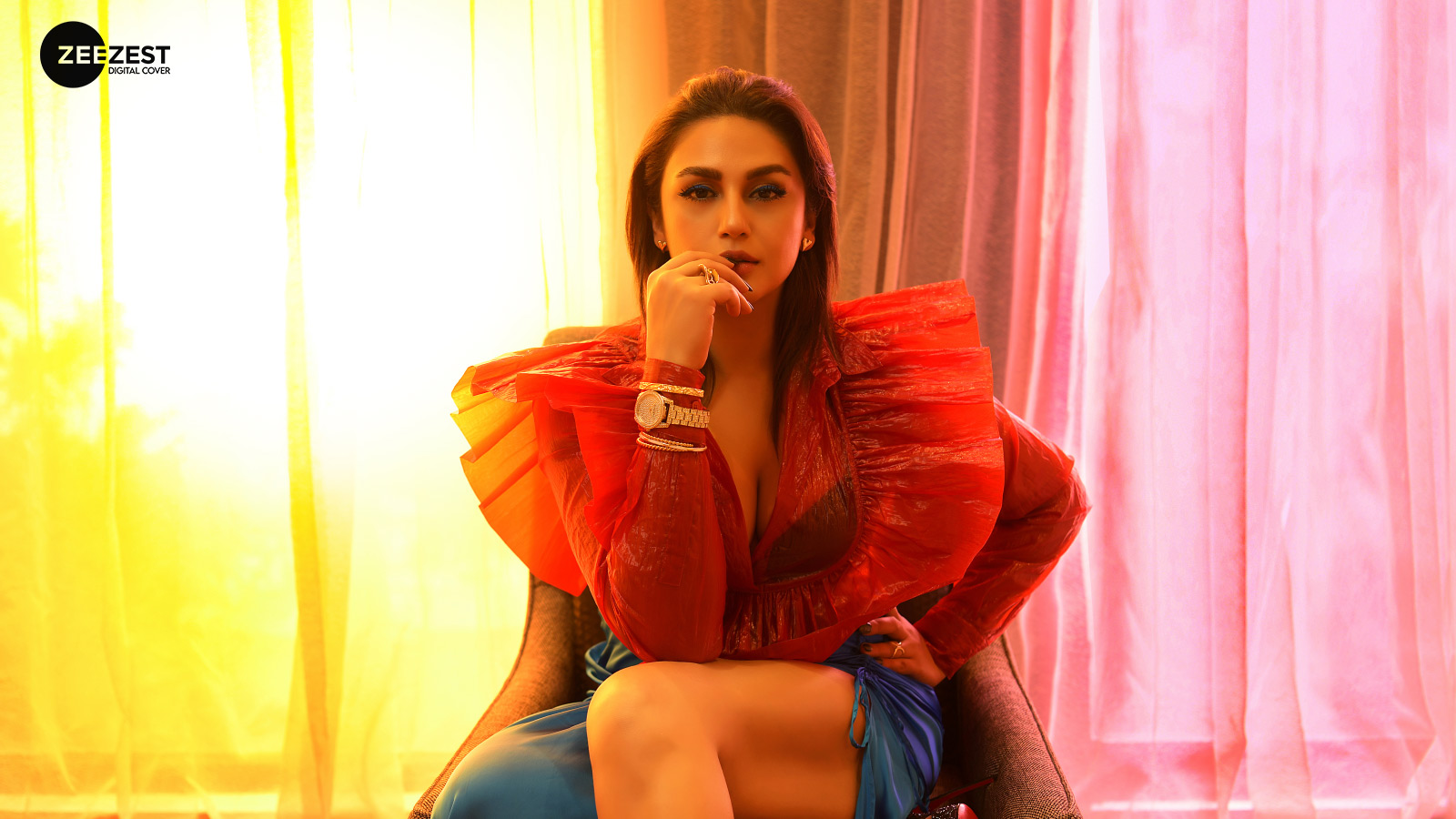 Come to think of it, our cover girl's already a real-life superhero—not force-fitting herself in society's moulds and inspiring people to bring the change they want to see. Sure, Huma tasted success early in her film career, but criticism wasn't far behind. She faced negative comments online regarding her body weight. While it did affect her initially, over time, she stopped reacting to body shamers. "I am not doing something to make them happy or to get friendly with them so that they write good stuff about me. That is their opinion and I leave it up to them. That is their opinion and I leave it up to them," she said in an interview with Hindustan Times. 
Huma is clearly paving the path for body positivity—living her life on her own terms, loving the person that she is, and celebrating herself unapologetically are her ways of dealing with all that hate. "Celebrating yourself is really important. If you won't, who else will!," states the Maharani 2 actor. 
The confidence she channels today comes after nearly a decade of proving her mettle as a talented actor and performer. Also, by being at the receiving end of criticism for her weight and dealing with it. When not making our jaws drop with her excellent dialogue delivery and charisma, Huma is busy advocating body positivity and smashing stereotypes in her own unique way. She's also raising eyebrows with important questions like 'why can't we respect and appreciate individuality?' and 'why does there have to be a box? And why is it important for us to fit into that?'. 
To continue to champion this cause and her belief that every person is beautiful, Huma is now gearing up for Double XL. It will be her debut film as a producer and will address the pressing issue of body shaming, which she has been a victim of, time and again. 
Huma is all about finding joy, not sticking to stereotypes, and doing whatever she deems fit—be it related to her body, mind, life, or career; and we're totally digging this oh-so-relatable Maharani! Aren't you?  
Credits:
Editor: Sumita Bagchi  
Photographer: Atul Kasbekar
Creative Consultant: Mitrajit Bhattacharya
Watch Partner: Coach
Assistant photographer and BTS video: Rahul Sawant
Video Edit: Media Edge
Stylist: Aastha Sharma, Wardrobist
Assistant stylist: Reann Moradian and Nida Shah
Hair stylist: Ajay Vishwasrao
Makeup: Susan Emmanuel
Location: Hyatt Centric Juhu Mumbai
Artist PR: Pearl Media 
OTHER DIGITAL COVERS
Check out food, Travel, health, fashion, beauty, home decor related mobile visual digital covers
View All