In the quest to find the most suitable Digital Cover star for the Homegrown edition of September we found a name that has truly made India proud. Sonu Sood, a philanthropist, and actor, who won the hearts of millions of Indians with his boundless passion for changing lives in the last few years. He is more of a front-page personality than a page-3 one making headlines with his awe-inspiring, life-transforming journey; a reel hero, who emerged as a real-life superhero for millions of Indians in distress during the Covid-19 pandemic, and its equally painful aftermath. 
Sonu may have spent most of his acting career playing negative characters, but his almost single-handed effort to help migrant thousands of labourers reach their homes during the pandemic's first wave followed by supplying oxygen and other essential medical equipment to thousands of needy patients during the second wave earned him a messiah-like status among the masses. Now that the worst of the pandemic is (hopefully) behind us, his NGO — Sood Charity Foundation — is setting up efforts to help the underprivileged with education and jobs.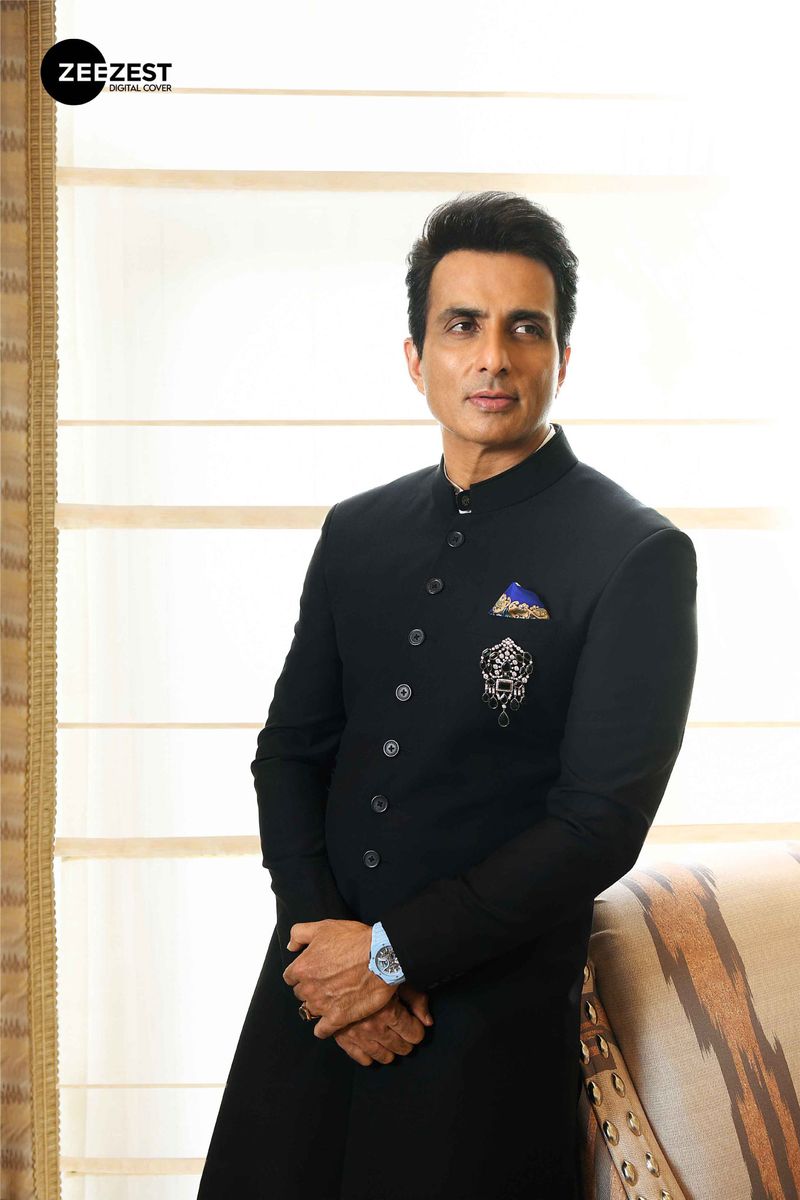 For someone who is busy balancing his reel and real-life passions with equal zeal, Sonu makes a lasting first impression at the Zee Zest digital cover shoot at ITC Grand Maratha, Mumbai where his warm greetings and hugs to the entire crew establish how he connects with people instantly and with ease. 
My first question: How tall are you? He stood up, put his hands around my shoulder, and said 6'3.5". And with that begins a one-of-a-kind shoot where we see Sonu don three bespoke, handcrafted outfits from some of the most popular homegrown designers-- Nivedita Saboo, Karan Torani and Raghavendra Rathore. 
Throughout the shoot day, we saw the superhero who has starred in several movies like Yuva (2004), Jodhaa Akbar (2008), Dabangg (2010), Shootout at Wadala (2013), R… Rajkumar (2013), Happy New Year (2014), Devi (2016), Kung Fu Yoga (2017), and Simmba (2018),  address incessant calls that sought his help, during the breaks. And that leaves us imagining the power of this one-of-a-kind celebrity who is worshipped as a messiah and a deity, for helping the needy single-handedly. Though a private suite was reserved for the shoot, the occasional selfie requests from guests in the corridor or lift never went unanswered. After all, Sonu Sood belongs to the people of India.  
When we finally sat down for our chat, we spoke about charity, movies and life in general. Edited Excerpts: 
1. How do you look back at your incredible acting career in the South Indian film industry? 
I always believed in films down South. I have done close to 60 movies in Telugu, Tamil and Kannada. Entertainment has no language. People spend a lot of money and time watching movies in theatres. Filmmakers still believe in fulfilling that core responsibility of entertaining the theatre-going audience. I remember when I started doing films down south, a lot of my friends used to say, "Tu Hindi speaking ho ke bhi, Bollywood chhod ke South ke movies kyun karta hain?". I always chose films that excited me as an actor or in the content. That's why many a time I decided to opt for South films over Bollywood films. Some of them did really well and that cemented my position in South cinema.  
2. What are your thoughts on S.S Rajamouli? 
S. S. Rajamouli is technically brilliant, a great narrator, and believes in massy entertainers like Baahubali and RRR.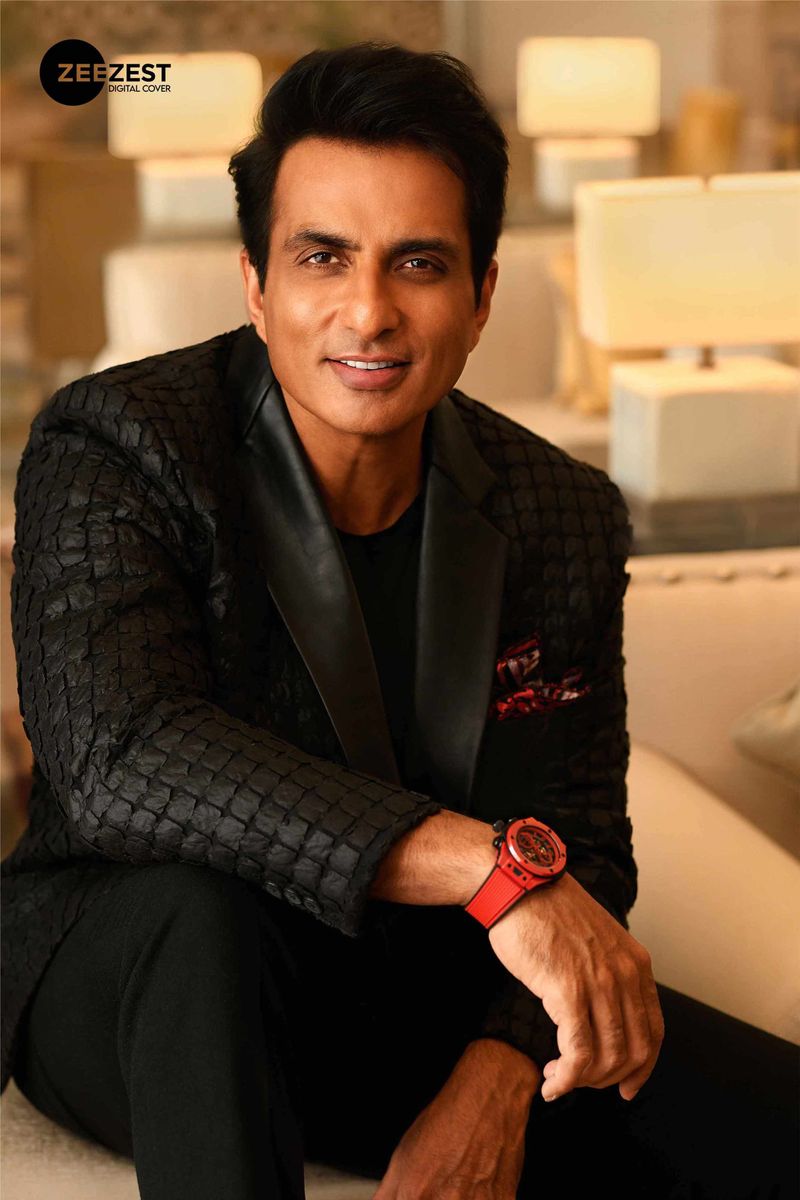 3. Why do you think Bollywood movies are not doing well in the theatres recently? 
Cinema is always larger than life. When an individual goes to a theatre to watch a film, they want to be that actor on screen. Somewhere, if we fail to create that larger-than-life image, we fail to connect with that theatre-going audience. The South Indian film industry has always catered to it, I'm sure Bollywood will also do the same.  
4. Tell us about your maiden home production… 
The project we are starting our production house, Shakti Sagar Productions, with is called Fateh. We have already done 16 months of prep and writing. I didn't want to roll a movie till our homework was right. Some of the best researchers and content creators have worked on the project. Now that we are set to roll, I am very excited. 
I am glad that the hours we spent researching the subject are helping us sail through smoothly. It's a film based on cybercrime, a threat that the country is facing, and how a common man is sucked into the mess unknowingly. The film's message is powerful, it can guide the audience to be careful and not get cheated.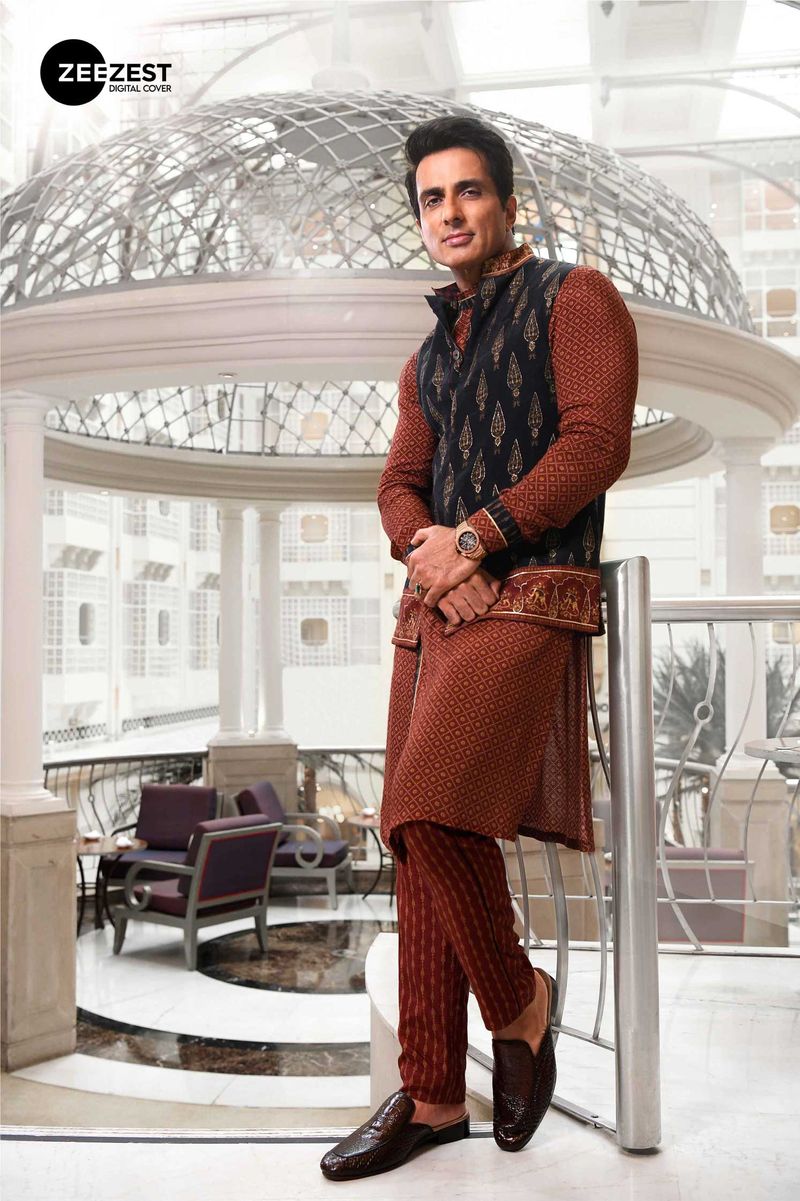 5. How did the cult character of Cheddi Singh in 'Dabangg' come about? 
Most of Cheddi Singh's dialogues and other famous lines from Dabangg were written by me. All the filmmakers and actors who have worked with me know that I am very good at writing dialogues, screenplays and scenes. Even in Fateh, I have done the same. Cheddi Singh was inspired by my college days when I used to live with students from Bihar as my roommates. We created the character based on them. Even 'Bhaiyyaji Smile' was a real character we had in our college in Nagpur. They were always very fond of having their photographs clicked and had photographers accompany them. And they would always say 'Bhaiyyaji smile'. We put it in the script three days before the shoot started!  
One day, while shooting in Wai near Pune, Salman took me out for dinner and suddenly said, "Sonu, tu bahut lamba hain yaar, teri taange toh gaadi mein fit ho jayegi na?" I replied, "Salman, kya hain na, kanoon ke haath aur Sonu Sood ki laath dono bahut lambi hain bhai." He said, "Arre yeh bahut kamaal ka dialogue hain, use karte hain picture main." The next day we were shooting when the famous dialogue was incorporated into the film. We just replaced Sonu Sood with Cheddi Singh. This is how Cheddi Singh became a cult character on screen. 
6. How did you decide to launch the Sood Charity Foundation?  
I lost my mother in 2007 and since then I have been doing my bit to help people. But I wanted to do it on a scale that could touch a lot of lives. I realised that time had come when, during the Covid-19 pandemic, the whole country got in touch with me; someone needed medical attention, someone education or a job. I wanted to do everything. So, from that day, we thought of creating a family that would cater to every need of the needy. 
At Sood Foundation, if people connect with us, we try and change their lives. We get connected with new people every day and most importantly, they are usually not from wealthy families. They are also the ones who were helped during Covid-19, so there is a different emotion attached to them.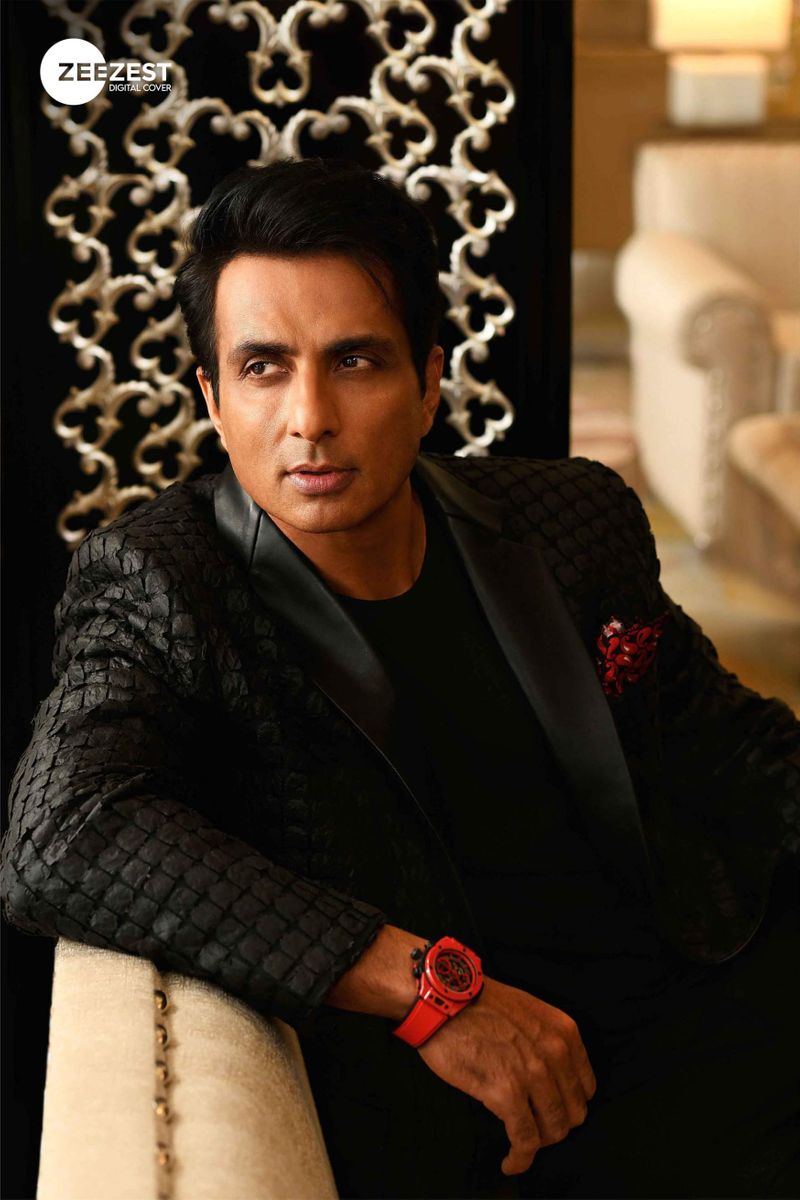 7. What is your biggest realisation from all the relief work you have undertaken during the past couple of years? 
Umeed aur koshish. 'Hope' and 'effort' are two of the most important words I have experienced in life. When someone has hope that someone can save a life and you put an effort towards that, there is nothing more special than that.  
Every day I meet people who have come from all over the country — from Bihar, Jharkhand, UP, Odisha — I see hope in their eyes. Often, I hear them say they didn't have money to buy train tickets to come to Mumbai, but when they told the ticket collector they were coming to meet me, he would let them travel for free. That hope keeps me on my toes always and I try to put in genuine efforts and God somehow guides you when you are changing the lives of so many people. There are miles to go, but the journey is on. 
8. How does it feel to have an aircraft with your image on it? 
It takes me down memory lane when I came to Mumbai on an unreserved ticket from Delhi. I didn't know a single person in the city. Recently, when I travelled in that aircraft with my name and face painted on it, I missed my parents the most. They were not around to see that; I wish I could take them on the flight. But I know wherever they are, they would be happy.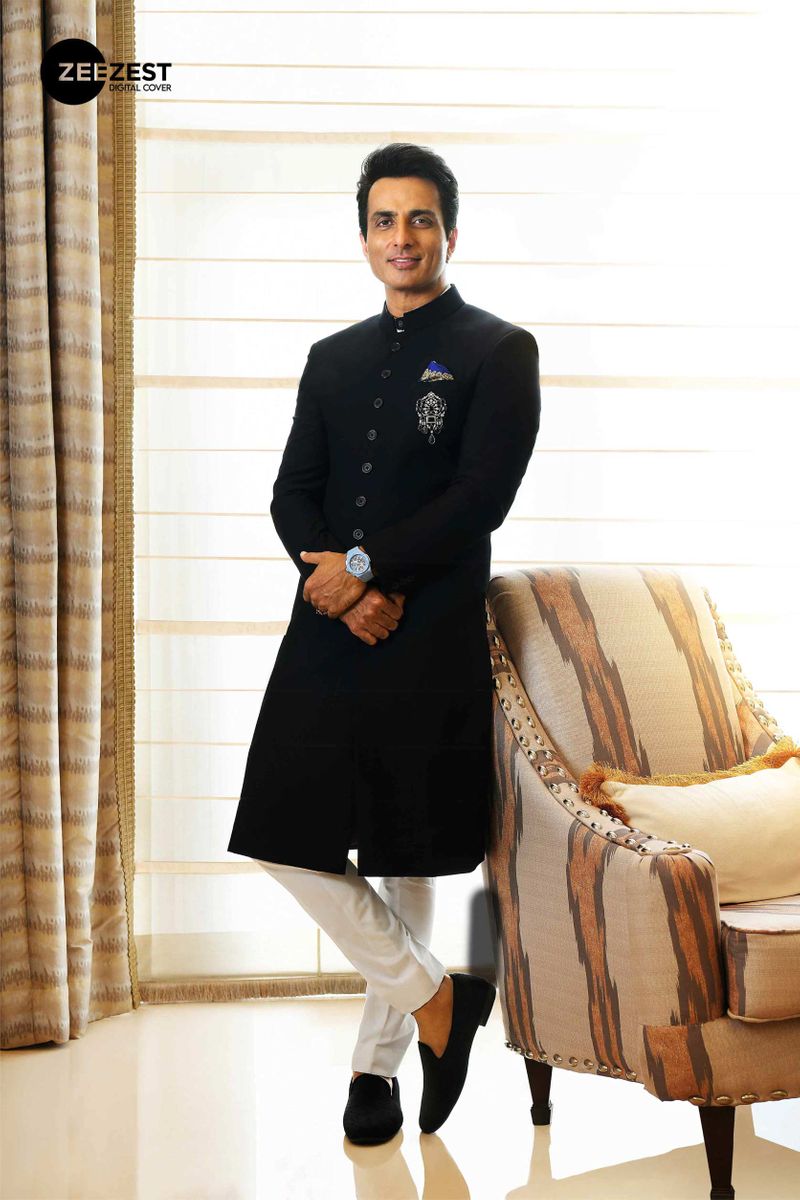 9. Tell us about your new initiative to help IAS aspirants… 
I have a lot of friends who are in administrative services. Many of them are from environmentally challenged backgrounds like Bihar, Jharkhand and Odisha. They want to work for the country but they don't have the resources. So, I thought why not give them a platform where they get what they deserve? IAS preparations are very costly and not easily accessible to most people. Anyone from any part of the country can connect with us and we will make sure that we help them prepare for the exams. Last year, we helped 40,000 aspirants. Over the last one and a half days, we have received close to 12,000 entries. Even if 50 can clear from this, just imagine what they can do for the country.
10. How does one get a fit body like Sonu Sood? 
To get a body like Sonu Sood is not very difficult. You have to love yourself. When I explored fitness during my engineering college days, I was pretty excited to go to a large gym, having not experienced anything like that in a small town like Moga, where I came from. I suddenly felt this is the world I belonged to. I never thought I would be an actor; fitness kept me going. When I look back, I think fitness played a major role in my career and helped me survive the difficult times. I think fitness is not just about the body, it's about the mind also.  
Every day of mine starts with working out. Since the day I started working out till date, I have never missed a single day at the gym unless I am unwell or I don't have access to a gym. I consider 22 hours as my day, and the other two hours are for exercising.  
11. What are your thoughts on the Zee Zest cover shoot and the looks curated for you?  
I thank Raghavendra Rathore for this beautiful black sherwani. It's always essential to have a break sometimes from the casual look of denim and tees and today was the perfect occasion to wear formal. 
Credits: 
Editor: Sumita Bagchi
Photographer: Atul Kasbekar
Creative Consultant: Mitrajit Bhattacharya
Assistant Photographer and BTS: Rahul Sawant
BTS Edit: Media Edge
Stylist: Pyu Mishra
Hair stylist: Rajendra Chawan
Make up artist: Junaid Shaikh for Hakim Aalim
Location: ITC Maratha Mumbai
Artist Reputation Management: Raindrop Media