In a reel to real moment, India's women hockey team's win against Australia is being hailed as THE moment of the Indian contingent at Tokyo 2020 Olympics. The quarterfinals held on day 10 of the world's biggest multi-sports event was an edge of the seat affair. Team India, led by 26-year-old Rani Rampal, scored 1-0 against their opponent, which was scored by Gurjit Kaur in a penalty corner in the second quarter of the game. Rampal, at her young age, has already played more than 200 matches with more than 120 goals in her kitty. The talented athlete is a renowned striker in hockey but also doubles up as a mid-fielder
Post the only goal in the match, Team India played a very smart defence under the guidance of their Dutch Coach Sjoerd Marijne, with the 'mini hockey' tactic. A play that requires concentration and years of practice, to pass the ball at short distances, was executed by the women of the Indian hockey team along with savvy saves by goalkeeper, Savita Punia. The Australian hockey team had seven opportunities to score a goal, and all were dashed thanks to Punia! She is also Team India's vice-captain and hails from Jodhka, Haryana; is known to have dreaded being a goalkeeper because her hockey kit was cumbersome.
For Sushila Chanu, Navjot Kaur, Deep Grace Ekka, Monika Malik, Vandana Katariya and Rani Rampal, Tokyo 2020 Olympics is a second tryst with the sporting event. Team India will be playing against Argentina in the semifinals on August 4, 2021, for a shot at the gold in the finals. 
The Indian women's hockey team's stellar performance may have moments like the Shah Rukh Khan-starrer Chakh De India, but the band of 16 young women have proved themselves stronger and better. And the whole country rejoiced.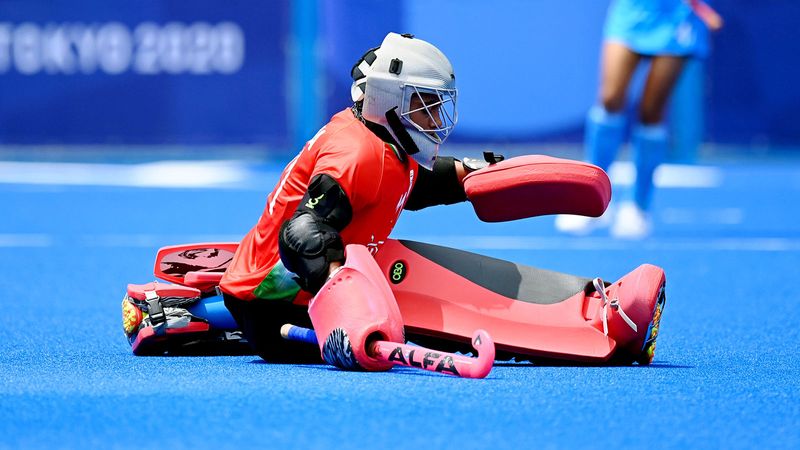 Social media was abuzz with #HockeyIndia leading to some creative and heartfelt congratulatory messages for the athletes. Even Shah Rukh Khan applauded them for the win on a tweet by Coach Marijne:
Creative representations of the Indian women's hockey team's achievements on Instagram:
Even Dr Shashi Tharoor, Member of Parliament, writer and former international diplomat congratulated Team India:
As did actor Saiyami Kher:
At the Rio Olympics, in 2016, India had finished last; this year the team is ranked No 7 in the world after qualifying for the Olympics for the second time following a long gap of 36 years. 
Meet Team India's women hockey squad at Tokyo 2020 Olympics
1. Rani Rampal (Captain), 
2. Savita Punia (Goalkeeper and vice-captain), 
3. Deep Grace Ekka, 
4. Gurjit Kaur, 
5. Nikki Pradhan, 
6. Udita Duhan, 
7. Monika Malik, 
8. Navjot Kaur, 
9. Neha Goyal, 
10. Nisha Warsi, 
11. Salima Tete, 
12. Sushila Chanu, 
13. Lalremsiami, 
14. Navneet Kaur, 
15. Sharmila Devi, 
16. Vandana Katariya. 
Alternate players: Reena Khokhar, Namita Toppo 
Prior to this, the women's hockey team from India finished fourth at the Moscow Olympics in 1980; at that time there were no knockout matches. This was the first time women's hockey was also introduced in the Olympics. 
The Indian women's hockey team performance along with the men's hockey team performance has revived interest in hockey. The men's hockey team lost their semifinal match to Belgium 2-5. They will now play against Germany for the bronze medal. Hockey has had a vibrant rich heritage in India, since the time Major Dhyan Chand shook the world with his skills—he was known as the 'wizard' of hockey. Major Dhyan Chand in his sporting career scored more than 400 goals and won gold medals in three Olympics: 1928, 1932, and 1936. And the race for the medal is still on for Team India's hockey team at Tokyo 2020 Olympics.
---
Photo: Instagram/ Hockey India