Bored of the usual movie-dinner date? How about taking a pottery class together? Or learning to sail or shaking up a mean cocktail? There's a slew of services and apps that offer curated experiences – whether you're looking for adventure or doing something creative, we've got you covered.
1. For the adventure seekers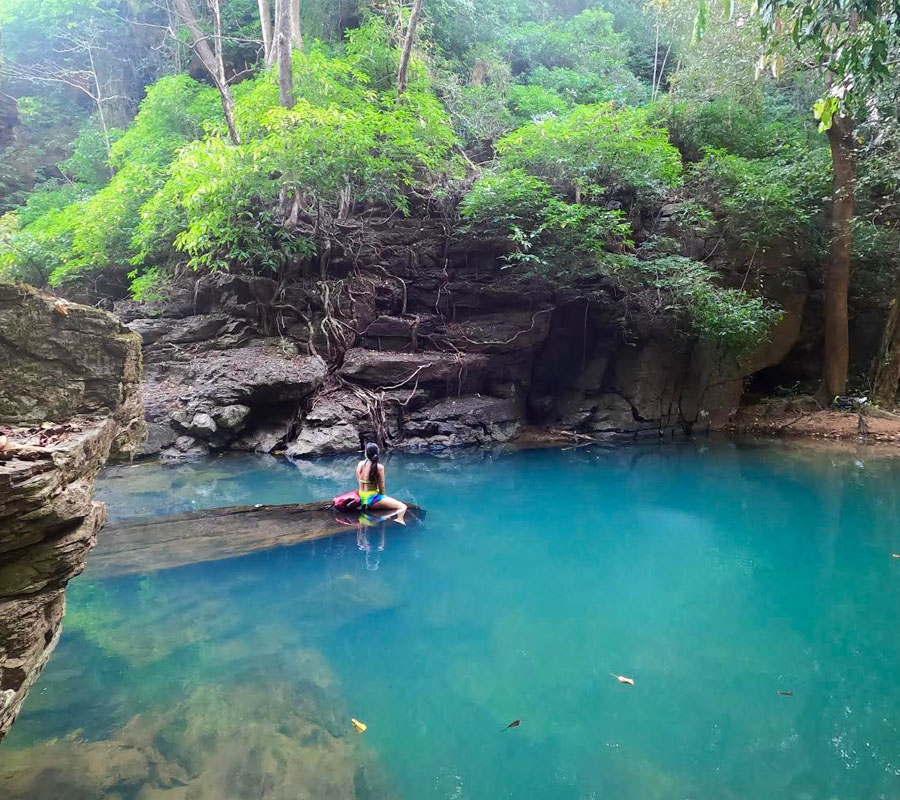 Unleash the adrenaline with a host of adventurous activities in Goa – all offered by Urbanaut, an app that helps you find cool things to do with creative insiders, across 22 cities in India. Their bookable experiences in Goa include the Cliff Jumper, which takes you on an easy trek to hidden waterfalls and natural pools, followed by a hot Gaud Saraswat Brahmin lunch prepared by locals along with feni cocktails. Or learn something new together like kayaking on Chapora river or an exhilarating surfing lesson in Arambol; both experiences are suitable for beginners and include the necessary equipment.
2. For the arty types
For art and culture aficionados, Rajasthan Studio offers a range of immersive workshops with local artisans across Jaipur, Jodhpur, and Udaipur. Make your way through the blue by-lanes of Jodhpur to meet Mohan Lal Gujar, a master craftsman in leather jutti (mojari) craft. Delve deeper into the process of making this colourful, traditional footwear and then co-create your very own pair of mojaris. In Jaipur, you can try your hand at the Mughal-era art of miniature painting while in Udaipur, learn how to make the devotional pichwai paintings that portray the life of Lord Krishna.
Looking for something in Mumbai? Consider Urbanaut's date night pottery session. Spend a relaxed couple of hours getting your hands dirty and creating something unique with clay; tools and apron will be provided as well as a cheese and snack platter. 
3. For the hedonist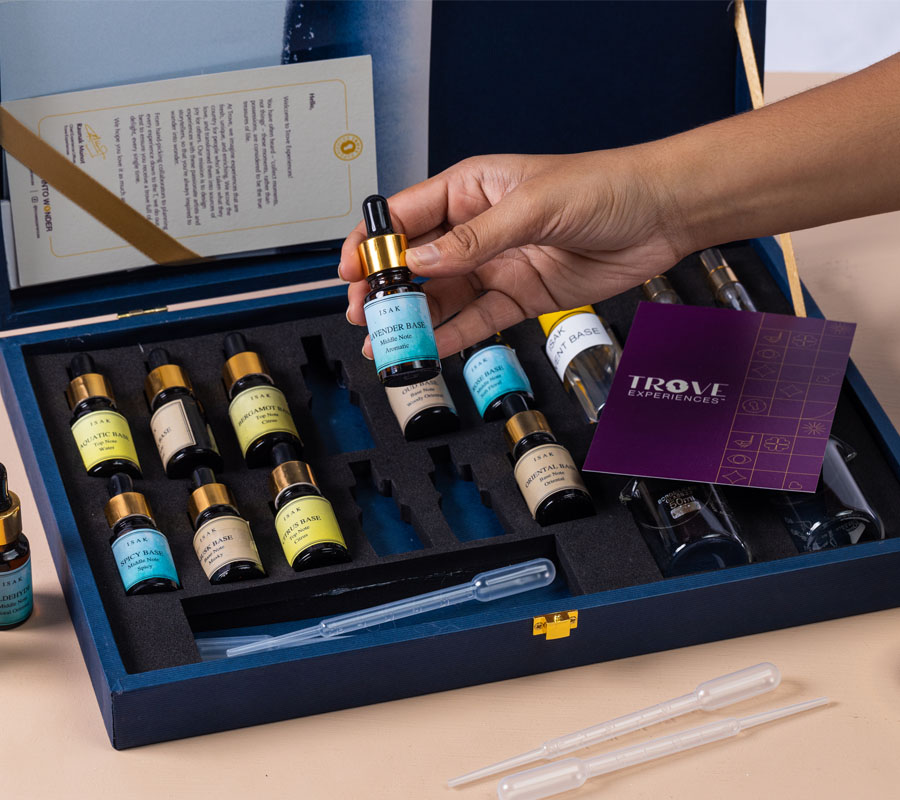 Instead of gifting your partner another store-bought perfume, why not create something that is unique to them? Sign up for Oasis of Scents by Trove Experiences, a service that designs imaginative in-person experiences across Mumbai, Pune, and Delhi (as well as online). In this 2-hour workshop, you will understand the nuances of perfumery, followed by mixing and matching various fragrance bases to craft a personal signature scent for your loved one. Or whisk them off to Nashik for a private wine appreciation session with Urbanaut; understand the winemaking process and then taste six different wines, accompanied by a cheese platter.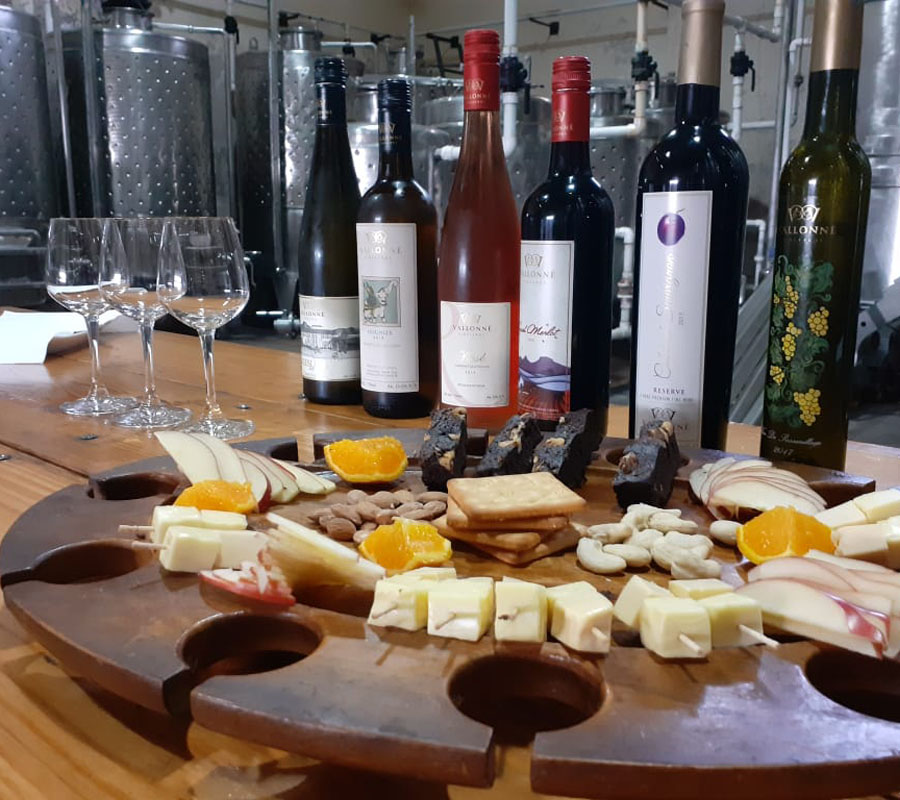 Looking for something intimate in Goa? Urbanaut's private beach dining experience is a romantic candlelit affair under the stars, with a five-course meal and cocktail included.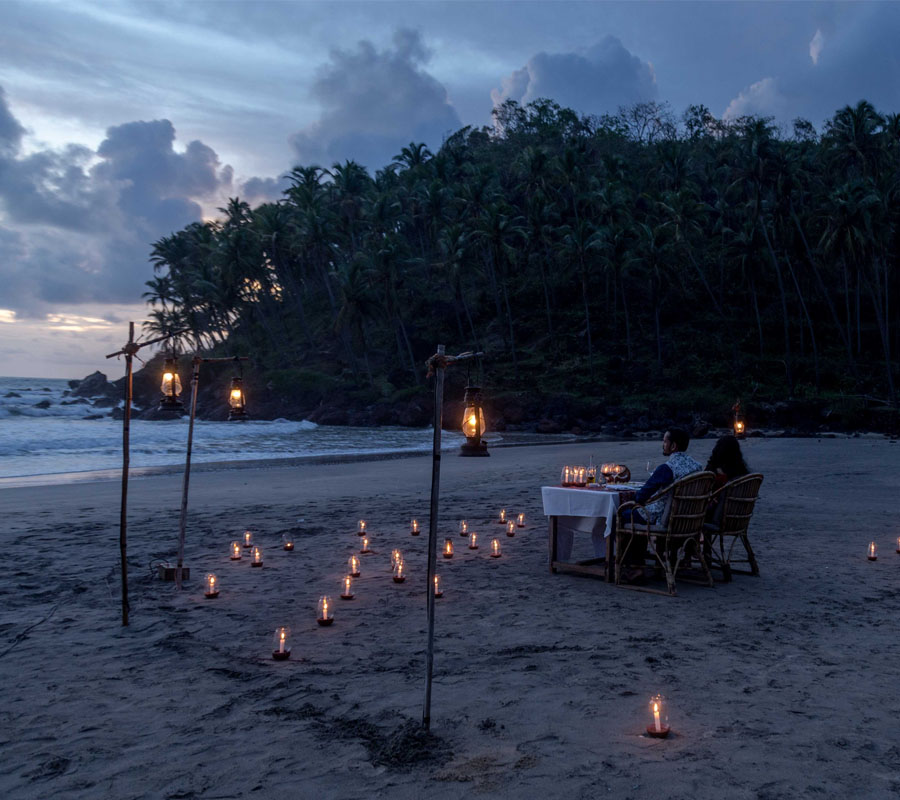 4. For the gourmands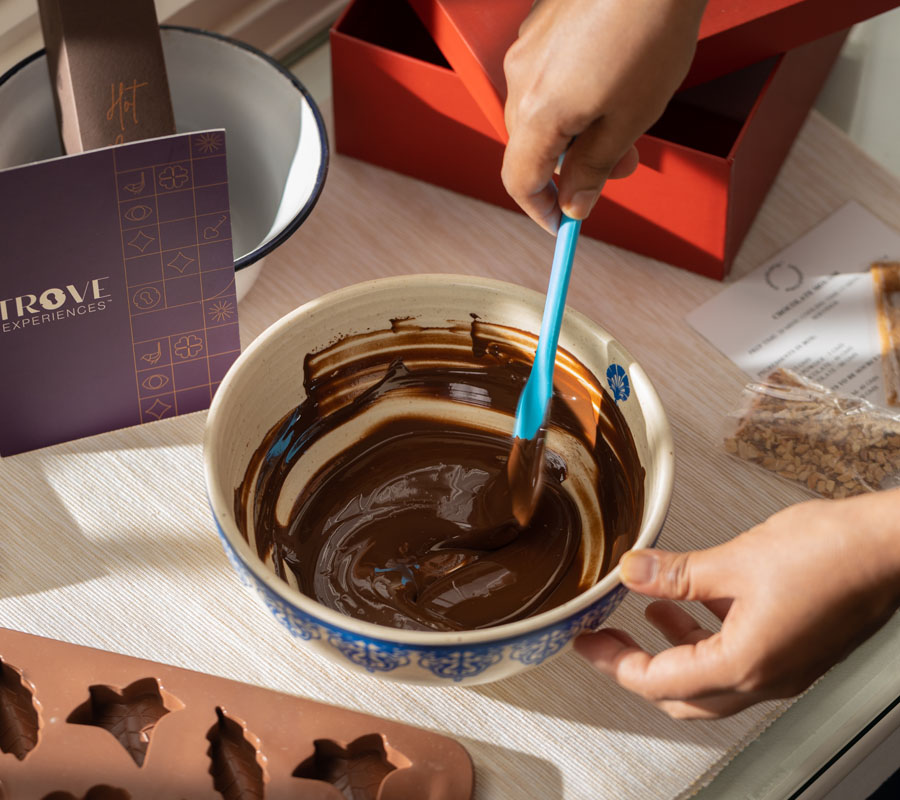 If you believe that the way to the heart is through the stomach, we have a host of delicious experiences to savour. Try your hand at making your own chocolate with the Confessions of a Chocolatier masterclass by Trove Experiences. Understand the basics of artisanal chocolate making, learn a few recipes, and indulge in some premium couverture chocolates. If you'd rather that someone else does the cooking, how about treating your loved one to a private dining experience in a charming Portuguese heritage bungalow in a Goan village? Tuck into a delicious three-course meal with a complimentary beverage/mocktail (you can BYOB).
Head over to Alibaug for an incredible (pet-friendly) farm-to-table experience with Urbanaut. Wander around a village, take a stroll at the beach, and then sit down to a culinary journey like no other, featuring traditional heirloom recipes.
5. For the drink lovers
Master the art of making a fine cocktail with Trove Experiences' The Craft of Mixology masterclass. Get a quick introduction to different spirits, bar equipment, and cocktail-making techniques, as you understand how to make and balance a cocktail like a pro.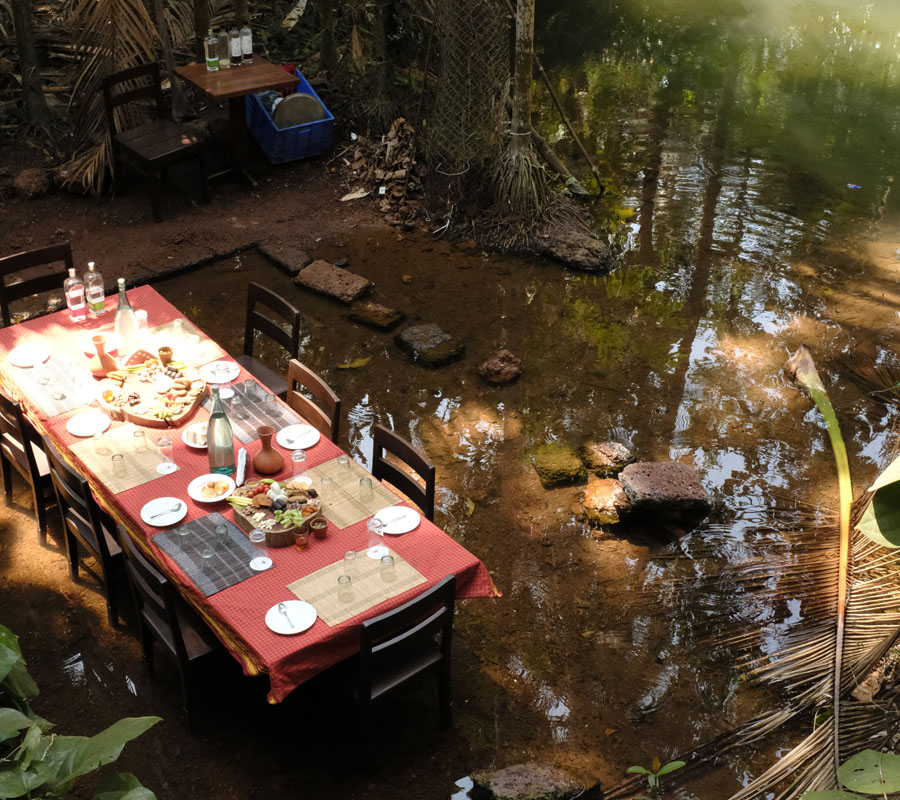 If you're heading to Goa, we would highly recommend Urbanaut's Floating Feni Experience; imagine sitting at a private table set in a natural freshwater spring and tasting a range of premium fenis as the cool water laps at your feet – it's a sensory experience like no other. Alternatively, if coffee is your poison, Trove Experiences' Treasures From The Estates is perfect for you. Learn to brew, taste, and appreciate premium Indian estate coffees, either in Delhi or virtually. For the virtual workshop, you will receive an experience hamper with a selection of coffees and a French press. 
6. For the outdoorsy ones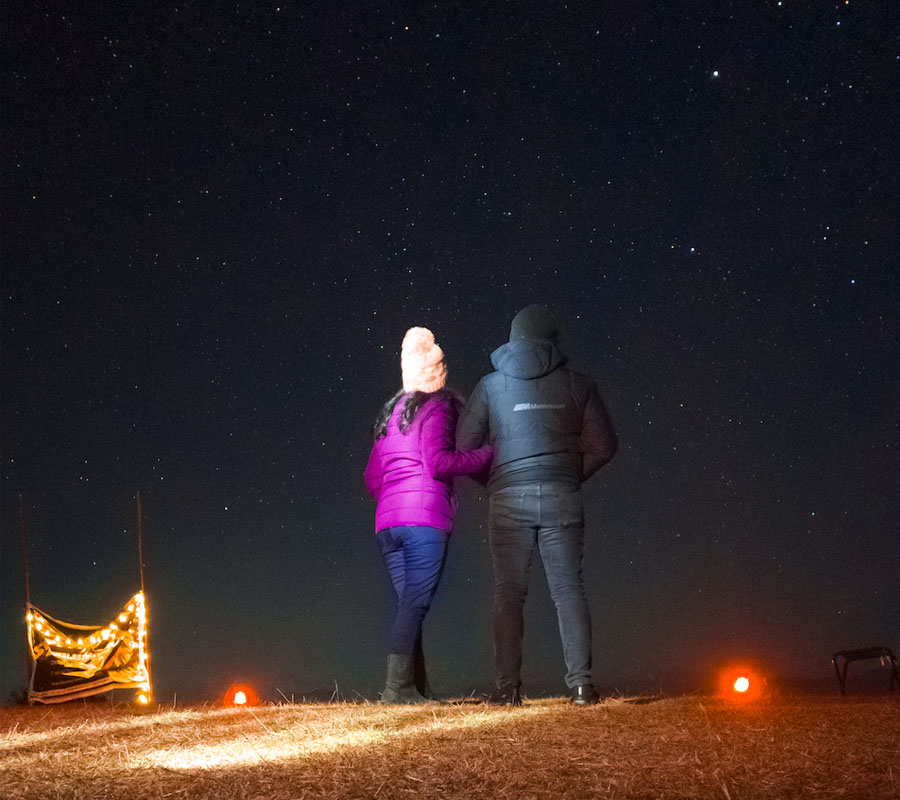 If you love the outdoors and want to experience Goa beyond its beaches, Urbanaut's Ocean Trek Hippie Trail is perfect. This 5km moderate-intensity trek takes you across the grassy Palliem plateau and down through the Arambol forest; you may even find a rock pool to take a dip in. If you would like to acquire a new skill together, sign up for a sailing lesson in Goa and learn the ropes in 45 minutes flat! Want to take things up a notch? How about a sweet selfie with the stars? Starscapes, an astro-tourism start-up, that offers a range of astronomy experiences, can make that happen. Take your pick from observatories in Kausani and Bhimtal in Uttarakhand and a mobile observatory in Jaipur (plus upcoming ones in Coorg and Ooty) and get ready to pose against the backdrop of a star-studded night sky. 
Photo: Featured Brands