The film starts with a clandestine operation, in the wee hours of the morning, to procure smoked pork and a little banana leaf parcel. This little parcel is the star of the film—Axone.
But what is axone?
Pronounced 'akhuni', axone is a fermented soybean paste that is at the heart of many a dish in the seven states of Northeast India. Set in the labyrinthine alleys of Humayunpur in Delhi, two roommates are desperately trying to cook a dish of smoked pork and axone for their third roommate as a wedding present in the Netflix movie.
The simple premise presents a multitude of trials for Chanbi (Lin Laishram) and Upasana (Sayani Gupta), many of which are loaded with political undertones. Plenty has been said, written and discussed about the film's portrayal of social issues including racial discrimination. But the aim here, instead, is to understand how food plays a role in that and did Axone actually manage to deliver?
For any food lover, mainstream commercial Indian films have left a huge void when it comes to food-focused films. Films named after popular Indian dishes or using food as a trope have failed to provide any satisfaction to a food-loving cinephile. Axone in that respect comes as a refreshing change with its basic plot—the whole movie revolves around being able to cook a dish with such a pungent smell that it makes local Delhites indignant.
However, the film misses out on the nuances of food, there is no way for an audience to understand what axone is and why is it so dreaded. The fermented soybean is a delicacy, despite being foul-smelling. 
The love-hate relationship
Mumbai-based Gitika Saikia voices her thoughts, "The film could have talked about why axone is important." Fermented foods are an integral part of the culinary culture in the Northeast. What is known as axone in Nagaland has different names—in Manipur it is known as hawaijar, tungrymbai in Meghalaya and kinema in Sikkim, for instance.
There is a love-hate relationship with this fermented delicacy, expressed by Upasana, who gags when she smells the axone. Shillong-based poet Lalnunsanga Ralte puts this relationship in words in his commentary, Axone Stinks (And I Like It), in the webzine Riaot: "Axone, an extreme comfort food, rarely has an in-between. You either love it or hate it."
Saikia who hosts Northeastern food pop-ups under the name Gitika's Pakghor, remembers the time when she introduced axone in one of her dishes, "I was overenthusiastic about bringing a taste of home. But in retrospect, it was too much for a few of my guests and I have never seen them return for any of my meals, even if there was no axone on the menu."
Afraid to cook?
Saikia's experience raises the next concern, one which is addressed in Axone as well—the ability to eat and cook what you want and when you want. The rigmarole of cooking the smoked pork and axone in the film, both, tragic and humorous.
But the struggle is real as Kasturi Barua says. The home cook, who also delivers Assamese food in Mumbai under the name Kaso's Kitchen, expresses how the film aptly displays the fear of the Northeastern community in Delhi being hesitant of cooking food from their homes. "I've lived in Delhi for five years before moving to Mumbai. Northeastern students and young professionals always had to be wary since it would smell or be different from what 'mainlanders' knew. Many would be asked to leave their rental apartments because the aromas would be inconvenient to the landlords and other residents," she says.
The inability to cook is an idea or thought that could've been the core material for the film to further address racial discrimination and alienation. The "politics of food" deserved more consideration in Axone wrote professor of Political Science, Kaustubh Deka in The Wire.
On picking his brain further, he uses Nandita Haksar's book, The Flavours of Nationalism: Recipes for Love, Hate and Friendship, as an example where she discusses how food joins and divides people with the same intensity. "One should be able to cook whatever they want and whenever they want to," he adds. The only distinct reference to this thought in the film is made by Martha, a Northeastern woman married in a Sikh family, when she says that 'we should be allowed to cook what we want to and they should be allowed to smell what they want to, no one knows what is right or wrong in such a situation'.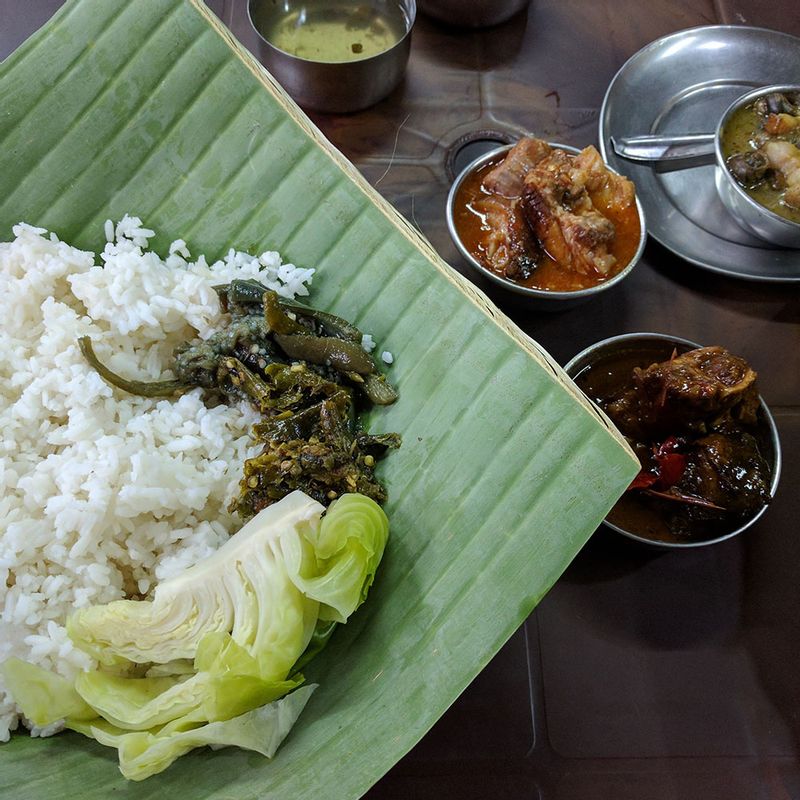 Cultural comfort in food
This 'us and them' predicament has more far-reaching consequences than we realise. Every cuisine has a cultural significance. "Familiar food helps migrants bring a bit of home with them, it is also a way to hold on to their culture in an unfamiliar land," says Deka, who is teaching at Dibrugarh University in Assam. 
There are adjustments that everyone needs to make. "To have change enforced upon you so that you fit in is the first step to unrest and can easily lead to clashes and manipulation," he adds. This lack of understanding is exactly what immigrant Indians in the Western hemisphere have suffered and complained about continuously. "But in India, there is a denial and inability to understand our own cultural minutiae," he continues.
The crux of it all is that Axone, as a film, needed to stay true to its premise as a movie about food rather than trying to take on additional agendas. Having said that, one undeniable fact remains: The film has started a much-needed discourse on the need to understand and explore the Northeastern states and the varied culture.
"Hopefully, the film will generate interest in other filmmakers and viewers alike to understand that the region is not just a homogenous entity. The cultural diversity and richness is something that needs to be brought to the forefront," says Ralte over a phone call. To this Barua adds, "I am glad about one thing, now people know that there is more to northeastern food than momos and noodles—neither of which is authentic to the seven states and their tribes. It will lead to exploring newer cuisines with an open mind."
And that is the greatest achievement for director Nicholas Kharkongor and the film, Axone.
---
Photo: Netflix